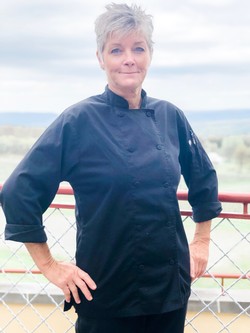 The Blue Heron Café opens for the 2019 season the weekend of May 18th. We are excited to welcome our new chef, Susan Milovich. Originally a New York native, she has held many culinary positions while living in Florida and Virginia. Her and her husband are planting some roots here in the Finger Lakes – a perfect landscape to continue her culinary career.
Over the years, she has developed a keen sense of pairing food and wine via participation in a number of wine clubs particularly in New York, California and Virginia where she and her husband Matt led tastings for award winning wine maker Steve Bottelier at the AmRhein's wine cellars. She now looks forward to bringing this mélange of experience into her own creations at Heron Hill.
Susan can't wait to share her love for food and wine, and is ready to make her mark in the Finger Lakes culinary scene with a new and inspring menu for the Blue Heron Café!
Her first gig was for the Keuka Lake Wine Trail's Wine and Herb weekend. Our herb was thyme - and she utilized it so well! We had 2 different sample dishes, one savory, and one sweet. Susan prepared a Mushroom Bouchée and a Butter and Thyme Tart square.
We were really loving the earthiness of the mushroom and thyme, and the creaminess of the goat cheese from local dairy and cheese producer, Lively Run, so we decided to share the recipe with you!
Mushroom Bouchée makes a wonderful small bite at your next gathering and a delicious compliment to a crisp, white wine or lighter bodied red wine. We were loving it with our Lady of the Lakes Bubbly Riesling. See the recipe below + if you like it - share it!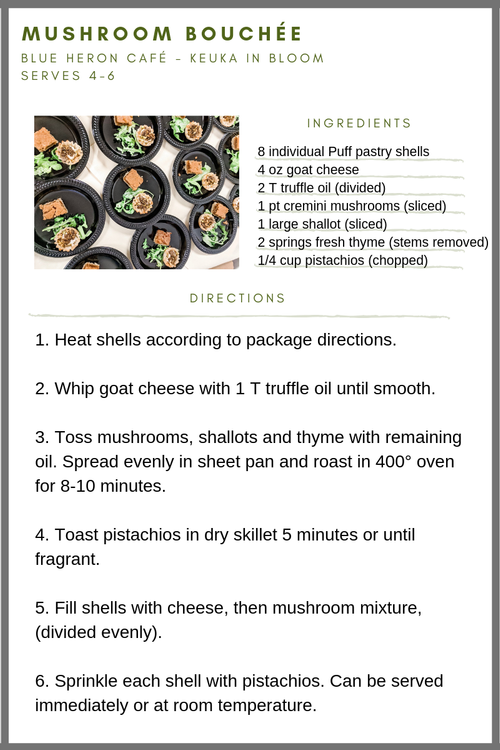 Heron Hill Winery's popular Blue Heron Café is now open daily through the summer. With panoramic views of rolling vineyards along beautiful Keuka Lake, the Café and outdoor terrace provide one of the best settings in the Finger Lakes region for savoring Heron Hill's full portfolio of Finger Lakes wine and freshly-prepared food in a casual outdoor atmosphere. The Café serves sandwiches, salads, flatbread pizza, and creative daily specials all featuring housemade dressings and sauces -- Monday through Saturday, 11 a.m. to 4:30 p.m. an on Sundays from noon to 4:30 p.m.
New York craft beers are now available on draft at Blue Heron Café! The selections will rotate throughout the summer and fall and will include some of New York's newest craft breweries. Guests may enjoy as a flight of four beers, order by the pint, or take a filled growler with them. The popular Wednesday Happy Hour series will return in July and August when Blue Heron Café extends its hours to 7pm. This year Happy Hour at Blue Heron Café will also include new menu items such as tacos and new drink specials offering beer, wine, and sangria. A rotating line-up of musicians jam on the Café terrace during Happy Hour.
The sounds of live music also fill the Blue Heron Café Terrace every Sunday afternoon through September. Visitors are encouraged to sip, eat, relax and enjoy free live music by a rotating mix of talented area musicians from 12:30 p.m. to 4:30 p.m. To learn about fresh-picked specials and the latest music happenings, 'like' the Blue Heron Café on Facebook.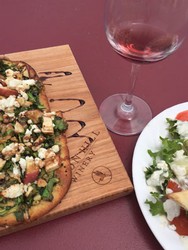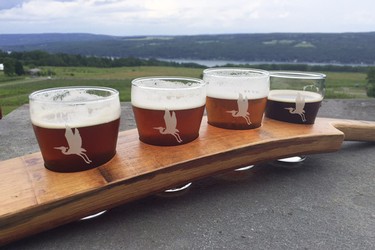 LIVE MUSIC SCHEDULE FOR HERON HILL WINERY OVERLOOKING KEUKA LAKE

Café Terrace Series
Sundays, 12:30 to 4:30pm

BHC Happy Hour Series
Wednesday, 5-7pm
Tunes in the Tent
Sundays, 12:30-4:30pm

July 5th - PJ Elliott

July 12th - Owen Eichensehr

July 19th - Charlie Ellis

July 26th - Scott Adams

August 2nd - Charlie Ellis

August 9th - Owen Eichensehr

August 16th - Lisa Zelazny

August 23rd - Acoustic Pawnshop

August 30th - Acoustic Remedy

September 6th - Shepard Pi

September 13th - Lisa Zelazny

September 20th - Owen Eichensehr

September 27th - Rick Whalers

July 1st - Alec Smith

July 8th - Charlie Ellis

July 15th - Anton Flint

July 22nd - Bruce Holler

July 29th - Acoustic Remedy

August 5th - Nate Miner

August 12th - Charlie Ellis

August 19th - Bruce Holler

August 26th - PJ Elliott

October 4th - Crosseyed Cat Band

October 11th - Virgil Cain

October 18th - The Keuka Katz

October 25th - Black Diamond Express

After some much needed rest and relaxation over the holidays, and some quality family time, December came to a close. I had rewarded myself with some much needed time off to wrap up the year, but I hit the ground running at the beginning of January.

This time of year sends me back out on the road to work in the Wholesale market. Traditionally, most of my accounts aren't interested in sampling wines or discussing new vintages in January because they tend to be "hunkering down" for a slower winter season. Amazingly enough, I have seen some good interest in our wines given this time of year!

I had the opportunity to work with several of our distributor's sales representatives lately. These trips have taken me from Jamestown to Binghamton. Despite some long hours on the road, they have all paid off; I have had a banner January!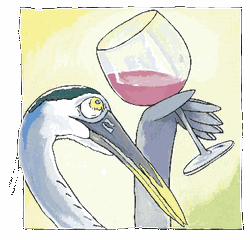 On the Blue Heron Café end of things, this time of year normally gives me a chance to revamp my menu and work on improvements for next year. I have had several meetings with Kara, Tambi, and Paul on a variety of topics. Paul and I have scheduled all of the live music for next year, be sure to look up the schedule (soon to be released)! Tambi and I have discussed Keuka Lake Wine Trail events and I have met with Kara to make sure that we are doing everything that we can to make things go as smoothly as possible.

Looking forward to next season, I'm excited to say that I expect nearly all of my staff from last year to return! With this stumbling block out of the way, I will be able to concentrate on getting the doors open and the food ready to go.

I was able to prepare lunch for a small group that joined us from the New York City area. These buyers came to the winery to try samples from us and three other wineries. I prepared a very nice buffet lunch for the assembled group and the winery representatives that were pouring from them. The group really enjoyed the event!

In the near future, I will have several meetings to look at some possibilities for next season. We have some big plans for the future, but need to get some things moving to be ready for May! For a sneak peek, make sure that you join us for Happy Hour on Wednesdays this summer – some of them will have live music!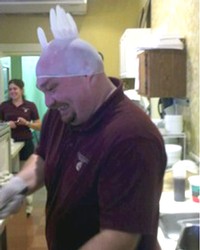 With the unpredictable October weather, some improvisation was necessary. Cool, rainy days brought smaller crowds, but the limited seating in the Blue Heron Café was challenging even for lighter crowds. Putting the tower heaters and conference room to use helped to hold the crowd. For the last weekend, we even used one of the tent sides to close off the opening of the awning. All of these tactics combined worked well to keep the crowds happy!

Tunes in the Tent proved to be another great series for the year. From Virgil Cain and the Movers to the Keuka Kats, we saw good crowds for most of the events. The Wine Club VIP members really seemed to enjoy the events too. Again, weather offered a few challenges, but the big tent heaters kept everyone cozy under the cover. Look forward to the lineup for next year's Tunes in the Tent to come out by February!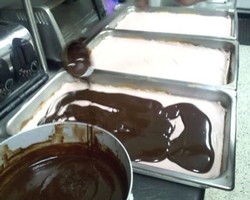 Last weekend and this upcoming weekend will wrap up Wine Trail events for the year. For Keuka Holidays, I will be preparing a Cream of Roasted Red Pepper Soup topped with Asiago Crisps and an Raspberry Cheesecake with Chocolate Eclipse Ganache. The soup is one of the Café favorites and the cheesecake is a recipe that I developed on a whim, featuring raspberry and Eclipse Red in the filling and topped with an Eclipse Red Chocolate Ganache. The numbers for this event are amazing, we served just over 1000 people on the first weekend and expect to see nearly 800 next weekend! As we approached the end, we had to makes sure it stayed fun!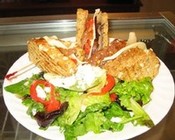 The summer to date has been great at the Blue Heron Café! We have seen crowds comparable to last year, but recent tweaks like linen napkins, proper water glasses, and some higher-class features have really impressed the customers. From Crab Napoleons to Roasted Red Pepper Involtinis, a greater variety of dishes have been well received.

We have hosted a bunch of groups this summer. I attribute this to our Marketing Guru, Kitty, who pressed me very early in the year for my menu. With the additional exposure in the pre-season months, we have easily doubled our groups from last year. To highlight these events, in August we hosted a group from Keuka College for a five course Tapas and Tastings. Thrown into this, we fed the vendors for the Wedding Show and have a couple of corporate events for later in the season. Don't forget to check out the music lineup for Tunes in the Tent, which kicks off with the Crosseyed Cats on September 25th!

Recently, we reduced our hours to Friday through Monday, as the weekday crowd tends to be a bit lighter. The mid-week break is appreciated, as the weekend crowds have been impressive. This has allowed me to offer a bit of time to the Wholesale department. At the end of the month, Lakeside Restaurant will be showcasing us for a Wine Dinner. Beef & Brew in Geneva has also selected us as their Winery of the Month.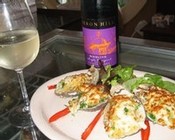 The Blue Heron Café is now open everyday! To celebrate this, we have begun hosting Happy Hour on Wednesday's starting at 5:00 and going until 7:00. We set aside our regular menu and concentrate on several featured appetizers to satisfy the yen for lighter fare. Last week, we showcased the Oysters Rockefeller. For the near future, we are considering a wine paired flight of three or four different appetizers.
I have been booking group lunches and parties left and right. For the first time at Heron Hill, I will be preparing a Wedding Rehearsal Dinner for one of our brides. As we finalize the menu, I am reminded of some of the amazing dishes that I used to prepare and it is inspiring me to find ways to get these flavors on the Café menu.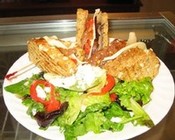 Don't forget, live music starts on the Café Terrace this Sunday! The schedule is available on the website and, of course, in the Tasting Hall. We start off with Bruce Holler featuring Peter Baker on the conga.


Lately, I have been going in several different directions! Primarily, it has been the tail end of my Wholesale season. Between working with our distributor's sales reps and striking out on my own, I have had a pretty good sales season! The winter brought a flurry of stores adding the fine line of Heron Hill wines and lately, restaurants that are preparing to open have been revamping their wine lists and making room for us. I am currently working on scheduling several wine dinners at local restaurants; look for us to be featured at the Lakeside (on Keuka Lake) and the Village Tavern in Hammondsport in the near future.

My second concentration has been Wine Trail events because unfortunately, the food doesn't cook itself! February brought the Truffles and Tastes and April showcases the Artisan Cheese event. The April event paired us with Lively Run Creamery and we highlighted the Roasted Garlic and Pepper Chevre. Suffice it to say, the Pesto Cream Pizza with fresh Spinach was a hit, although I think the staff might have influenced the total number of pizzas that I had to make… Next up is Keuka in Bloom this weekend. If you are joining us, I hope you enjoy the Pancetta and Sage Stuffed Pork Loin, check out the recipe here.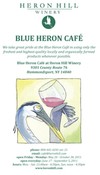 With the season finally changing, my third direction is preparing to open the Café. I have been fortunate to discover that some of my staff will be returning. Modifications have been made to the menu, the wine list is being generated, and the tables and chairs will be arriving soon. With a thorough cleaning and some modifications, we will be opening on May 20th. Be sure to look up the Live Music Calendar and join us for a sandwich and a glass of wine! You can also request a menu here.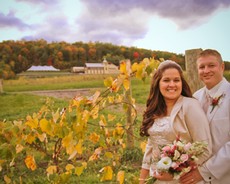 As every bride begins planning her wedding, there is no other better place to get information from than a Wedding Show.

If you have ever been a bride, bridesmaid, mother of a bride or groom, you have most likely been to a wedding show. You can find all of your wedding essentials there. You taste cake, try food from several caterers, listen to what different DJ companies have to offer and more.

On Sunday, August 28, 2011 Heron Hill Winery and Pembroke Pines Media will be hosting the Heron Hill Winery Wedding Show. Pre-registration is free for all brides, click here to register! Each Bride will receive a welcome gift bag filled with goodies and each bride will be entered for several door prizes, which will be given away throughout the afternoon. We will have complimentary wine tastings set-up for all of the guests.The Blue Heron Café will also be open, local musician Bruce Holler will be playing on the terrace too.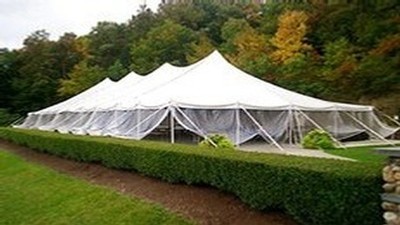 We have invited several bakeries, caterers, photographers, florists, DJ's and more. We are in the beginning planning stages for all vendors. Currently we have Corning Catering, Crystal City Party Center, Berry Vine Creations, SE Video, Schwarz ProFoto, Walker Cake Company, Rochester Wedding and Tom Mike Photo. Here's the list of exhibiters and more info on the Wedding Show.
If you are a vendor and interested in coming, you can also visit the link above to download an exhibitor contract.

The staff at Heron Hill Winery and Pembrook Pines Media is very excited for the event this summer! We want to make sure our local brides have access to the top wedding professionals in our area.

On a side note, we are busy finishing renovations for the upcoming season. We are currently preparing to re-carpet the tent and get it up for the season. The first event will be the Ducks Unlimited Dinner, which we host annually. As always, we are excited to be working with them on this event again!

Let the spring-cleaning begin as we welcome another busy season!

October brought a first for me at the winery, also known as "Tunes in the Tent"! I had reviewed past sales with Christy, our CFO, but I wasn't quite sure what to expect. In the end, we discovered that in general, it isn't worth it to keep the Café open while the party is going full bore in the Tent! The obvious exception to this is Columbus Day weekend. I am resigning myself to the fact that for all intents and purposes, for this weekend, "all bets are off"! Columbus Day weekend proved to be the busiest three day stretch that the Café has seen for the entire year!

As the season came to a close for the Café, the seasonality of the business came around to show itself. We had closed for most of the weekdays, but as October came to a close, even the weekend crowd started to dwindle.
The first annual Cork & Fork offered a brief foray back into the Wholesale market for me. This event, held in Seneca Falls, was the first "selling event" that I have ever attended. As a first for me and a first for them, there was a fair amount of last minute conversation about the finer points of the event. When it was said and done, we got some amazing exposure from the Friday night VIP tasting! We were paired with Dano's (in Hector) for the evening and all were impressed with our coordination. Saturday brought the selling end of the event. The expected crowd was much larger than the actual crowd, but after all, it is the first annual event…

While the Café was closing for the season, which was accompanied by a flurry of cleaning and storing of equipment, I had a chance to witness an event that I hadn't had a chance to experience before. The tear down of the tent was a monumental experience for me. A mere two days after our last Tunes in the Tent, the tent as a whole was disassembled for the year. This might also be read as "After putting on our last big show of the year, I only had a day to clean up!" Without realizing it, we had stored a fair amount of stuff under the tent!

With the Café closed, it was time for me to return to Wholesale ventures. Specifically, the task at hand is to touch base with my year-round accounts to ensure that they are prepared for the holidays. This, of course, allows for the chance to show off the new vintages! Some of my customers have seemed to be a bit put-off by the fact that I have had to split my attention for the year. After explaining that if they simply purchased more wine…

How could I leave this entry without mentioning the close of the final Wine Trail weekend of the season?! After preparing the Chicken Riggies for consecutive weekends of Keuka Holidays, let's suffice it to say that I am looking forward to a chance to "find my muse" for February's event, Truffles & Tastes! To be fair, it has been a fun year of Wine Trail food. I am, however, looking forward to a surprise for February, maybe homemade Truffles…

By Mike "Ollie" Oliver, Blue Heron Café Director & Wholesale Sales Representative
Well, it has thus far been an exciting summer at the Blue Heron Café! I am proud to announce that we have been serving some great customers some amazing food. After getting settled in for the season, the Café got to a point that it could almost run itself.
On the whole, things have run very smoothly. We have been expanding beyond the menu to incorporate daily features. Some of the most popular include the Chicken Balsamico Panini and the Tuscan Roasted Pork Loin Wrap. I have been simply amazed at the volume of soup that we have been serving! Favorites here include the Lobster and Bay Scallop Bisque and the Tomato, Bacon, and Swiss soup. It would be difficult to name which Cheesecake has been the most popular, so I will have to rely on the reader to sample several to form a solid opinion! Many of these selections will have to be considered for next year's menu.
The winery hosted a lot of our Wholesale customers in July for a V.I.P. tasting in the tower accented with hors d'oeuvres from the Café. While Christina handled the tastings, we were sending up a nice selection of wares from the Café to showcase our many talents. I did have a chance to meet with several of my restaurant and wine shop customers while this was happening. They all were pleasantly surprised by the "red carpet" treatment that we were offering!
I have just recently had the chance to get back on the road a bit. Last week, I was able to drive around and catch up with some of my more local wholesale customers. It seems that this aspect of my duties has been going well, but I look forward to going out to pour the new vintages. I have been really amazed at the volumes that some of these places have been selling!
At the beginning of the week, Paul and I attended the last of the Food and Wine Pairing Series hosted by the Switzerland Inn. We had begun talking about this in March and it was great to be there for the end product. The Chef, Brent, presented an amazing 6-course meal that we had arduously paired with our wines. (I would like to extend a special thanks to all that offered their input!) While giving a history of the winery, its mission, and explaining how and why we paired wines with the dishes, we had the chance to chat with many of the attendants. Attended by about 20 customers, this series has been a sell-out from its first day. More than half of the group had purchased tickets for every dinner! After speaking with several of the guests, it is obvious that there is a lot of local interest in this type of event. Maybe one at the winery in the near future???