This year the Keuka Lake Wine Trail's Keuka Holidays event weekends both sold out by early. We are very thankful that so many people have chosen to celebrate the beginning of their holiday season by visiting our wineries. Once again, the ornament you receive at Heron Hill Winery was made by a local craftsperson. I'm also very excited to share the Mushroom Burgundy Soup recipe below from Blue Heron Cafe because it's so easy and so flavorful!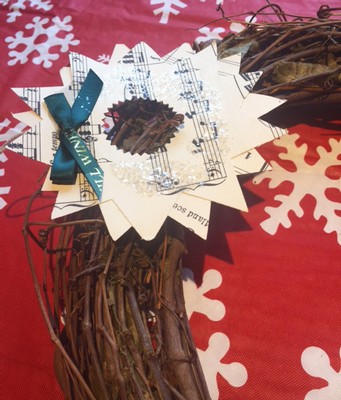 INGREDIENTS:
6 cups of milk
3 cups chopped button mushrooms
1⁄2 diced red onion
1⁄2 bunch of diced green onions
1⁄2 cup chicken stock
1⁄2 cup of Eclipse Red
2 tablespoons of garlic
2 tsp of sage Day-old bread (any type)
1 cup Asiago cheese

TO PREPARE:
In a medium-hot pan with olive oil, sauté the garlic until almost soft then add in the red and green onion. Sweat the onions then add in the mushrooms. Once the mushrooms are tender add in the Eclipse Red wine to deglaze. Once the red wine reduces add in the chicken stock and cook for about 5-6 minutes and add milk, leaving on low simmering for about 20 minutes. Add in the sage, salt and pepper to your liking. Once the soup thickens turn off and wait about 10 minutes before serving to cool down the soup. Once cooled top with home style croutons.
TO MAKE HOMESTYLE CROUTONS:
Cut bread into small cubes and toast. Once toasted, toss in olive oil and toss with salt & pepper and top with shredded Asiago cheese.

Heron Hill's Classic Muscat is made with Valvin Muscat, a cross of Muscat Ottonel and Melon Muscat. It's very aromatic and slightly sweet with tropical fruit flavors. The current sale price on this wine makes it a great value for holiday entertaining. Here are two holiday recipes utilizing this wine.
Easy Wine Brine for Turkey
1 cup kosher salt
1/2 cup light brown sugar
1 quart vegetable stock
1 teaspoon poultry seasoning
1 teaspoon chopped fresh rosemary
1 teaspoon cracked black pepper
1 bottle Heron Hill Muscat
Heat vegetable stock with brown sugar and salt until completely dissolved. Transfer to a shallow pan and chill for 10 minutes.
Mix all remaining ingredients in a very large stock pot or plastic bin (that will fit in your fridge). Place your turkey in the brine and submerge completely. Cover tightly and keep refrigerated for 48 hours, turning once every 12 hours. Remove turkey from brine and roast as you normally would. Discard any leftover brine.
Sweet & Spicy Ham Glaze
2 cups Heron Hill Muscat (this leaves enough for the cook to enjoy while making dinner)
1 pound of dark brown sugar
1 teaspoon of creole spice mix (such as Tony Chachere's)
½ cup spicy brown mustard
Juice from one can of pineapple rings
Mix in a saucepan and heat on low stirring it every few minutes.
I use a spiral sliced ham to make carving easier but if you like big, rustic slices buy a ham that has not been pre-sliced.
Place pineapple rings on surface of your fully cooked ham and put a maraschino cherry in the center of each securing with a toothpick.
Pour glaze over entire ham and bake (covered) for 3 hours at 300 degrees.
Remove cover (foil or pan lid) and baste with glaze in the pan. Bake uncovered at 350 degrees for an additional 25-30 minutes to brown nicely.
We are very excited to announce that our Eclipse Red 2011 received 90 points from Wine Enthusiast magazine! The full review will be in the May 2015 issue. This Bordeaux-style blend aged 24 months in French oak, Eastern European oak, and American oak barrels. It's round & layered with notes of dark cherry, baking spices, and a hint of cedar. In 2016, Heron Hill Winery will be celebrating the 25th Anniversary of our signature red blend!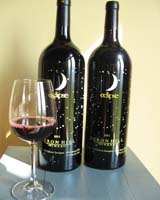 The 2011 Eclipse Red blend is composed of 40% Merlot, 32% Cabernet Sauvignon, and 28% Caberent Franc.
Something about chocolate, even just a bite, is so comforting to me in this cold weather. The Heron Hill team from all three locations, comes together at our Winery in Hammondsport for a monthly Monday morning meeting. Usually there's some tasty baked good served to pair with coffee, tea, and strategy. This month we all loved this Eclipse Red Wine Chocolate Cake. Eric Frarey, our COO and director of sales, and his wife created a delicious dessert recipe featuring Eclipse Red for our February Wine Club newsletter.

ECLIPSE RED WINE CHOCOLATE CAKE
Rich, moist and flavorful, this Eclipse Red Wine cake carries a unique taste and irresistible aroma. The wine makes the chocolate very fudge like with intense flavor. The Merlot in the Eclipse Red wine adds nice cherry notes. As the alcohol does not bake out fully this is the type of dessert you want to make for adults only.
INGREDIENTS:
1 ½ cups of all purpose flour
3/4 cup unsweetened cocoa powder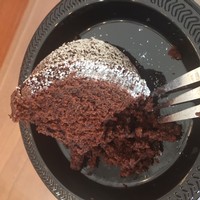 1 tsp of baking powder
½ tsp of salt
½ tsp of ground cinnamon
1 cup of softened butter
1 ¼ cup of granulated sugar
½ cup of dark brown sugar
2 large eggs
2 tsp of vanilla extract
1 ¼ cups of Eclipse Red wine
TO PREPARE:
Preheat oven to 350 degrees. Grease 12 cup bundt pan, set aside.
In a medium bowl sift flour, cocoa, baking soda, salt and cinnamon and set aside. In a mixer bowl beat together butter and sugar on medium high for 3-4 minutes until fluffy, beat in eggs one at a time until combined.
Scrape down sides and bottom of bowl as necessary, beat in vanilla extract.On low speed, beat in or fold by hand the flour mixture in three additions, alternating it with the wine in two additions, starting and ending with the flour. Do not over mix.
Pour into bundt pan, bake 45 mins or until toothpick inserted in center comes out clean. Allow cake to cool for 10 minutes on a wire rack, then turn it out to cool completely. Dust the cake with powdered sugar.

As the days grow warmer, we've welcomed a couple new members to our great team...Rachel joins us with extensive wine knowledge and a fun, easy going personality. She is our local children's librarian and always enjoys a literary discussion. You can find her at the wine bar as well as conducting Black Button spirits tastings on Sundays. Look for a Heron Hill Book Club coming soon!
Chanel proves that great things really do come in small packages. She is a local college student with lots of energy, enthusiasm and a beautiful smile!
We are happy to welcome these two new members to our team, and look forward to continuing to provide our visitors with an engaging tasting experience season after season.
In early April, the Tasting Room on Seneca Lake started pouring samples and selling a selection of small batch crafted spirits from Black Button Distilling. Made right in Rochester, NY this is another fine example of the excellent quality products being made right here in our own backyard. Stop by our tasting room to try the Wheat Vodka, Citrus Gin and Moonshine Whiskey!


Saturday, May 10th – Local Cheese & Heron Hill Wine
Bring your mom to the Heron Hill Tasting Room on Seneca Lake for samples of delicious locally made cheeses from Sunset View Creamery, paired with a wonderful selection of Heron Hill wines. Enjoy complimentary cheese with your wine tasting!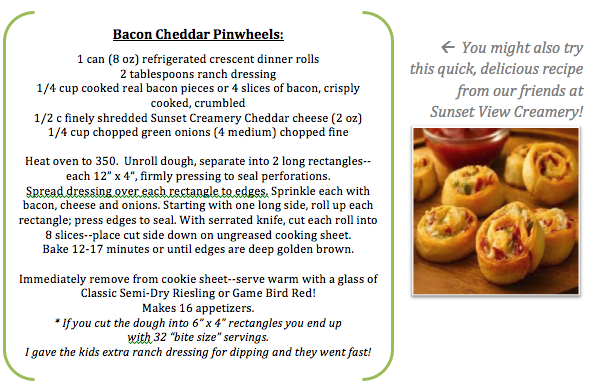 The 2013 harvest is over, after we picked the Riesling Icewine on the third week of November at Ingle Vineyard on a cool site overlooking the west side of Canandaigua Lake. Yes, it got that cold before Thanksgiving! The 2013 whites are either done with the alcoholic fermentation or finishing it slowly. A cool fermentation for white wines helps preserve the aromas from the varietal and also from the fermentation itself. A cool temperature means a long and slow fermentation.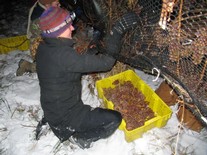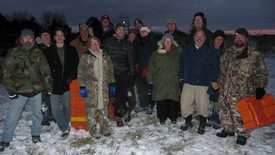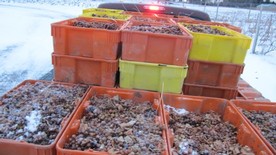 (Scenes from harvesting Riesling for icewine)
The reds need a higher temperature during the alcoholic fermentation to help the extraction of tannins from the skin and seeds. The alcoholic fermentation is therefore much quicker, a matter of days to a week. The rest of the time spent on the skin is called post-fermentation maceration. The red wines have been pressed off the skin and are now going through the secondary fermentation, or Malo-lactic fermentation: malo-lactic bacteria transform the sharp malic acid (found in apples) into the softer lactic acid (found in yogurt). This makes the red wines softer and rounder. Our white wines do not go through Malo-lactic fermentation in order to preserve their natural acidity.
For me, Christmas is a family holiday, in contrast with the New Year celebration which is more of a "friends get-together." It has been a tradition for my wife and I to spend Christmas Eve with her cousins on Long Island for the "Feast of the Seven Fishes." You might have guessed it: they are on the Italian side of the Family. As the name suggests, all the dishes are seafood based: shrimp cocktail, baked clams, broiled lobster tails, clams in a white wine sauce over pasta…and lots of desserts!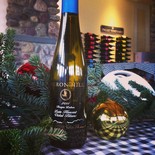 (Heron Hill Vidal Blanc 2011: Gold medal Finger Lakes International Wine Comp.; 90 points Wine & Spirits)
Interestingly enough, we bring the wines: Heron Hill Muscat is a favorite, along with the Semi-Dry Riesling and Ingle Vineyard Riesling. For the red wine drinkers, Heron Hill Cabernet Franc is always a hit, and I might add our Blaufränkisch or Baco Noir Reserve this year along with Eclipse Red 2010. And for dessert, I better not forget Heron Hill Late Harvest! It is a very versatile wine and pairs with many different desserts, as long as the dessert is not overly sweet. An interesting dessert to pair the Heron Hill Late Harvest Vidal Blanc with is a Ricotta cheese filled crêpe flambée. I believe I have shared a flambée Shrimp recipe in the past: you are going to think I am a pyromaniac…well, it surely makes a good show!

Crêpes Flambées with Ricotta cheese filling
For Crêpes:
¾ cup flour
1 cup milk
3 eggs
¼ cup vegetable oil
¼ tsp salt
1 Tbsp sugar
¼ tsp Vanilla extract
For Filling:
400g Ricotta cheese
4-5 Tbsp confectionated sugar
1 ½ tsp lemon zest
1/3 cup orange juice
¼ tsp Vanilla extract
For Flambée:
1/3 cup of either whiskey, dark Rum, aged Brandy, Cointreau,
or Grand Marnier (for a "Crêpe Suzette" approach).

TO PREPARE:
First, blend all the ingredients for the crêpe batter together, then store in the refrigerator for about three hours. This gives you plenty of time to make the filling, which should be made before cooking the crêpes. Just blend all the ingredients together. I chose Ricotta cheese for its creaminess and its lighter taste. To get closer to a Crêpe Suzette, you would replace the Ricotta cheese with half a stick of butter and use orange zest instead of lemon. I like the combination here because I do not want a dominant lemon or orange flavor, but a diversity of aromas. A good substitute for sugar would be honey, and it would actually work even better with the wine!
Using a flat bottom non-stick frying pan (the best is of course the "crêpe-pan), oil well the bottom of the pan. Once the pan is hot, pour a small ladle of batter and swirl the pan so the batter makes a thin and even layer on the bottom of the pan. Cook for about 45 seconds to a min, then flip the crêpe and cook for another 45 seconds, until brown bubbles appear. Place the crêpe on a dish. Repeat with the rest of the batter.
Place about 1-2 Tbsp of the filling in the center of each crêpe. Fold it in half, then in half again to make it look like a wedge or a quarter of a circle.
Place the crêpes in a big heat resistant pan. In a small saucepan warm up the liquor of your choice, then pour over the crêpes in the heat resistant pan, and CAREFULLY light the alcohol with a long match.

Place in a dish, serve and enjoy with a glass of Heron Hill Late Harvest Vidal Blanc! Happy Holidays!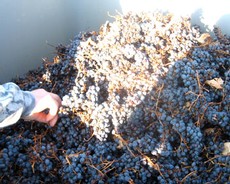 As of last week, we are officially done with harvest. The last crop we picked is a Late Harvest Cabernet Franc we had let hang on the vines at Ingle Vineyard. There will be no Icewine this year, but we are very pleased with the Late Harvest Vidal, the Late Harvest Riesling from Ingle Vineyard and the Late Harvest Cabernet Franc.
In the vineyard, pruning will start with the New Year. In the cellar, we are monitoring the Malolactic fermentations on the 2011 reds, and starting to stabilize the 2011 whites so they will be ready to be bottled in the spring. The 2011 harvest has been one of the biggest harvests at Heron Hill Winery, and somewhat challenging because of the weather conditions and a cellar filling very quickly with freshly pressed juice. Now we have more time to take a more regular pace, after the excitement of the harvest season. But there is always something to do on a vineyard and in a cellar.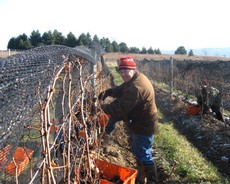 As the holidays approach, I would like to take the opportunity to wish you all a "Joyeux Noël" (Merry Christmas) and a "Bonne Année 2012" (Happy New Year 2012). My wife and I will spend Christmas on Long Island with her Family. Being Italians, they have "The Feast of the Seven Fishes" every Christmas Eve. It is an occasion to see relatives we do not have the chance to visit as often as we wish. There is not that much fish though, mostly lobster tails, shrimp and clams in different sauces and styles. I usually bring some Heron Hill Semi-Dry Riesling, which tends to please everybody. The Heron Hill Muscat remains the favorite for the appetizers.
Traditionally, my mom in France makes the "Bûche de Noël" (Yule log). It is not an easy task to undertake. I have tried to make it myself a couple of years ago: the taste was great, but the cake collapsed and looked more like a layered cake than a round log. But my mom also makes festive dishes that are much easier, which I am able to recreate, given that my mom never uses measuring cups. She was a chef for forty years and never used any of these. She would say: "use a small glass of flower, like the ones we use for dinner, the small ones, not the tall glasses, and overfill it up a little but not too much… Well, you'll see…" Thanks mom, I am so glad I called! It is so clear to me now! So, most of my recipes are done by taste.
For the Holidays, my mom always made Flambée Shrimp. It is so easy and spectacular too. Here's her recipe:
Flambée Shrimp for the holidays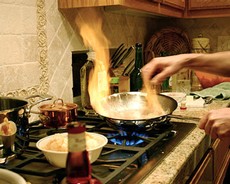 First, sauté some chopped garlic in a frying pan with olive oil (which can be replaced by butter). When the garlic is slightly brown, add the raw shrimp and sauté them on one side for a couple of minutes. Flip them and sauté them on their other side for another couple of minutes, or until almost cooked (can't you feel the resemblance with one of my mom's recipes?) You can add some salt and pepper to taste during this step. In the meantime, in a small saucepan, warm up some Whiskey or Rum, about 1/4 cup. When the Whiskey is smoking (it does not have to be boiling), TURN OFF ALL BURNERS ON THE STOVE (you will see how important that is!), place the frying pan in safe surroundings, clear of flammable objects (I usually leave the pan on the stove as it is a pretty safe spot in my kitchen), pour the smoking Whiskey over the shrimp, and with a long match, ignite the Whiskey. The alcohol will burn with a blue light. You can wait until all the alcohol has burned down, or you can stop the flambée by covering the frying pan with its cover. That will give an extra kick to the dish. If we have guests (I also make that dish just for my wife and I occasionally), they often get awed by the show!

I traditionally use raw shrimp with their shell, and they are eaten as an appetizer. They are quite tasty on their own, but I like to make a homemade Mayonnaise or Aioli.
Homemade Maynnaise or Aioli for the Flambée Shrimp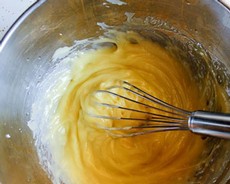 Again, it is very simple: put one to two egg yokes in a bowl, add a pinch of salt and pepper. Then, with a small whisk, start whisking and add olive oil VERY SLOWLY. Towards the end, you can add finely chopped fresh garlic to make it an Aioli ("Ail" means garlic in French). Just dip the shelled shrimp in the Aioli, and enjoy! Here too, the Heron Hill Semi Dry Riesling or Muscat complement the dish very well.
I have made a variation of this recipe to make a main dish at last Valentine's Day dinner I had with my wife at our house. I first sautéed the shrimp in garlic and olive oil until almost cooked, then set them aside in a plate. I then sautéed a little more garlic in Olive oil, and then added some scallops. I did not want to mess up the cooking of the scallops. That is why I decided to cook the shrimp and the scallops separately. Better be safe than sorry on a romantic date… When they were almost ready, I added the shrimp back in the pan with the scallops and then poured the warm spiced Rum, ignited it, and after the alcohol burned off, I poured the shrimp and scallops over pasta. Et voilà! It was quick, efficient, and it looked like I was a skilled French chef! Because the flavors were not as prominent with the pasta, Eclipse White or Ingle Vineyard Chardonnay pair extremely well with the dish.
Enjoy the holidays!

By Steve & Pam Acker, Managers at the Seneca Lake Tasting Room
One of the things that keeps a career (and life in general) interesting, is change. With the beginning of the summer season upon us some changes have come to the tasting room at Heron Hill on Seneca. We have said goodbye to some talented and interesting staff who have moved on to their next challenges and at the same time we are welcoming new members to the Seneca team. Just as when we say goodbye to a special old vintage there is a slight sadness but then that is replaced by the anticipation of new things to come! With varied history and backgrounds there are new dynamics and ideas to share. Be assured that you will continue to find a well trained group ready to assist you in all your wine needs.
It has been a pleasure working with Kara and Paul from the Keuka location to introduce some exciting new items and terrific food items, many from local suppliers, to the retail shop.
Weather permitting we will again this summer be able to offer tastings on the patio at our outside bar. A lovely spot to sample some summer favorites such as the Heron Hill Classic Chardonnay 2008 or any one of the delicious Rieslings. Additionally, we will provide some great recipes to help you get the party started and keep it going. White wine summer sangria is featured and if you haven't tried it yet now is the time. There are also some summer dishes(vegetable risotto!) you'll want to try so come in and pick up a copy. This group loves food almost as much as it loves wine!
As we begin our fifth season on Seneca we invite you to stop by, have a taste, and say hello to some old friends here on Seneca and quite possibly you will leave having made some new ones as well.

WHITE WINE SUMMER SANGRIA
Ingredients:
3 bottles Heron Hill Semi-Sweet Riesling 2008 or Game Bird Blush
1 litre bottle lemon-lime seltzer
¾ cup orange liquor (optional)
¾ cup orange juice
Cranberry juice
1 each - lemon, lime, orange thinly sliced

Directions:
Freeze cranberry juice in two ice cube trays several hours before serving
Keep all other ingredients well chilled
In a large pitcher or punch bowl combine wine, liqueur, and orange juice. Add sliced fruit and let mixture sit a few minutes to combine flavors. When ready to serve, add the cranberry ice cubes and seltzer.

By Steve & Pam Acker, Managers at the Seneca Lake Tasting Room
The last thing we remember at the end of August was looking forward to fall, harvest time and anticipating many busy days in the tasting room. Since then, we've said good-bye to many of our neighbors who have shuttered their lake homes and headed south, loading their cars with ample supplies of Heron Hill wines for the months to come.
The blur that was September and October brought all that we thought it would…along with some pleasant additions. The long awaited outside tasting bar was a great success. For the few truly beautiful afternoons that this autumn held, guests were eager to enjoy their wine sampling al fresco, basking in the sun and enjoying the view of the rolling farmland. We shared many stories, recipes and of course many conversations about wine while they sipped and sampled the best that Heron Hill has to offer.
As we transitioned from fruity summer blush and light crisp Chardonnay to soul warming reds, the release of the 2007 Reserve Pinot Noir couldn't have been better timed. What a pleasure it has been to pour that wine and the customer response has been so exciting! Of course Riesling goes with everything and I can't wait to whip up my first Choucroute of the season where I will use the 2006 Ingle Vineyard Riesling both as an ingredient and an accompaniment. Yum. (Light a fire, grab a book and pour a glass of wine while it simmers away, the recipe follows.)
It has been a great season and the crew here on Seneca has enjoyed meeting and serving so many wonderful guests. We are still open daily and look forward to seeing you as the holidays approach, and are always eager to assist with your wine needs and food pairing questions.
CHOUCROUTE (pork and sausage with sauerkraut)

1 tablespoon olive oil
1 large onion coarsely chopped
2 cloves garlic minced
1 small apple cored and sliced
2 pounds sauerkraut rinsed and drained (fresh or in glass jars, not canned)
1 cup 2006 Ingle Vineyard Riesling
1 cup chicken stock
2 pounds country style ribs
2 pounds sausage (best with fresh Polish sausage like Kielbasa or a light garlic sausage)

Heat a 6 to 8 quart enameled cast-iron casserole (do not use aluminum or black iron) and warm the olive oil. Lightly brown the spare ribs and remove from pot. Add the onions and garlic and lightly sauté. Add the apples, sauerkraut, wine and stock and lightly stir to combine. Top the mixture with the spare ribs, add a pinch of freshly ground black pepper and cover. Place casserole in a 350 degree oven for 1 hour. Add the sausages and return to oven for an additional 40 minutes or until meat is falling off the bone and sausage is cooked through. Wonderful served on a family style platter with mashed potatoes on the side. Enjoy!

By Steve & Pam Acker, Managers at the Seneca Lake Tasting Room
Hello again from Steve and Pam at the Seneca Lake tasting room of Heron Hill Winery! The soft scents and gentle warmth of early June beckon us to linger outside just a bit longer. That calls for a glass of Heron Hill Classic Semi-Dry Riesling 2007 on the porch, deck or dock as evening falls.
We welcome back all our good neighbors who have returned for the season to once again enjoy the very special feeling of summer on Seneca. Open daily to serve you, we will be adding a new tasting bar to the patio for those great early summer days when you just don't want to come inside. If you have friends visiting from out of town (and who living on the lake doesn't!!!) we invite you to bring them by for a taste and let them experience our award winning wines and the truly unique flavor of the lakes. Then take home a favorite bottle or two to share over dinner and you have an instant party. Check out our gift shop that features many locally produced products that pair beautifully with our wines.
Our event tent will be arriving shortly to accommodate larger tasting groups. Please call ahead if you are planning a group visit of 10 or more so we may better serve you.
Whether you are an avid fisherman, golfer, gardener or beach bum, summer calls for getting together with friends and family for food and fun. As the weather warms and barbeques and picnics become the menu of choice, remember that a well-chilled bottle of your favorite Heron Hill wine is the perfect accompaniment. Pair grilled shrimp or chicken with a fruity white such as our Eclipse White 2006, a warm weather favorite or the crisp refreshing Classic Chardonnay 2007. Try ribs with a Riesling of your choice. For an afternoon event, keep things light with a flavorful White Wine Summer Sangria made with our Classic Semi-Sweet Riesling 2007. The recipe follows.
No matter the season, day of the week or the menu choice, a glass of wine makes an ordinary day a little more fun and festive. We are happy to share some of our food and wine pairings with you and also love to hear some of your own favorites. If you like the idea of hosting your own wine tasting party for some friends, we can help with that as well.
We hope to see you soon at our tasting room and retail shop on Seneca Lake. In the meantime enjoy the upcoming lazy, hazy days of summer with some friends and a glass of Heron Hill wine. We will be!
WHITE WINE SUMMER SANGRIA
Ingredients:
3-Bottles Heron Hill Semi-Sweet Riesling 2007 well chilled
1-litre bottle lemon-lime seltzer
¾ cup orange liqueur (optional)
¾ cup orange juice
Cranberry juice
1-each lemon, lime and orange thinly sliced
Freeze cranberry juice in two ice cube trays several hours before serving. Keep all other ingredients well chilled. In a large pitcher or punch bowl combine wine, liqueur (if using) and orange juice. Add sliced fruit and let sit for a few minutes to combine flavors. When ready to serve, add the seltzer and cranberry ice cubes.