As we happily hit spring in the Finger Lakes, Heron Hill is pleased to continue the tradition of making world-class Rieslings. Since the beginning of 2016, we've received some excellent score in top wine publications and wine competitions. Each year Heron Hill's winemaker makes a full range of Rieslings from dry, single-vineyard wines to sweet, ethereal dessert wine. What most excites Heron Hill's owners & staff is when we meet people who have found a favorite style of Heron Hill Riesling and that wine has become their go-to Riesling to pair with certain foods or for particular occasions. Scores and medals still have meaning and we certainly appreciate judges & wine reviewers that have made tasting wine a life's passion. It will always be about people just enjoying our wine and choosing to share Heron Hill wines with their friends & family!
91 points Ingle Vineyard Riesling 2012, Wine Enthusiast
90 points 'Best Buy' Classic Dry Riesling 2013, Wine Enthusiast
Best of Class 'New York' Classic Semi-Dry Riesling 2013, Grand Harvest Awards*
Double Gold, Classic Semi-Sweet Riesling 2014, Finger Lakes International Wine Competition
*At the Grand Harvest Awards, judges taste wines with other wines of the same appellation. Established in 1990, it is the only wine-judging event in North America that is based on Terroir

Heron Hill at Bristol has been buzzing with excitement for 2013. Our energetic staff remains the same from last year Joshua, Christopher, Chelsea, Debi, Stephanie and Cindy. We have added two new employees, as well, Suzi and Torin. Our customers are amazed at how beautiful our surroundings are and vow to come back again; and they are! With the close proximity to Rochester, it is an easy day trip to bring out-of-town guests or a leisurely drive from Syracuse or Buffalo. We are also beginning to notice many of our late afternoon customers are stopping before a concert at CMAC or dinner at the great restaurants residing in Canandaigua which is only 20 minutes away.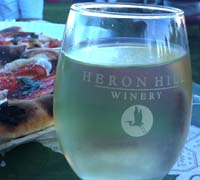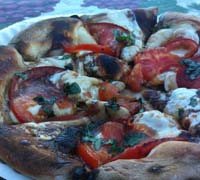 Our newest addition, Fridays after 5 with Wood Fired Pizza, 5:00 pm-9:00 pm, has been a huge success right from the start. For the month of July and August on the 2nd and 4th Fridays, the sounds of live music and the smell of wood-fired pizza fills the air; neighbors and new friends alike share tables for an evening of fun. We've already hosted two of these food & wine events, many people have attended both, and are looking forward to the next. Each week we offer a different genre of music. Our customers have been excited and each band brings its own set of followers which exposes Heron Hill at Bristol to a new set of fans. The setting creates a beautiful family event at a vineyard with music, people dancing, kids racing around….it's just a great evening! There are only 3 weeks left (August 9, August 23 and August 30th), so try to make it to Heron Hill at Bristol for an evening of fun.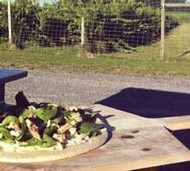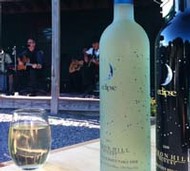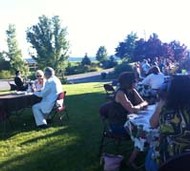 On September 21st, our Third Annual Ingle Vineyard Harvest Festival (12:00–6:00 pm) will be held at our tasting room. Music by DANG!, a country-rock band, wood-fired pizza, cider pressing, fresh popped popcorn, wine, beer and soda will be served. This is a family event as well. There is a baby pumpkin hunt, ring tosses and coloring station for the kids. Bring your lawn chairs and/or blankets, and spend a day at Heron Hill at Bristol.

We are now serving glasses of wine to enjoy outside overlooking the vineyard. If you haven't been in Heron Hill at Bristol on Ingle Vineyard, you are in for a wonderful surprise. We look forward to seeing you.
Upcoming music schedule:
Aug. 9 - Trinidad Band
Aug. 23 - Shared Genes
Aug. 30 - The Bristol Brothers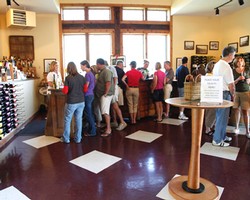 We have had a fantastic year at Heron Hill at Bristol on Canandaigua Lake. All of our staff live such diverse lives outside of Heron Hill; we thought it would be fun to introduce all of them to you. Employees wrote a bit about themselves, enjoy the insiders view about the Bristol staff!

First, let me introduce myself. My name is Josie Holden; I was born into this family business, when I moved back to the area and began working at the Bristol location. On school breaks I worked at the main winery on Keuka Lake. I currently enjoy working at the Bristol tasting room as the Assistant Manager and being a part of Heron Hill Winery. I hope one-day to take it over and keep the family business running. In my spare time, I enjoy fishing with my husband, photography, cooking and gardening. When I started at our Bristol Tasting Room, I knew it was going to be a success and I was right! We have done really well at our location and grown and I have learned about what it is like to be part of a small business and help manage it.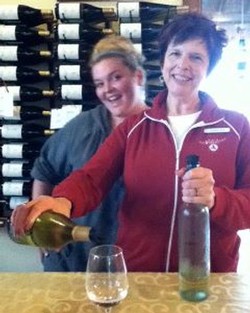 Christina Bowe, our Manager, has been here for more years than she would like to admit to. Christina started at the Rochester Public Market when her daughters were young as a part-time position, then spring-boarded into the wholesale department for Heron Hill Winery. When the opportunity for the position opened up at Bristol, she thought it would be a fun transition and a little more relaxing. That definitely was not the case, but she has enjoyed every minute of it. She loves traveling, cooking and listening to great music.

Chelsea Bowe is Christina's daughter and began going out with her Mom when she was old enough to pour. After trying several different ideas for a career she began helping her Dad who is an Electrical Contractor. She has now been working with him for over four years and really loves it, but found herself occasionally helping her Mom at festivals and wholesale events. When Christina started her job at Bristol, Chelsea joined the team as one of our experienced tasters, and was dubbed the "Group Taster" since she is very comfortable with large groups. Chelsea says, "Even though I have a 'real' job, I truly enjoy the contact with people."

Karyn joined Heron Hill last season as a wine server at the Winery on Keuka Lake. This season, she joined the staff at Heron Hill's Bristol tasting room, since it is in her neighborhood. When she isn't serving wine she is a technical writer and e-Learning consultant. She keeps herself busy five nights a week with dance, dance, dance and more dance (swing, salsa, rumba, jazz and most recently, tap dancing).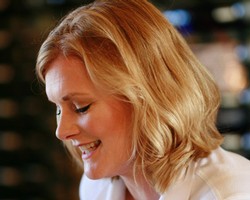 Stephanie Von Bacho joined the Bristol tasting room in September of this year after stopping in for a tasting. As a wine enthusiast, she is certified by the WSET at the advanced level and loves teaching people about wine. Stephanie works occasionally, mostly weekends, as her day job at the University of Rochester Medical Center overseeing education for 3,500 nurses which keeps her pretty busy. Stephanie and Scott live in the Finger Lakes with their 2 goats, 26 chickens, 2 dogs, a cat and 2 horses.

Sandy Robinson, a newbie to the wine industry, feels that she could not have had a better entry point into the business than Heron Hill. She will be starting a Wine & Spirit Education Trust (WSET) wine course with the New York Wine and Culinary Center; and will be traveling to Northern California in the spring in order to scout wineries and apartments for a likely future move. Most of her adult life has been spent in the movement arts and alternative wellness fields. As a soccer player in high school, and squash player in college, she never would have thought that she would enter the world of dance. She parlayed her participation in Rochester-based dance companies into teaching dance, then Pilates, which led her to yoga, which she taught for 10 years. Yoga along with qi gong and essential oils became part of her therapeutic treatments for clients when she obtained a massage license and opened a practice. She also has a Master's degree in multicultural/multi-religious studies.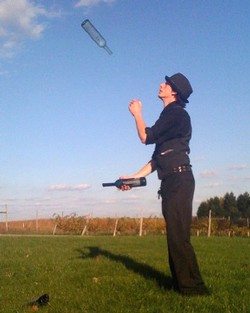 Joshua Zubrzycki also joined us in September. Joshua has been known as a person of many talents. We call him "our entertainer". He is artistically talented as a haberdasher, viticulture technician at FLCC, jewelry making and our FAVORITE, a juggler (makes his own juggling balls). He has also been practicing juggling Eclipse bottles!

Debi Combs, our Southern Bell, has brought a lot of knowledge of living in the South to our Heron Hill staff. She moved here with her husband who is employed at the Finger Lakes Race Track. They have been on the horse racing tour for many years. Debi herself worked at several tracks.

The staff works together well, we all have different lives outside of Heron Hill, but together we work as a GREAT TEAM.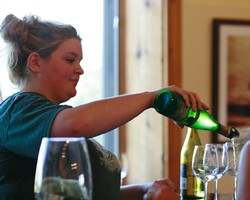 The name Canandaigua is derived from the Seneca Nation's name which is spelled variously Kanandarque, Ganondagan, Ga-nun-da-gwa, or in a modern transcription, tganǫdæ:gwęh, which means "the chosen spot", or "at the chosen town". This area has become a destination for people all over the world.
Our Heron Hill team at Bristol has hosted people from Europe, South America and North America. When asked why they have travelled to this area, they tell us because the Finger Lakes are becoming an "up and coming" wine region and they wanted to check it out. Most of the natives to the area take our region's beauty for granted. When you hear our visitor's amazement at the scenery, the area as a whole, it puts it all in perspective … how lucky we actually are to live here.
Last month we had our first event, a Vineyard Soiree. With the help of the Canandaigua Merchants Association, we had a day at the vineyard. Many local people, visitors and our staff were exposed to Canandaigua merchants, such as; Wick-edly Sent Soap & Candle Company, F. Oliver's Oils and Vinegars, Sweet Expressions, New York New York, Coach Street Clay, Rio Tomatlan Mexican, Simply Crepes and music and dancing lessons by Tommy Gravino/Sheila Trumble. Heron Hill provided cider making with samples and free wine tastings. It was a great time! Being our first year, we have the kinks out, so stay tuned for next year's event.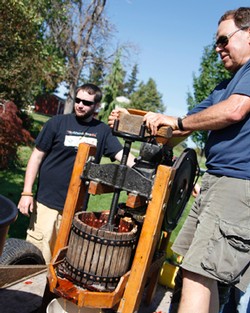 Check out the entire photo gallery of our Vineyard Soiree here!
Our newly improved gift shop offers Heron Hill logo items, as well as products made locally, including our Maple Syrup items made just down the road. If you have not had the opportunity to visit our Bristol location come sip great wines, browse our newly expanded gift shop and take in the beautiful views of the Finger Lakes.
As we begin to wind down for the season, we are beginning to think about next year. Keep a look out for our new and exciting events coming in 2012.
We are starting off our second year being open on Canandaigua Lake. After waiting all winter to open we are feeling positive about this season. We have new management this year and a great new staff. Our new staff has been enjoying learning about our history of the winery and our wines.
Our days have been consistent for us. The weekends have been quite busy with group tastings. People love to use our facility for their friends or family to come and enjoy our wines. It is a great facility to have these kinds of events. We also have a great gift shop with local products and Heron Hill logo items to bring home for someone special. We are offering the new Game Bird White that recently came out and tastes great. We look forward to having you come and visit us during the week or on a weekend.