Walking out of the vineyard with sticky fingers and a purple mouth, it's shaping up to be a fantastic 2019 vintage. We had setbacks early on with some rot from the rain in the Pinot Noir. We dropped almost a ton of grapes into buckets to be added to compost, then made some beautiful juice from the remainder. Shortly after, we picked what was left of Pinot Noiron September 30th. It was a smaller quantity but the numbers look great.
The other varieties are looking absolutely beautiful. A little over 10 tons of Chardonnay grapes were bright gold and came in at 21.7° brix at harvest on October 10th and 11th. We picked about 1.5 tons of Merlot on Saturday the 12th followed by Blaufrankisch on Monday and Tuesday. The Blaufrankisch grape bunches were a beautiful deep purple and the crop was of good size and great quality. We worked hard to pick them so we could get them off the vine before the expected rain.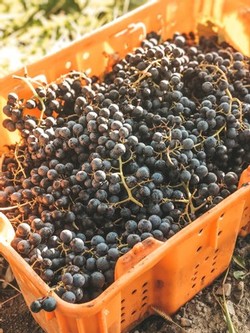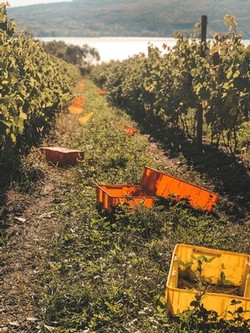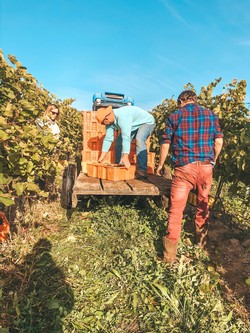 We picked Cabernet Sauvignon Friday morning and we still have Cabernet Franc and Riesling hanging and those will be picked within the week. We plan to leave some rows of Riesling to hang on the vines a bit longer to make a late harvest this year, which is always a great addition to our lineup of Rieslings.

Every year, when Earth Day rolls around, it gives us a great opportunity to share our goals and vision for sustainable grape growing - but we strive to communicate our mission every day: to educate and inform customers who enjoy our wines about how and why our efforts make a difference.
This year, we are really able to bring this more full circle. In the beginning of the year, owners of Heron Hill and grape growers, John and Jo Ingle, were awarded Grape Grower of the Year by the New York Wine and Grape Foundation. This award is given out to a grower in New York State that should be recongized for their dedication and contributions to the New York grape industry.
John and Jo have been sustainably growing grapes on the Western Shores of Canandaigua and Keuka Lakes in the Finger Lakes since 1972, making them one of the original pioneers of the Finger Lakes wine business.
Though we are not certified organic, we pride ourselves on using sustainable practices in the vineyards that we cultivate on Keuka and Canandaigua Lakes. At Heron Hill and Ingle Vineyard we don't use harsh fertilizers, herbicides or insecticides. (Due to our sometimes humid climate we maintain a fungicide spray program that only selects specific targets thus reducing the need to "blanket" spray.)
In May, we will cultivate the center rows which loosen up the soil, allowing moisture to seep into the ground, and we follow up with a cover crop that will grow and help prevent the errosion of the soil and soil compaction.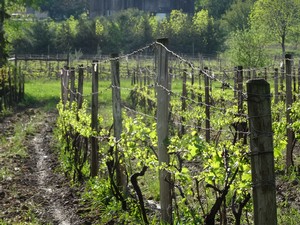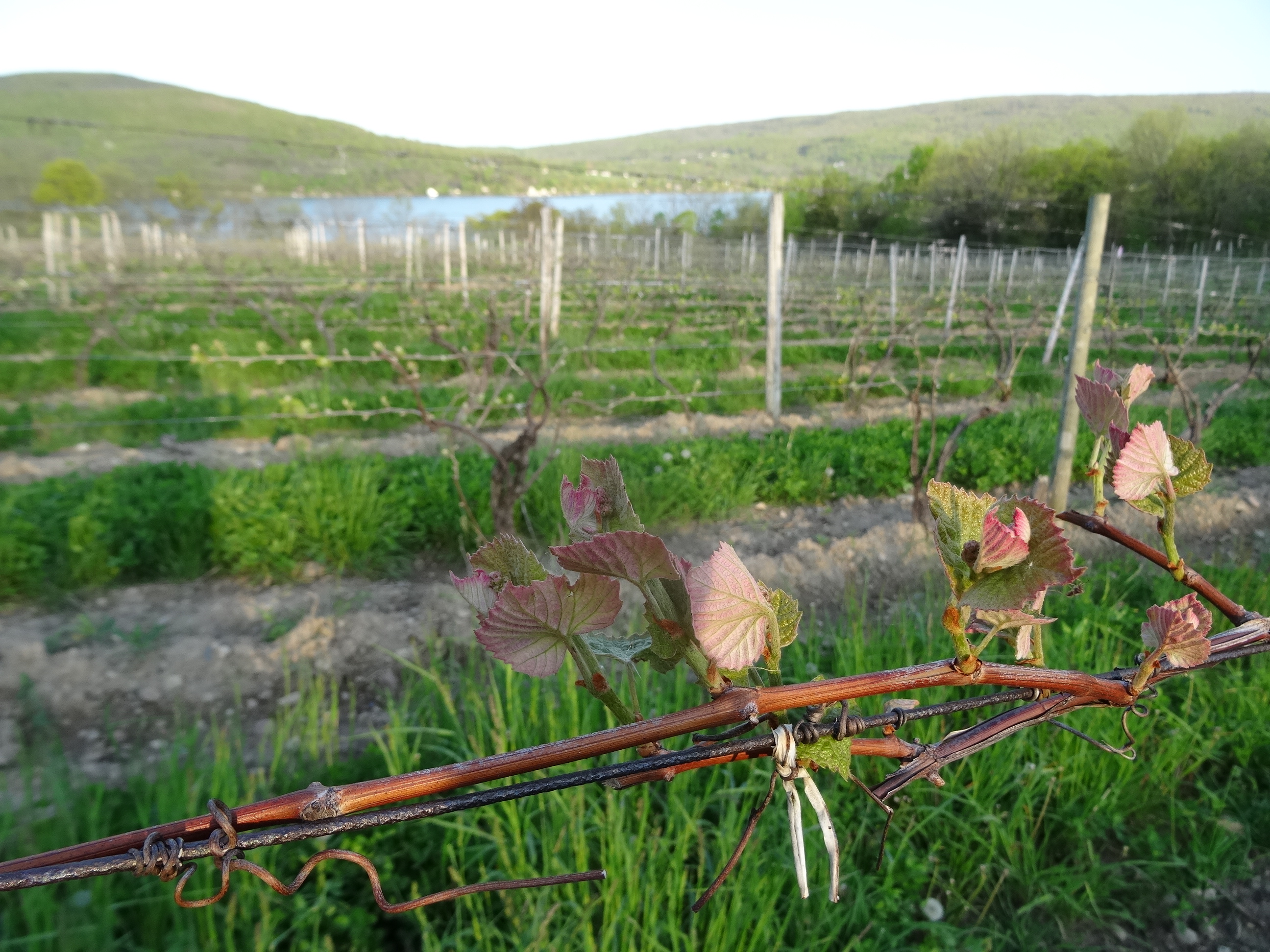 Ingle Vineyards, West side of Canandaigua Lake
When it comes to marketing and positioning our wines so that our customers know about our efforts in the vineyard to be sustainable, a lot of it starts in conversation in our tasting rooms. We feel it's important for a consumer to know where our products come from, how it was made or grown, that it's more healthful and that it's produced by caring, conscientious people.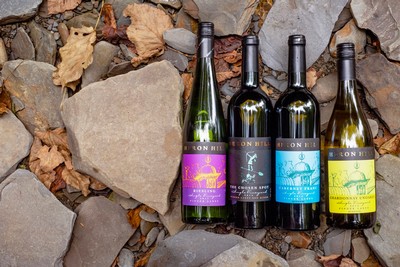 If you've visited Heron Hill or have enjoyed a Heron Hill wine, you probably are familiar with the Ingle Vineyard series. Our Ingle Vineyard wines consist of Riesling, Chardonnay, Pinot Noir, Cabernet Franc, The Chosen Spot blend and coming soon, a Blaufränkisch. All of these wines are single-vineyard wines that are made with sustainably farmed grapes from John and Jo's vineyards. If you haven't yet enjoyed one of these wines - now you surely have a reason!
It's very important to us to farm sustainably so that all who enjoy Heron Hill wines form a trust in our brand. We strive to make an impact on all who consume our products while also helping make a difference in the world. We want to ensure our farms have a viable future for generations to come.
Learn more about our sustainable farming practices.
John Ingle selected a slope near where he planted Cabernet Sauvignon and Merlot over 15 years ago to clear a site for planting Blaufränkisch (also known as Lemberger). What looks like barely a nub peaking out, is supported by a much larger root system buried in the soil, and should produce grapes in 3-4 years. It's important to keep the new planting covered with dirt as much as possible to hold the moisture.
Heron Hill's history with Blaufränkisch goes back to 2007 when the winemaker at the time, Thomas Laszlo who had live in Hungary, had a fondness for the variety. Since that time Blaufränkisch has developed a following among Heron Hill's returning visitors and Heron Hill only produces the wine select years bottling it under the Reserve label. Stay tuned for updates on the progress of this new site!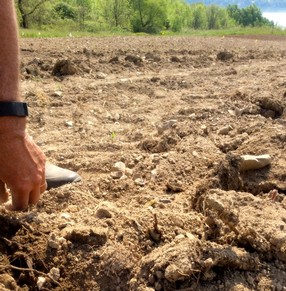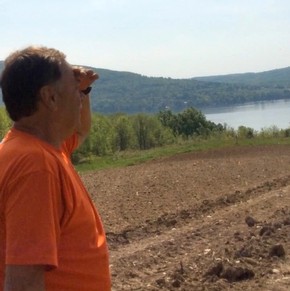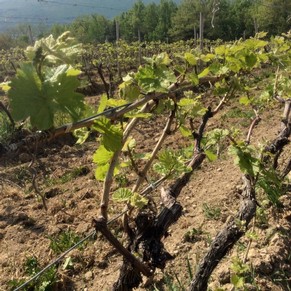 "Buds is the word!" exclaimed John Ingle this week.
Other lots at Ingle Vineyard look good for this point in the year – we're counting strong numbers of 40+ healthy, lively buds per vine across Riesling, Chardonnay, and Pinot Noir. Interestingly, the vines at Ingle Vineyard are a bit further along with larger buds than the Heron Hill Keuka Lake estate vineyards.
Merlot and Cabernet Sauvignon at Ingle Vineyard have experienced much damage after the past three harsh winters. However, we're seeing more Pinot Noir buds already this year than the last three year total. Although it's early in the season and even the smallest things such as wasps can have an impact on harvest, John Ingle is hopeful that we'll see an increase in Pinot Noir yields this year at Ingle Vineyard

The harvest season plods along, day-to-day, vineyard-to-vineyard, weather report to report -- it's hurry up then wait. This convoluted vintage of freezing winter, wet summer, hot September and now cooperative October weather has brought in some beautiful grapes. The scant harvest (1.2 tons) of Pinot Noir brought exciting brix (sugar) levels and great jammy flavors. The Chardonnay, again a scant quantity (8.5 tons) was declared "perfect" by winemaker Barry Tortolon. Now we are into the Riesling. Finally good quantities to go with exceptional quality. The 7.5 inches of rain we had in June helped to develop Botrytis (the "noble rot"). We hope this block of Riesling brings a very interesting dessert wine. Next will be Merlot, then Cabernet Franc, Cabernet Sauvignon, late harvest and icewine.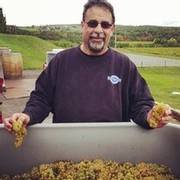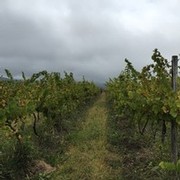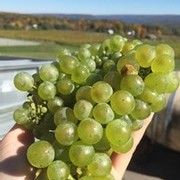 Winemaker Barry Tortolon inspecting Chardonnay from Ingle Vineyard; checking Brix in the early morning; clean & ripe Riesling from Keuka Lake.

Follow
HeronHillWinery on Instagram
.

But I'm not sure I love you when you show up 3 hours late with the first load.
Today was already expected to be a pretty busy day, with 3 loads of Chardonnay from the eastside of Seneca Lake expected to arrive starting at 10am. Equipment issues at the Grower's end lead to a delay in arrival, with the 1st truck finally showing up at just after 1pm, so 3 hours later than planned. Oh well, these things happen during Crush, and you just have to roll with it.
We were pleasantly surprised to find out that we were receiving more grapes than we had requested, which will definitely help alleviate some future supply issues down the line. The Chardonnay graped came in at normal Brix levels for Cool Climate Chardonnay, although the berries were a bit smallish. We should see some good results from theses grapes next Summer when we begin to release 2014 white wines.
The delay allowed us time to catch up on a few other things around the Winery and in the vineyards, with some housekeeping, tank cleaning, mowing, paperwork and miscellaneous other duties all being done while we waited the arrival of the grapes, so the time was not wasted. On the slate for tomorrow -- pressing of the Ingle Vineyard Pinot Noir. Time to put that Baby to bed!
Last week the mornings were bright, and the vineyards and lake glittered with snow along the west side of Keuka Lake. Trimming stiff vines in single-digit temperatures, doesn't evoke the same romantic image as handpicking juicy, ripe bunches of grapes under the golden light of harvest. However after spending some time with our vineyard manager, I found myself completely fascinated by the process of pruning the vines. Despite tending my own small garden and plants, and growing up in wine country, it still seems miraculous to learn how much life will sprout out of one tiny bud in less than 6 months. From each bud a cane will grown and support multiple clusters of grapes.
Don Riesenberger joined the Heron Hill team last summer as vineyard manager on Keuka Lake. He's very at ease and confident in the vineyard explaining to me why it looks like he's cutting back so much and how he's keeping extra buds on the canes this year. From recognizing a strong spur at the base of the vine to removing just the right amount of new growth, it quickly becomes clear how critical this stage is to maximize the potential of the individual vine. We have control over pruning techniques; we don't control Mother Nature.
"When you look at a vine, you consider what happened last year, what will be different this year, and plan for next year, " demonstrated Don.
Don grew up in nearby Naples and has early memories of tying when he was just tall enough to reach the low growth in his father's vineyards. For 28 years, Don worked as a warehouse manager for Constellation Brands in Canandaigua—and now he's enjoying spending most of his days outside. Don and his wife live on a hillside between Naples & Canandaigua, and have one son currently in college. Heron Hill is very happy to have him around and welcomes his experience, humor, and professionalism.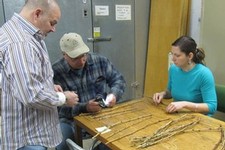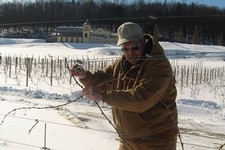 Eric, Don, & Erin checking buds Don pruning young Riesling vines.
Heron Hill has approximately 12.5 acres planted in front of the Winery on the west side of Keuka Lake. The vineyards primarily consists of Riesling ranging from young vines just 1 year old to well established 10 year old vines. Don is also in regular contact with our crew at Ingle Vineyard located on the west side of Canandaigua Lake where some of the vines are over 40 years old. Across the Finger Lakes this winter the fluctuating temperatures, with "arctic blasts" below 0 degrees, have caused concern for vinifera vineyards of all ages. Don explained the different roles of the primary bud, secondary and tertiary bud. We have checked cane samples weekly, although we're seeing healthy signs of green now, it's still too early to tell how fruitful the vines will be this vintage.
I chatted with Don today on this grey, rainy Friday where we're expecting the temperature to reach nearly 50 degree. This pop of warmth will prove perfect for starting the flow of maple sap, but it's potentially dangerous for vulnerable fruit buds when next week's forecast predicts frigid temperatures again.
"What's you're favorite season?" I asked Don. "I actually really enjoy tying in the Spring" Don replied. "There's something about when everything is starting to bloom and working outside while the birds are singing…" Pruning will continue into March, then after the support posts are checked and wires are tightened, tying will begin. The more I learn about grape growing and wine making, the more I appreciate the process and respect the risk people take in this industry. There's no question, everyone's eagerly awaiting the arrival of Spring this Year!