We are very excited to announce that our Eclipse Red 2011 received 90 points from Wine Enthusiast magazine! The full review will be in the May 2015 issue. This Bordeaux-style blend aged 24 months in French oak, Eastern European oak, and American oak barrels. It's round & layered with notes of dark cherry, baking spices, and a hint of cedar. In 2016, Heron Hill Winery will be celebrating the 25th Anniversary of our signature red blend!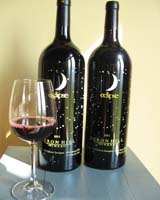 The 2011 Eclipse Red blend is composed of 40% Merlot, 32% Cabernet Sauvignon, and 28% Caberent Franc.
Something about chocolate, even just a bite, is so comforting to me in this cold weather. The Heron Hill team from all three locations, comes together at our Winery in Hammondsport for a monthly Monday morning meeting. Usually there's some tasty baked good served to pair with coffee, tea, and strategy. This month we all loved this Eclipse Red Wine Chocolate Cake. Eric Frarey, our COO and director of sales, and his wife created a delicious dessert recipe featuring Eclipse Red for our February Wine Club newsletter.

ECLIPSE RED WINE CHOCOLATE CAKE
Rich, moist and flavorful, this Eclipse Red Wine cake carries a unique taste and irresistible aroma. The wine makes the chocolate very fudge like with intense flavor. The Merlot in the Eclipse Red wine adds nice cherry notes. As the alcohol does not bake out fully this is the type of dessert you want to make for adults only.
INGREDIENTS:
1 ½ cups of all purpose flour
3/4 cup unsweetened cocoa powder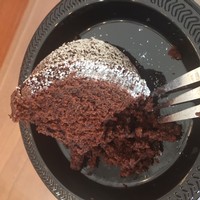 1 tsp of baking powder
½ tsp of salt
½ tsp of ground cinnamon
1 cup of softened butter
1 ¼ cup of granulated sugar
½ cup of dark brown sugar
2 large eggs
2 tsp of vanilla extract
1 ¼ cups of Eclipse Red wine
TO PREPARE:
Preheat oven to 350 degrees. Grease 12 cup bundt pan, set aside.
In a medium bowl sift flour, cocoa, baking soda, salt and cinnamon and set aside. In a mixer bowl beat together butter and sugar on medium high for 3-4 minutes until fluffy, beat in eggs one at a time until combined.
Scrape down sides and bottom of bowl as necessary, beat in vanilla extract.On low speed, beat in or fold by hand the flour mixture in three additions, alternating it with the wine in two additions, starting and ending with the flour. Do not over mix.
Pour into bundt pan, bake 45 mins or until toothpick inserted in center comes out clean. Allow cake to cool for 10 minutes on a wire rack, then turn it out to cool completely. Dust the cake with powdered sugar.

With the Tasting Room at Bristol closed for the season, I'm off and running to seek out new homes for our Heron Hill Wines. It's been a great season for this, since our weather has been unseasonably mild. No worries about traveling in snow and ice.
In the Wholesale Department, January is a relatively slow month, most people are resting from the busy holiday season which begins just before Thanksgiving. The shelves are still loaded with wines, store inventories are being done and staff is regrouping for spring.
I've been visiting prospective clients for over 7 years now, it has been a breath of fresh air to hear more and more customers wanting to support New York's growing wine industry. Their consumers are asking for NY, and the retailers and restaurants are listening.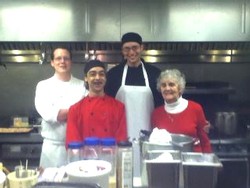 It is a shame that it has taken so long for this to happen, but it's here and wholesale staff is ready to present Heron Hill all over the State. John Coco, Sales Director has led his team (Mike Oliver and I) to all parts of NYS and we have been having great success.
Last month, I travelled to Oneonta and Binghamton to find several restaurants that listened to their customers and want to bring Heron Hill wine to represent their voids in wine lists. We have several features starting next month: The Oneonta Depot and Bella Michaels.
The Oneonta Depot, which is a charming old train station whose food looks fantastic. Too bad we were on such a tight schedule, after looking at the menu, I would have loved to try it. They will be featuring Heron Hill Chardonnay and Riesling, which we are very excited about. Bella Michaels, an Italian restaurant will be featuring our Pinot Noir and Chardonnay this month. This is very exciting for us, since we are not very prevalent in this market.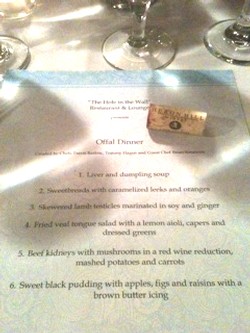 One of the most interesting restaurants that I have gone to is in Perry, New York. The Hole in the Wall, which opened in 2001, brings upscale and innovative cuisine. Anita Billings, her daughter Jacki and son-in-law Travis have wowed their customers with their creative wine dinners. Weeks ago, Jacki and Travis visited Heron Hill on Keuka and tasted several wines. We're excited that they've chosen Heron Hill for their annual dinner in July. This dinner is a real adventure, its beautifully prepared and presented, with distinct taste and is all around delish! We're looking forward to July's dinner to see what the staff at the Hole in the Wall has up their culinary sleeves.
All-in-all life on the road has brought me some pleasant surprises and I am looking forward to educating new customers about Heron Hill wines.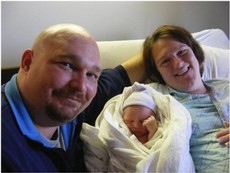 I would be remiss if I didn't start by noting the arrival of my son, Morgan Ronald! He was born New Year's Eve morning. Both Morgan and Mom (Tanya) are happy and healthy. At this point, he has grown to nearly 10 pounds. Sleep has become a precious commodity, but that is to be expected.
Recently, I have returned to the wonderful world of Wholesale Sales. January, despite the weather, proved to be a highly productive month for me! I managed to travel from Cooperstown and Syracuse to Cuba and Salamanca. While riding with our distributors' sales reps, I managed to sell a fair amount of wine. In particular, I look forward to the addition of the entire Ingle Vineyard series at Allen's Wine & Spirits in Olean. With John Coco coming on board, I expect to see increased interest while I'm on the road.

A fair amount of my time is devoted to booking store tastings and scheduling events. We will be pouring at Corning's Cabin Fever this Friday. I have scheduled tastings from Savor Syracuse to the Alfred University Alumni Gala and look forward to the next Cork & Fork.

As for the Café, I was looking forward to a relaxing winter before revamping the menu and beginning to assemble my staff. Kitty, Paul, and Kara have been contacting me about the new menu to pass along to upcoming groups and promotions. With the amazing response to the menu that we saw last year, changes will be minimal. I have had requests for particular items and am considering these.

Additionally, we will be hosting a weekly Happy Hour at the Café. Initially, we were considering Thursday, but Music in the Park may draw our perspective crowd away. At this point, I think that Wednesdays might be a better option. The plan for this event is to offer tapas, wine by the glass, and beer by the bottle. I think that with Kitty's amazing networking and publicity savvy, we can expect an amazing turn out. I am considering a discount for employees of other wineries…

Next weekend, we have the first Wine Trail event of the year. I will be making Curried Chicken Satays and a Raspberry Cheesecake. The ladies in the office are a bit concerned that I will not be fully prepared for this event, so they recommended that I make an extra cheesecake, just to be sure. With that said, if you are at the winery on Monday, ask for leftovers!

Happy New Year from the Wholesale Department. Welcome to another year! The wholesale section of the blog will continue to be a travel log including meeting new customers and interesting people and visiting new places.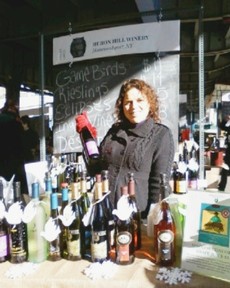 The last event of 2010 was on December 5th. I was honored to attend the New Amsterdam Market (actually very old) just over the Brooklyn Bridge in NYC. As you can imagine, the December wind blowing off the East River was icy, however, it was very sunny. Whitney (one of our ace tasters and my daughter) was freezing, but it didn't stop people from coming to try NY wines. I took the first picture from the back of the market, which is one of the oldest markets and has been in operation since 1642. The view was breathtaking. The area, surrounded by old brick paver roads, was the home of an old warehouse that was converted into a shopping mall, bustling with Christmas shoppers. Behind the warehouse was a miniature golf course, which was obviously closed for the winter, but the view of the bridge was spectacular. There were also quaint little restaurants scattered throughout the streets.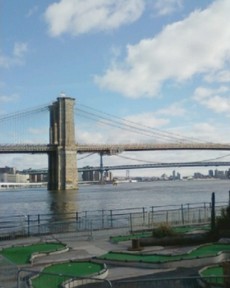 The market was fabulous. Many locals and visitors to NYC were thrilled to have the opportunity to sample wines from over 30 New York wineries at the weekly market. I actually had a couple from New Jersey that saw the advertisement for the event and traveled to the market to get Heron Hill Wines, since we cannot ship wine there. The "localvore" movement in New York City is growing and people are looking to support not only our wines, but also New York products. There were plenty of great vendors considering the time of the year and the chill in the air. Having been working the NY area for several years now, I have found a growing interest in NY wines. Many of customers not knowing where the Finger Lakes are located, makes me giggle, but they are all intrigued at the fact of visiting since it's merely a few hours away. Here's hoping to see more "Big Apple" residents visiting the Finger Lakes in 2011.
All in all our successes at the markets in the biggest city in the world have been extremely successful. The exposure has brought lots of new friends for Heron Hill. Hopefully we will continue to attend these markets in 2011.

By Christina Bowe, Wholesale Sales Manager
It was my honor to do two GreenMarkets in the New York City area last weekend. The GreenMarket is a program of GrowNYC and was developed to support local farmers while offering over 600 varieties of delicious farm-grown products to City residents (organic meats, breads, vegetables, soaps, artists and, of course, NY wines.)
This was actually my second visit to the market as a visiting winery. The reception was amazing to NY grown products. These markets are a bit different from any markets I have been to in upstate. These markets require that only locally grown, locally produced items be offered, with the exception of a group of clothing recyclers that had mountains of clothing at the end of the day that they brought to centers to be used by the less fortunate. No crafts, no vegetable wholesalers are allowed to set up. This makes for the most incredible choice of selections.
Brooklyn Market Amazing….Prospect Park, Brooklyn, NY
Both days we were lucky enough to be next to Cayuga Pure Organics. The founders of Cayuga Pure Organics have been involved in the Ithaca, NY farming community since the early 1970's. In 2003 Erick Smith and Dan Lathwell furthered their commitment to the region's citizens and environment by joining together to form Cayuga Pure Organics. They have grains, flour, beans and the most amazing bread I have ever tasted. Unfortunately, they ran out of it on Saturday and then again on Sunday. We didn't have a chance to purchase.
Milk Thistle farm drives from Ghent, NY to service all the Greenmarkets in the City. They are an intimate, organic farm that knows the cow's names and allows them to stay outside during the growing season, only bringing them in for milking. They were on the other side of us. I could not get a picture; there were lines of people and our stand was extremely busy. The locals religiously bring their glass milk bottles back to the stand for a new bottle filled with delicious organic milk and even small pints of chocolate (which, of course, I tried…..like melted chocolate ice cream in a bottle.) It was a sight to see that before the end of the day were completely sold out.
Brooklyn's Prospect Park is known for being a family-friendly park, as well as a dog park. We saw every breed of dog at the Westminster Dog Show with some mixed breeds missed in. Families brought their children with picnics, and musicians playing for family at friends. You truly had to be there, a sight to see.
A personal training group set up hula-hoops, yoga mats and other hand-held equipment and all were having a blast trying out the different exercises. A unique marketing tool, but also added to the festivities of the market. If you ever have a chance to go and visit Brooklyn on a Saturday, it is definitely necessary to see.
Manhattan on Broadway at Columbia University, Sunday Morning
The atmosphere was different with the same vendors attending. Set up along the street but it seemed not to have the dedication as yesterday's market. We were definitely welcome in "The Big Apple" and the exposure of Finger Lakes Wines was amazing. It was amazing to me to hear how many people did not know where the Finger Lakes were located. That just validated the fact that we were educating and exposing consumers to the great wines of the Finger Lakes. The favorites of the consumers were our Ingle Vineyard Series for it's sustainability and the Eclipse series. The Vidal Blanc was a huge hit; unfortunately, I did not bring enough to satisfy the demand.
I am looking forward to next season and the possibility of making it to the markets again.

By Christina Bowe, Wholesale Sales Manager
With only two more weeks left until the 2010 season opening for many of the "North Country" businesses, the trusty Explorer and I ventured to Old Forge and found it to be as beautiful as ever. The sun was shinning, the temperatures were in the mid-70s, a perfect day to explore Old Forge, meet old friends and introduce myself to new customers.
I had forgotten how beautiful the drive was until I reached the town of Thendara, just south of Old Forge. Purple wild lupines lined the highway and guided my way. The roadsides are covered with these beautiful flowers. Wild lupine is a member of the pea family. It produces beautiful bluish-purple flowers in widely scattered clumps on the north and south side of the road. It is unfortunate that they do not last all summer for the entire tourist crowd to enjoy. I'm not sure if this is only in the Old Forge area, but I witnessed it last year and had forgotten until I made the turn into Thendara.
.
My first stop was the OLD FORGE LIQUOR STORE. Always my first stop when entering town. This store opened last season and is doing a great business. The owners, Lisa and Walt were there and gave me a big welcome. Those of you familiar with Old Forge might be aware of Walt's Diner that serves up breakfast, lunch or dinner and never closes. They have the biggest pancake that I have ever seen, and I don't believe anyone has actually finished it. The Liquor Store behind the Diner is Lisa and Walt's latest venture. The store has a great selection of Heron Hill wines as well as some other interesting choices.
NORTHWOODS INN (www.northwoodsinnresort.com), 5 miles north of Old Forge was my next stop. A picturesque setting overlooking Fourth Lake, once again I was escorted by the beautiful lupines on my way up the hill. I met with Adam Shue who is new to the area and to Northwoods. Adam oversees two restaurants on the property, the Mountaineer Restaurant (fine dining) and Lakeside Tap Room for casual eats. Dine at the Mountaineer for an amazing menu with a view to match. If you go to the website you will see what a wonderful getaway Northwoods provides, with cabins, rooms and delicious dining options all situated right on Fourth Lake. If you're just driving through the area, stop for a fabulous meal and a glass of Heron Hill wine.
BIG MOOSE INN (www.bigmooseinn.com). The Big Moose has new management at the helm this season. This beautiful historic inn built in 1903 sits on a private lake, called Big Moose Lake. I met with Lauren Sleeger who will be overseeing the dining room. New owners, Mark and Susan Mayer, who have over 30 years of hospitality experience behind them, will be in place as your host throughout your stay. After Lauren and I began to taste through our wines, the owner Mark arrived and finished the tasting. We topped it off with a Vinotini (Heron Hill's latest concoction of Late Harvest Vidal, Vodka and a splash of cranberry, garnished with a frozen grape). Minus the frozen grape, I believe this was a hit.
If you are looking for something to do in Old Forge there is plenty to keep you busy, The Enchanted Forest Water Park, Old Forge Cruise Lines, and my personal favorite the Adirondack Scenic Railroad which leaves out of Thendara at the VAN AUKEN INN (another historical Inn www.vanaukensinne.com ). Again this summer, there are rumors that we will be on the wine trains. They are a fun time for all.
All-in-all Old Forge is beginning to wake up for the season. Two and a half hours from Rochester makes it a great getaway for the day or for the weekend. There are great restaurants and plenty of places to stay that are either family oriented or romantic getaways, OLD FORGE has it all. Prior to my position at Heron Hill, I had never visited this area and now it is probably one of my favorite places to go. If you get a chance, take a ride and discover OLD FORGE…..it is too close to home to miss.


By Christina Bowe, Wholesale Sales Manager
Well, Heron Hill has sent me on another adventure to the Hudson Valley, Poughkeepsie to be exact. This area is full of American History. Each time I visit, I learn some new interesting facts.
Poughkeepsie is about 60 miles north of NYC. It is situated on the eastern shores of the Hudson River. To get here you must cross over at the New Paltz exit off the Route 87 (which runs between NYC and Montreal). The Franklin D. Roosevelt Mid-Hudson Bridge was built in the 1930's and was named after then Governor Roosevelt. This is the sixth largest suspension bridge in the world. I have always wanted to stop on the bridge and take pictures because it has the most amazing view. Unfortunately, my workday ran too late, and I was unable to get to the footbridge that opened last year. However, I will be making a point to do it on my next trip back. 

The Poughkeepsie Bridge (sometimes known as the Poughkeepsie Railroad Bridge, the Poughkeepsie-Highland Railroad Bridge, the High Bridge, or since October 3, 2009, the Walkway Over the Hudson State Historic Park) is a steel cantilever bridge spanning the Hudson River between Poughkeepsie, New York on the east bank and Highland, New York on the west bank. Built as a double-track railroad bridge, it was completed on January 1, 1889, and went out of service on May 8, 1974. It was listed on the National Register of Historic Places in 1979. It was opened to the public on October 3, 2009, as a pedestrian and cyclist bridge and New York State Park. The weather was beautiful and the bridge was packed with mothers with strollers, lunch break walkers and kids riding bikes. It was awesome.
The accounts I visited today were great! I started out a Milanese Italian Restaurant. This is a family-owned restaurant, it smelled like grandma's house. Aldo, who now runs the restaurant, was great. They will be pouring Heron Hill Semi-Sweet Riesling as a feature to see how it goes.
Our next stop was Hobnobbin Pub. Merrick and his wife Eileen were great. Pub food and a very relaxed atmosphere. It reminded me of the old television show Cheers where everyone new each other, young and old. They both liked the Dry Riesling and Chardonnay.
Babycakes, located near Vassar College, owners Susan & Jarek Wysocki were familiar with the Eclipse series. I tasted him on the whole lineup and he really liked the Eclipse White for his summer menu, as well as the Unoaked Chardonnay. You will also find the Eclipse Red on the wine menu. This funky European-style eatery offers quality, made-from-scratch food in a casual setting. We ate lunch there and it was fantastic. This is a full-service bar, and Gary mixed us up a Vinotini (1 oz vodka, 1 oz Vidal Blanc and a splash of cranberry). If you are a vodka lover, he has a wide selection of specialty vodkas, not to mention the incredible desserts. I should have eaten dessert first!
Our last stop was called CRAVE. Ed Kowalski (chef/owner) and his staff tasted thru the wines and found a spot for the Unoaked Chardonnay on their list. The menu was a "foodies" dream. The ambiance was quaint and tastefully decorated. I enjoyed my visit and the staff was amazing.
So as you see, my travels have brought me to yet another jewel in our beautiful state, full of history, excellent restaurants and more importantly, fabulous people. Thank you Poughkeepsie, you will be seeing me soon!

By Mike "Ollie" Oliver, Wholesale Sales Representative
Highlights from the world of Wholesale Sales: As the newest members of the Wholesale staff, I have had the opportunity to meet a wide variety of personalities. I thought I would take this chance to share some of the more memorable moments from the road.

First and foremost, it's important for you to know that I have had no sales experience of this type before joining the Heron Hill Winery team. I have learned, the hard way, that there are unwritten rules and procedures to meeting with Wine and Liquor store owners. For example, if you walk into a store and the owner or manager is meeting with another Sales Rep, you have to wait for them to finish. This, apparently, applies even if you have made an appointment! I walked into a particular store and saw this unfolding. I was about to go back outside and wait, when the owner asked if she could help me I introduced myself and was about to explain my intentions, to which she responded, "Well, you can just go outside and wait until we are done!" This was not exactly the warmest greeting that I have received, but after the other rep left, I went in and the owner had a totally different attitude.
Last week, I was in Scotia working with one of our distributor's Sales Reps. After four mind-numbing hours of driving and a miscommunication with the navigation system, I was able to find the store where I was to meet with the rep. I parked, noticed that I was right on time, and called the rep to see if he was already in the store. He responded with, "At the store? We aren't meeting until tomorrow!" He dubbed my response as "dead silence", but let me dwell on it for a moment. Then, he let me off the hook by saying, "Yeah, I'm inside. I just had to start the day off right!" After meeting him, I realized that this was par for the course with him; watching him interact with his customers was comical at times!

I have also had the highly productive visits that ensure that I can continue to come to work. After being introduced by our distributor's Sales Rep to a store owner and pouring samples for him, he proceeded to order in 9 different wines! As it turned out, he hasn't been open for very long, but he is slowly trying to build a New York State wine selection. I have learned that this job is all about timing.

Several weeks ago, Paul Wilson, retail manager at Heron Hill winery, and I met with Brianne, the manager of the Switzerland Inn on Keuka Lake. She had approached us about doing a wine and food pairing dinner. She showed us menus that they have used in the past. Suffice it to say that I was very impressed; in general, six courses that showed some real ingenuity and forward thinking! We will be meeting with the Chef soon to start looking at the menu for the event. If he is open to it, I may even offer to take a course or two! Keep an eye out for tickets; they will only be seating 40 for this event. More information will be available soon.

By Christina Bowe, Wholesale Sales Manager
Last Spring, I had the pleasure of going to the Northeast area of New York. The village is charming and the town is full of history, which all residents are very proud to boast about. My trip introduced me to a newly built Best Western on the outskirts of town on Burgoyne Road. This beautifully maintained hotel is a jewel. The Burgoyne Grill within the hotel adds something special that you don't usually find within a hotel.
I met one of the owners, Denise Ward along with her staff. The restaurant guests had been asking for NY wines, our Unoaked Chardonnay, Semi-Dry Riesling and Cabernet Franc are on their list as the featured NY wines. At that time, we talked about the possibility of doing a wine dinner. I was excited when I got the call in the Fall. At that time, I met with Chef Bob Jennings and staff. They had never tackled a wine dinner, but we all put our heads together and had an amazing event.
The Friday night sold out, the Chef and his staff recreated the magic for Saturday evening as well. Chef went to work to put together a 4-course meal paired with four Heron Hill wines. The first course was an amazing squash soup paired with 2007 Heron Hill Semi-Dry Riesling. The next course was a scallop salad with caramelized onions, this was served with the 2008 Heron Hill Unoaked Chardonnay. These perfectly paired dishes were received very well by the guests. The third course was a piece of art and unfortunately, there is not a picture to do it justice. It was a twice-baked potato, fresh carrots with a delicate sweetness and a perfectly grilled filet dressed with homemade herbal butter with parmesan chips perched atop the butter. The pairing of 2006 Heron Hill Cabernet Franc, complimented the main course. The homemade apple pie with melted Vermont cheddar cheese with a chocolate truffle was served with 2007 Late Harvest Vidal Blanc.
Chef Jennings pulled out all the stops, and if you are ever in the area it is a must visit stop. Specials are offered every night and I had the most delicious hamburger I have ever had. I want to thank particularly Kourtney Kraft for her attention to detail, which made the night run smoothly. I travel and attend many wine dinners, and I have to say this dinner was in the Top 5. Thanks to all at the Best Western and the Burgoyne Grill in Ticonderoga!
The Montcalm Liquor Store in town was the site for a Saturday tasting. The Manager, Nancy, brought in some amazing snacks and I tasted the wines from the dinner the previous night. Several of the guests from the previous night's dinner were there too. This is a great store, friendly customers and a true interest in New York Wines.
At the tasting, most of the locals where giving me information about their famous Fort Ticonderoga. I was intrigued at what they told me, so I thought I would do some research and add it to my blog. Fort Ticonderoga, originally Fort Carillon, was built by the French military between 1755 and 1759. The Fort is at a point where Lake Champlain narrows and the shore of Vermont is a cannon shot away. At this point, the water from Lake George enters Lake Champlain through the La Chute River. In 1776, a fleet of small warships and gondolas were rigged and fitted out at Mount Independence. This fleet under the command of Benedict Arnold fought the battle of Valcour Island. In 1977, British General Burgoyne managed to place a cannon on Mount Defiance and forced the Fort's garrison to evacuate. The British finally abandoned the Fort in early November following the surrender of the British army in Saratoga. In 1820, William Ferris Pell purchased the ruins to preserve it for posterity. In 1840 he converted his summer home into a hotel to serve the tourist traveling the Lake by steamer to visit the Fort ruins. In 1908, the next generation opened the Fort to the public with President Taft in attendance. Unfortunately, the Fort was closed for the season, but I thought it was noteworthy to talk about. You can find out more information at www.fort-ticonderoga.org. The grounds are beautiful with weddings and business events, as well as war reenactments happening in the open season. On March 10, 2010, there is going to be a story on the Sci-Fi channel on the Ghost Hunters documentary. Apparently, there are some ghostly occurrences happening at the Fort. Ticonderoga also has a ferry that you can take across Lake Champlain to Vermont! It is, of course, closed for the season right now.
Ticonderoga is another amazing town in our State that proves to be yet another great place to visit in New York State. I can't wait until my travels bring me close to the town, hopefully in the Summer when all the attractions are open.

By Christina Bowe, Wholesale Sales Manager
T'was the night before Christmas, when all through the house not a creature was stirring, not even a mouse.
Sales at Heron Hill have slowed down for the season, however, in the October-December season, my cap switches from selling wines to retail customers to selling wines to consumers. There are many events; store-tastings and wine presentations in the past three months that keeps me busy, changing my focus to the actual consumers of Heron Hill Wine.
FIRST STOP - Syracuse Harvest Festival
November 13-16, 2009
At the Harvest Fest customers enjoyed a full weekend of unlimited sampling and purchasing fine quality food, wine and beer from New York growers and producers. Festival goers could taste everything from savory sauces to sophisticated wines and beers. There were also quality locally raised meats, specialty cheeses and fresh produce. There were cooking demonstrations and wine education seminars, which unfortunately, I was unable to attend. The attendance exceeded expectations, which surprised many of the festival organizers and vendors.
SECOND STOP - Palo Santo Restaurant, Park Slope, Brooklyn, New York
December 5, 2009
Whenever I have an opportunity to get to Brooklyn, I have to stop at Palo Santo. For those of you who have never been or are planning a trip, this is a "must go" restaurant.
If you are an adventurous diner and excited about sustainability and local foods, you are in for a real treat. This restaurant's cuisine is "Latin Market Cooking with South American Wines." However, he is now beginning to bring in a small selection of NY Wines. We are thrilled to be on their list! Many of the foods served are grown right on the roof of the brownstone above. You need to check out their website for their interesting horticulture endeavors.
Bernard and Lisa Cannac (winemaker and wife), Whitney (my helper for the weekend) and I ventured to the restaurant on Friday evening after a long drive to the city from Upstate. Bernard and Lisa were up for the challenge, but my daughter, Whitney, was not quite as daring and a little reluctant. Our server guided us through a fantastic dinner with the true taste of South American market cooking. The meal was exceptional; it was so good we never thought to take some pictures. After the meal, Whitney expressed that it was the "best meal she had every eaten!"
THIRD STOP - City Winery, Sip, Savor and Shop, New York City
December 6, 2009
The City Winery venue was amazing! Again, the turn out was more than expected. New York City has always been a difficult market for NY wines and the showing of people proves that NYC is beginning to realize the quality of their home state wines. Local restaurants, food purveyors from throughout the State were also present.
On this trip, I was excited to have Bernard Cannac, our winemaker and his wife Lisa attending. My "side-kick," Whitney and I had tremendous feedback on Heron Hill wines. The positive attitudes and looks of surprise on everyone's faces made the afternoon one to remember.

FOURTH STOP - Pride of NY (Desmond) Harvest Festival, Albany, NY
December 12-13, 2009
The following week, another event that brings the far eastern part of the State together for a celebration of NY wines and products, the Pride of NY Harvest Festival. This is the 13th year and the turnout was great. They probably should have named it the "Holiday Festival" since harvest has long past, and most people are thinking more about the holidays. The attendance was down, but the people there were repeat customers that enjoy the event. 
Proceeds from Harvest Fest benefits the Classroom Enrichment Fund at the Community Foundation of the Capital Region, to help local teachers purchase curriculum and classroom.
So, until next year when I hop behind the wheel of the trusted Explorer and hit the Interstate spreading the word about Heron Hill Winery, Merry Christmas to all, and to all a good-night! Have a happy, healthy and safe holiday