The holidays season, Thanksgiving through Valentine's Day, also marks the most popular time of year for couples to get engaged. Once the rush of holiday parties passes, the newly betrothed embark on the journey of planning their most special day. Choosing a venue and announcing a wedding date are likely the first large tasks a couple faces together. With so many choices and questions to be considered, and family members opinions to manage, it can quickly turn into a season of stress and confusion for the newly engaged.
As the Wedding Coordinator at Heron Hill Winery, my ever-present goal is to assist couples to stay in a space of joy as they set out to choose where they will celebrate their dream wedding. If you or someone you love is newly engaged, I offer these tips to keep the focus on the love and joy that brought you to this point.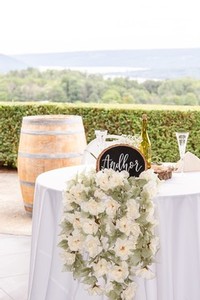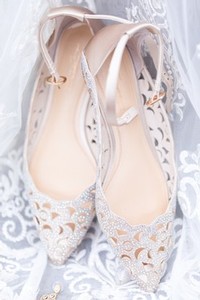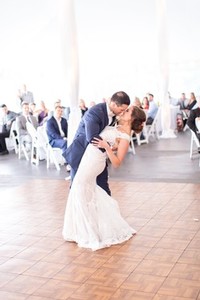 Images by LoveWell Weddings - a dynamite wedding photographer we would recommend to capture your day.
Decide together what type of feel you want for your celebration before you start your venue search. Do you want a formal affair or relaxed summer party, or somewhere in between? What will match who you are as a couple and make it feel unique and personal to your love story? As you search for and tour venues, keep coming back to what you decided as a couple you want the day to feel like for your guests. Choose the venue that aligns with the vibe you envision the most and you will have less effort and costs overall in creating the atmosphere you want for your day.
Determine the size of your wedding. Come up with an estimated guest count together before you tour venues that can not accommodate you. Remember to calculate that between 10 to 20 percent of your invited guest list will decline.
Be flexible with your date and finding the perfect venue will be easier. Hold off on choosing and announcing a date until you have booked your venue.
Know your budget and only tour venues that accommodate it. Being entranced by a setting you could never afford has you managing disappointment along with every other heightened emotion wedding planning can cause. Contact the venue and ask for a formal quote, and what is and what is not included, before booking a tour.
Know how hands on you want to be. Every venue varies in what set up and clean up is included or not. A rustic barn may have you hanging lights and renting all the tables and chairs and setting them up yourselves. That likely means you will be tearing it all down yourself, as well. How do you want to spend your wedding day from start to finish? Hands on or doted upon? It is a very important decision to answer before you search for venues.
Identify what you can and can't control and then let go. Weather cannot be controlled. Fretting about the rain in June or the heat in August is a waste of precious energy that could be spent on joy. Focus on the details that you can plan together and let your day unfold happily without letting things you cannot control dampen your bliss.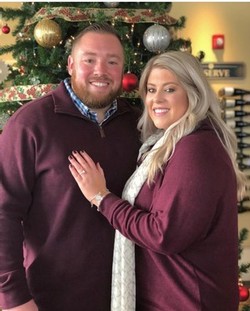 Being engaged should be joyful and set the tone for not only your wedding day but the life you seek to build together. Take advantage of this time of year for your wedding planning, many venues and vendors offer specials knowing it is engagement season! At Heron Hill, from now through February, we are offering a free ceremony (value of $800) to couples who book their 2019 wedding date. If you dream of your day being set in the rustic elegance of FLX Wine Country, where your guests can enjoy a summer or early fall evening overlooking the vineyards that surround Keuka Lake, please give me a call or visit our wedding homepage for more details. I look forward to putting a glass of wine in your hand while we discuss your vision for your celebration and tour our beautiful grounds together.
Happy new year and happy engagement!
Love and Joy,
Meghan

What a glorious 2015 season…and now I look forward to what 2016 will bring! I want to take this opportunity to introduce
myself. My name is Nicolette DeAngelis and I am the new Wedding & Events Coordinator for Heron Hill Winery. I have been a part of the Heron Hill team for nearly two years. I began working behind the tasting bar and interning while I finished my Bachelor of Science degree in Business from Mansfield University. Upon graduating this past May, I spent some time on the road working in wholesale selling Heron Hill wines. I transitioned to assisting with events in mid-July under the mentorship of the previous event coordinator, Elke Schmitt. I am so excited for this wonderful opportunity and to bring couples' visions to life at this breathtaking venue in the Finger Lakes.
Here are some of my favorite wedding details from the past season:
The First Look
One of my favorite aspects of weddings is the star-struck reactions couples exchange when they see each other for the first time on their special day. It is an overwhelming moment and absolutely irreplaceable. The "First Look" is when couples actually see each other before the ceremony and specifically take time to photograph this special moment. It makes the moment more intimate and allows for crisp and precise pictures, then the couple uses less of their time during the reception for picture taking.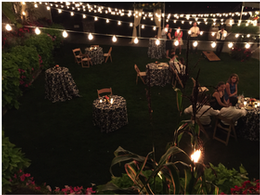 Lighting on the Lawn
The Heron Hill lawn adjacent to the main event tent is a stunning aspect of the venue with its lush colors and dangling greenery. Some couples this past season brought in extra bistro lighting and tables for the lawn so it could be utilized after dark. It brings a romantic feel to the area and is the cherry on top of an already beautiful outdoor landscape.
"Pick a seat, not a side"
Typically, seating for a ceremony is split between the "Bride's side" and the "Groom's side." Some couples chose to have everybody blend together and veer away from labeled seating. This brought a special synergy to ceremonies as well as avoided the confusion of guests figuring out on what side to sit.
There are a few aspects of my job that make me love it so much. My absolute favorite part is the relationship I gain with couples. In order to envision exactly what they want their wedding day to be, I get the opportunity to get to know who they are and what is important to them. Every couple is dramatically different and that is my second favorite part of this job. The event tent has different ambiance every single weekend. It keeps me intrigued and challenged to execute unique weddings every week. My third favorite part of the job is seeing the connection that happens at weddings. There is nothing quite like seeing the love in couples' eyes throughout the evening…a tearing up during a father-daughter dance, or a maid-of-honor gushing over how much love she has for the couple. It is an event where everybody sees the bigger picture about how important it is to love those close to us, which can be overlooked in the day-to-day shuffle.
Overall, I have such a passion for this job and creating memorable experiences is my number one priority. I am ecstatic to see what 2016 brings...there are sure to be many beautiful weddings and exciting new experiences!

Wedding Season is in Full Bloom
With 12 weddings down this season, I have about 10 more to go.
Several new wedding trends have caught my eye this year.
Here are five that I love:
Trend 1 - No set rules. "Pick" a seat.
Many of my bride and grooms are opting out of seating charts and allowing guests to "pick" their own seat. Several have used Pinterest to come up with cute, witty signs to explain their decision for keeping the seating open.
Trend 2 – Let them eat ice cream cake!
I have had many couples express their dislike for traditional cake and they truly use their imagination for the dessert. Ice cream cake, shortcake bars, ice cream bars, cookie tables and a rice crispy cake are just some of the tasty trends I have seen.
Trend 3 – DIY Florals
I have had a few brides make their own bouquets out of fabric and buttons. The nice thing about these bouquets, you will have them forever. They never dry out, die or get ruined. Brides are also opting to go with versatile Mason jars and wildflowers for a more simple, romantic feel.
Trend 4 - Thumbprint Trees
As a guest book, I have seen several hand painted trees where guests use their thumbs to make a print and write their names. As long as you have a pre-done sample, it turns out nicely and you then have a piece of original artwork for years to come.
Trend 5 - The first look
The Bride and Groom have been using the Heron Hill Tower to "meet" prior to the wedding. This allows the couple a private viewing of each other prior to the ceremony. They also make time to organize and shoot pictures ahead of time, giving themselves the ability to join cocktail hour.
If you are looking for new and fresh ideas, I recommend visiting the following websites: Pinterest.com and GreenBrideGuide.com; as well as Well Wed magazine online and in print. They all have great ideas for weddings.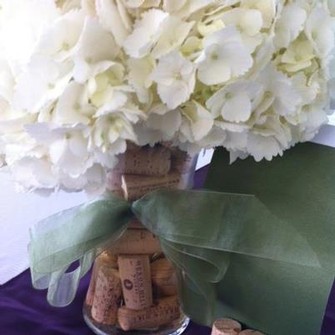 Don't forget to sign-up for the Heron Hill Wedding Show happening on Sunday, August 26th from 1:00 - 4:00. We will have a selection of great vendors to help you with your big day…brides enjoy a complimentary glass of wine!

Check out my online gallery from the 2011 Wedding Show!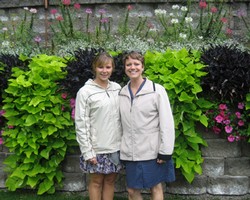 Oh Hurricane Irene! The 1st inaugural Wedding Show at Heron Hill was a success! Waking up Sunday morning to what was not supposed to be a dreary windy day, put challenge to our wedding show. As I arrived at Heron Hill, I had in mind just how I would conquer hurricane Irene! Thanks to my staff, volunteers and patience, we did it!
Thirty-two of our thirty-four exhibitors braved the winds and prepared their booths for the show. Thank you to Crystal City Party Center, Finger Lakes Entertainment and Pembrook Pines Media Group for all the extra help and donations. The show would have not been possible without you!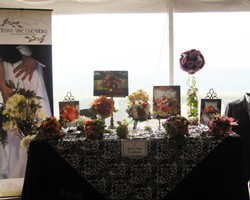 We had exhibitors arrive from all over. Anne from The Topiary came with many of her wonderful floral designs. Heather from McKay's Photography took a different angle and made her booth into its own, displaying many of her wonderful photos. Owen Entertainment joined us for their first show as well, it was excellent to learn about the new services they have to offer.
We had ten giveaways that each of the participating brides were entered for. Luxury Limo gave away a $50 gift certificate. Becky from Berry Vine Creations donated a "bag" of goodies including $200 off a floral package. Inteva Travel gave away a gift certificate to one lucky bride. These are just a few of the great prizes we had.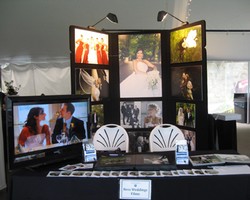 One lucky bride received the grand prize of $500 off a reception at Heron Hill Winery. Ten of my brides for the upcoming 2012 season were here, so it was a battle! As I drew the winning name, I looked over at my bride. She had won, but she thought I was joking with her. As our DJ, Jason, said her name, she and her fiancé got super excited. Congratulations to Jessica and Bill!
We will be hosting the show again next year. Thank you to everyone for attending and making our first year outstanding! We could not have done it without the help of all of our wonderful exhibitors. I am hoping for sunny weather next year ☺


As we kick off summer, I am counting down the days until the Heron Hill Wedding Show! Heron Hill Winery and Pembrook Pines Radio Group will be hosting our first show on August 28, 2011 from 1-4 pm. Registration for all brides is free, sign up here and bring a guest!

Each bride will receive a "goody" bag filled with several wedding planning tools provided by The Wedding Planner, Rochester Wedding, Rochester Bride & Groom and more.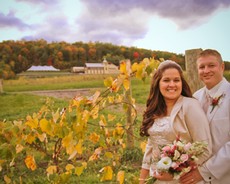 The staff from Heron Hill and Pembrook Pines has been working diligently to bring the areas top wedding professionals to you. We are happy to announce that David's Bridal will be attending the show with several of their dresses from each collection. The Finger Lakes Wellness Center & Health Spa will also be here. They are one of the local spas in the area offering wonderful services at great prices. What a prefect way to spend the day before your wedding. Betty Kay Bakery out of Bath will be here decorating their delicious cakes as well as providing samples. Tom Mike Photography will have his wedding albums on display! ServU Credit Union will be here to help you with all your financial questions.

During the show, will be giving away several great prizes. Here are a few teasers of what some of the exhibitors will be giving away throughout the afternoon:
Walker Cake Company - free set-up and delivery of your wedding cake
Berry Vine Creations - $200 off your floral package of $1000 or more.
SEVideo – Flip Camera and Video Package
Owen ENTERTAINMENT – Pair of Darien Lake Tickets
LaVere Media – Framed Art Print
And so much more!!
Join us for an afternoon of wine tasting, sampling food from local caterers, admiring photos from the area's top photographers and exploring floral options for your big day. Register at www.heronhill.com and be sure to bring a guest!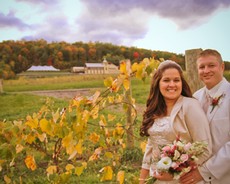 As every bride begins planning her wedding, there is no other better place to get information from than a Wedding Show.

If you have ever been a bride, bridesmaid, mother of a bride or groom, you have most likely been to a wedding show. You can find all of your wedding essentials there. You taste cake, try food from several caterers, listen to what different DJ companies have to offer and more.

On Sunday, August 28, 2011 Heron Hill Winery and Pembroke Pines Media will be hosting the Heron Hill Winery Wedding Show. Pre-registration is free for all brides, click here to register! Each Bride will receive a welcome gift bag filled with goodies and each bride will be entered for several door prizes, which will be given away throughout the afternoon. We will have complimentary wine tastings set-up for all of the guests.The Blue Heron Café will also be open, local musician Bruce Holler will be playing on the terrace too.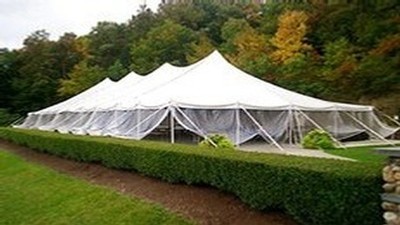 We have invited several bakeries, caterers, photographers, florists, DJ's and more. We are in the beginning planning stages for all vendors. Currently we have Corning Catering, Crystal City Party Center, Berry Vine Creations, SE Video, Schwarz ProFoto, Walker Cake Company, Rochester Wedding and Tom Mike Photo. Here's the list of exhibiters and more info on the Wedding Show.
If you are a vendor and interested in coming, you can also visit the link above to download an exhibitor contract.

The staff at Heron Hill Winery and Pembrook Pines Media is very excited for the event this summer! We want to make sure our local brides have access to the top wedding professionals in our area.

On a side note, we are busy finishing renovations for the upcoming season. We are currently preparing to re-carpet the tent and get it up for the season. The first event will be the Ducks Unlimited Dinner, which we host annually. As always, we are excited to be working with them on this event again!

Let the spring-cleaning begin as we welcome another busy season!

It is certainly a quiet time of year here at Heron Hill Winery. I spend most of January preparing for inventory, contacting possible brides and cleaning endless amounts of wedding chairs.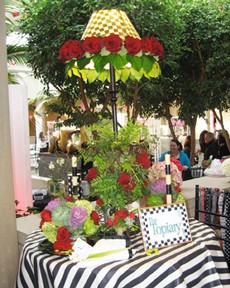 While preparing for the upcoming season, during this "slow time" I have been able to do several wine tastings and talk with some of our nice customers. I have also attended several bridal shows over the course of the last two months.

The most recent bridal show I attended was the 2nd Annual Finger Lakes Wedding Affair at the Memorial Art Gallery in Rochester, NY. What a beautiful show. WellWed hosted it and did a fabulous job of bringing together all of the wedding professionals of the Finger Lakes Region. The theme this year was carnival. Everything was decorated as though the brides had just walked into a carnival. The Well Wed staff thought of everything from candied apples to cotton candy martini's.

I was able to sneak away from the booth to speak with several of the other wedding professionals and see their work. The Topiary out of Pittsford, NY had several gorgeous displays. They had a table display as well as a bridal bouquet sample. I also spent time getting to know the ladies, and I am excited to work with them in the near future.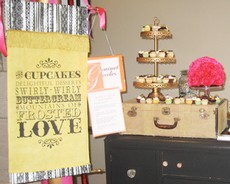 As I was walking around, I made a point to try some of the sweet treats from Gourmet Goodies of Victor, NY. I have never been disappointed by what they create. I specifically sampled their red velvet cupcakes with a cream cheese center and the chocolate cupcake with a peanut butter center. Delicious!

I also stopped to try the paella that All Occasions Catering of Rochester, NY prepared as samples. This was my first time trying their cuisine, and I must say it was yummy.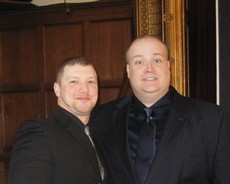 Throughout the show, music was provided by a few of our favorite guys, Nate and Jason of Fingerlakes Entertainment. They also provided all the music for the couture fashion show. I am looking forward to working with them this upcoming season.

All in all this was a great show. I am ready for wedding season to arrive! I have many wonderful couples I am working with this year. On a side now, this week marks my 1 year anniversary at Heron Hill Winery! What a wonderful first year!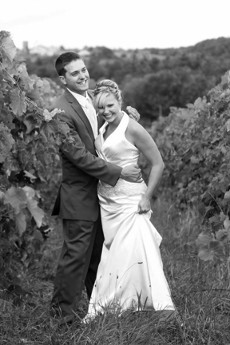 I have completed my first season at Heron Hill Winery!! What a season it was! Between weddings, ordering for the gift shop and my own wedding, it was crazy. Let's just say the honeymoon in St. Lucia was more than needed!
I had to the pleasure of working with several wonderful couples this summer and fall. Each wedding had their own unique twist and a party to remember. I want to thank all of them for choosing us as their venue. They helped make my first season memorable.
I also had the pleasure of working with some of the wedding industries finest: Corning Catering, Around the Corner Catering, The Village Tavern, Finger Lakes Entertainment, Dianna Hart, Chrissy Albright, Schwartz Photography, Van Scooters, Pleasant Valley, Bath Floral and others. Everyone was a joy to work with and made every detail perfect.
As for my own wedding in September...it was PERFECT!! Thank you to all of the Heron Hill staff that helped to make my day special. We had an amazing time followed by an unforgettable honeymoon in St. Lucia.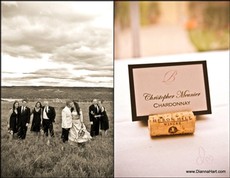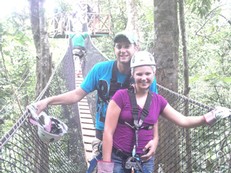 We spent 7 glorious days laying on the beach, zip lining, hiking and swimming in the ocean. We stayed at the Sandals Regency La Toc. The resort was gorgeous. The food was fantastic. We had the option of dining at 8 different restaurants each night. We drank our share of the local beer called Piton and sampled several of their specialty drinks. I highly recommend St. Lucia to honeymooners and couples for a relaxing, well-deserved break from life!
As fall comes to a close, I am finally catching up on orders for all those Christmas goers. I have created an assortment of gift baskets here this season. They make great gifts for just about anyone. Be sure to visit our website or stop in to browse what we have to offer. Gift cards are my favorite gift to give for the holidays as well. Why not give the gift of wine! We also have several wine clubs that are a great idea as well. Wine clubs are the gift that keeps on giving!!
Come visit us in the off-season and happy holidays!!

By Kara Wilson, Wedding and Events Coordinator
Six more months until our wedding?! Wow. Time sure does fly. Everything is almost done, however, I keep forgetting about buying the wedding bands. You would think that would be the first thing to come to mind.
Anyways, about two weeks ago I was in San Diego. My finance and I had an amazing time. We ate tons of food; Chinese, Mexican, fresh fruit and so much more. We visited Lego Land, several beaches, Old Town San Diego and a few wineries. My favorite part of the trip was our first day there. We went to a town called La Jolla. The town created a man made breaker on one of the beaches so kids could swim and not get pummeled by the waves. The concept was a great idea, but the seals had an even better idea. They have made the beach their home. They spend all day and night playing in the calm water, laying on the rocks soaking up the rays and stinking up the beach. As cute as the seals are, they are by far the worst smelling creatures EVER.
We visited several wineries in Temecula and Escondido. Orfila Vineyards in Escondido had the most amazing view and good wine. In Temecula, I found Wiens Family Cellars to be very hospitable. Our taster poured me their best wines and educated me on their area and grape growing techniques. What amazing upcoming areas. The scenery is to die for.
Now it is time to settle in. Things have been super busy in the wine shop. The February End of Vintage sale was a huge hit. I am currently working on revamping the gift shop with new wine related items and local keepsakes. If anyone knows of any interesting wine products or a local vendor that we may like to carry, have them contact me, events@heronhill.com
Wedding season is almost here. We have a lot of weddings booked for this summer. Again, it is going to be another busy year for us.
Thanks to Heron Hill team for helping me get acclimated with my new surroundings!