September 30, 2014 | Mark Patterson
All The Small Things
More low-lying clouds this morning, with the heaviest bit seeming to be sitting right at the entrance to the Winery on County Rte 76, making visibility limited. The headlights of an oncoming SUV only appeared through the fog about 20 feet, making the left turn up the drive a bit more exciting than necessary. By the time I reached the lower parking lot, I was above the clouds, and the Winery sat majestically in front of me.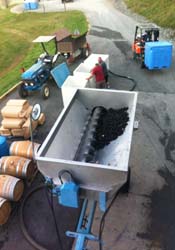 Lots of stuff to do today. It began with the return of some barrels we had stored off-site for awhile in order to complete the Cooling Project in the Cold Room. Most of the barrels were 2012 reds that will come out of barrels shortly, soon to be refilled with some of this year's bounty. A slow moving project what with the press pad being somewhat cluttered with the various pieces of equipment needed to process the grapes coming in.

First load in: 7.3 ton of Pinot Blanc from Jeff Morris over on the west side of Seneca Lake. Nice and clean and 21 degrees Brix. Luvly Jubbly! A bit more than originally estimated earlier in the week, so a nice surprise and may lead to a nicer surprise sometime next Summer. Wink! Wink! Prior to the first press load being finished a nice little light show started, coming from the SSW. Not much rain with it, just enough to be annoying, and a few bolts in the vicinity. The show lasted on and off right through the 2nd press load, with a few lightning strikes a little too close for comfort when you're standing around all that steel.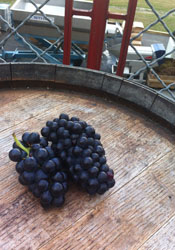 During late afternoon we saw the arrival of the first grapes from John and Jo's Ingle Vineyard on the west side of Canandaigua Lake. Pinot Noir showing very nicely at this stage. Clean fruit. Just wish we had a bit more of it. The brutal Winter we experienced last year had a devastating effect on many varieties throughout the Finger Lakes, with Pinot and Merlot being particularly impacted. The exceptional weather we have experienced the last few weeks has helped out nicely in the development of ripening in all varieties after a late start to the Season. When it was still in the 40s in May the outlook wasn't as cheery.
Well, almost time for a pizza and a beer, then bed!
Mas tarde!
Comments
Commenting has been turned off.