September 26, 2014 | Mark Patterson
And So It Begins
Mark Patterson joined the Heron Hill winemaking team in May 2014. Mark will provide updates throughout Harvest 2014.
Our Harvest 2014 began on Friday, September 26, after the first day was pre-empted due to our Glycol Cooling System not being available. First in: 3.42 ton of Seyval Blanc destined for Game Bird in a few months. A soft start, really, but one that helps get a few "gremlins" out of the way.
A bit of an inauspicious beginning Friday morning, with some fog cover as I drove up the hill from Hammondsport on County Route 76. Starting just before Keuka Lake Vineyards the fog grew heavy. Visibility was limited to only a few feet. A real Pea Souper. Just as I approached the beginning of the estate vineyards at Heron Hill, there was a break in the miasma -- glorious sunshine broke through all around.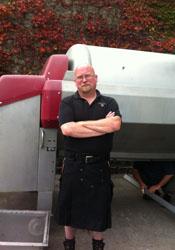 (A first day of Harvest ritual -- here's Mark wearing his utility kilt)
After some last minute set-up, the load arrived from one of our contract growers near Penn Yan and the first grapes of the Season found their way into the hopper for processing, through the crusher-destemmer, and onwards into the Press. The Press was started and the first juices began to drip into the Press pan at 21 degrees Brix! The juice was pumped into a jacketed tank for cold-settling of the bits of skin, pulp, and other detritus that we don't want in our clarified juice during fermentation and the first day of Crush was coming to a close.
As the other lads began breaking down the crusher-destemmer, hopper and lines for clean-up, it was time to tackle some Marechal Foch that had been 'hot-pressed' for us at another facility. Hot-pressing is widely used to process French-American Hybrids like Foch, DeChaunac and Baco Noir in order to tone down some of the more, let's call them, 'interesting' flavours and aromas found pre- and post-fermentation in these cultivars. About 1500 gL put to bed to settle for a few days under cooling, and it was time for this lad to toast the arrival of a new Crush with several pints of IPA and a Fish Fry!
Comments
Commenting has been turned off.