February 24, 2014 | In the Vineyard, Keuka Winery |
Budding up with the Vineyard Manager
Last week the mornings were bright, and the vineyards and lake glittered with snow along the west side of Keuka Lake. Trimming stiff vines in single-digit temperatures, doesn't evoke the same romantic image as handpicking juicy, ripe bunches of grapes under the golden light of harvest. However after spending some time with our vineyard manager, I found myself completely fascinated by the process of pruning the vines. Despite tending my own small garden and plants, and growing up in wine country, it still seems miraculous to learn how much life will sprout out of one tiny bud in less than 6 months. From each bud a cane will grown and support multiple clusters of grapes.
Don Riesenberger joined the Heron Hill team last summer as vineyard manager on Keuka Lake. He's very at ease and confident in the vineyard explaining to me why it looks like he's cutting back so much and how he's keeping extra buds on the canes this year. From recognizing a strong spur at the base of the vine to removing just the right amount of new growth, it quickly becomes clear how critical this stage is to maximize the potential of the individual vine. We have control over pruning techniques; we don't control Mother Nature.
"When you look at a vine, you consider what happened last year, what will be different this year, and plan for next year, " demonstrated Don.
Don grew up in nearby Naples and has early memories of tying when he was just tall enough to reach the low growth in his father's vineyards. For 28 years, Don worked as a warehouse manager for Constellation Brands in Canandaigua—and now he's enjoying spending most of his days outside. Don and his wife live on a hillside between Naples & Canandaigua, and have one son currently in college. Heron Hill is very happy to have him around and welcomes his experience, humor, and professionalism.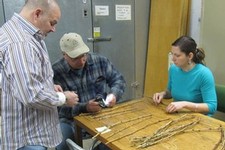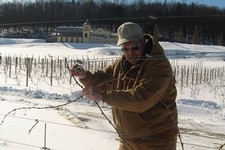 Eric, Don, & Erin checking buds Don pruning young Riesling vines.
Heron Hill has approximately 12.5 acres planted in front of the Winery on the west side of Keuka Lake. The vineyards primarily consists of Riesling ranging from young vines just 1 year old to well established 10 year old vines. Don is also in regular contact with our crew at Ingle Vineyard located on the west side of Canandaigua Lake where some of the vines are over 40 years old. Across the Finger Lakes this winter the fluctuating temperatures, with "arctic blasts" below 0 degrees, have caused concern for vinifera vineyards of all ages. Don explained the different roles of the primary bud, secondary and tertiary bud. We have checked cane samples weekly, although we're seeing healthy signs of green now, it's still too early to tell how fruitful the vines will be this vintage.
I chatted with Don today on this grey, rainy Friday where we're expecting the temperature to reach nearly 50 degree. This pop of warmth will prove perfect for starting the flow of maple sap, but it's potentially dangerous for vulnerable fruit buds when next week's forecast predicts frigid temperatures again.
"What's you're favorite season?" I asked Don. "I actually really enjoy tying in the Spring" Don replied. "There's something about when everything is starting to bloom and working outside while the birds are singing…" Pruning will continue into March, then after the support posts are checked and wires are tightened, tying will begin. The more I learn about grape growing and wine making, the more I appreciate the process and respect the risk people take in this industry. There's no question, everyone's eagerly awaiting the arrival of Spring this Year!
Comments
Commenting has been turned off.