February 19, 2015 | Keuka Winery, Recipes, Wholesale |
Eclipse Red 2011 Awarded 90 points by Wine Enthusiast
We are very excited to announce that our Eclipse Red 2011 received 90 points from Wine Enthusiast magazine! The full review will be in the May 2015 issue. This Bordeaux-style blend aged 24 months in French oak, Eastern European oak, and American oak barrels. It's round & layered with notes of dark cherry, baking spices, and a hint of cedar. In 2016, Heron Hill Winery will be celebrating the 25th Anniversary of our signature red blend!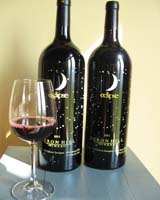 The 2011 Eclipse Red blend is composed of 40% Merlot, 32% Cabernet Sauvignon, and 28% Caberent Franc.
Something about chocolate, even just a bite, is so comforting to me in this cold weather. The Heron Hill team from all three locations, comes together at our Winery in Hammondsport for a monthly Monday morning meeting. Usually there's some tasty baked good served to pair with coffee, tea, and strategy. This month we all loved this Eclipse Red Wine Chocolate Cake. Eric Frarey, our COO and director of sales, and his wife created a delicious dessert recipe featuring Eclipse Red for our February Wine Club newsletter.

ECLIPSE RED WINE CHOCOLATE CAKE
Rich, moist and flavorful, this Eclipse Red Wine cake carries a unique taste and irresistible aroma. The wine makes the chocolate very fudge like with intense flavor. The Merlot in the Eclipse Red wine adds nice cherry notes. As the alcohol does not bake out fully this is the type of dessert you want to make for adults only.
INGREDIENTS:
1 ½ cups of all purpose flour
3/4 cup unsweetened cocoa powder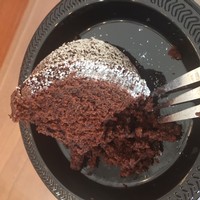 1 tsp of baking powder
½ tsp of salt
½ tsp of ground cinnamon
1 cup of softened butter
1 ¼ cup of granulated sugar
½ cup of dark brown sugar
2 large eggs
2 tsp of vanilla extract
1 ¼ cups of Eclipse Red wine
TO PREPARE:
Preheat oven to 350 degrees. Grease 12 cup bundt pan, set aside.
In a medium bowl sift flour, cocoa, baking soda, salt and cinnamon and set aside. In a mixer bowl beat together butter and sugar on medium high for 3-4 minutes until fluffy, beat in eggs one at a time until combined.
Scrape down sides and bottom of bowl as necessary, beat in vanilla extract.On low speed, beat in or fold by hand the flour mixture in three additions, alternating it with the wine in two additions, starting and ending with the flour. Do not over mix.
Pour into bundt pan, bake 45 mins or until toothpick inserted in center comes out clean. Allow cake to cool for 10 minutes on a wire rack, then turn it out to cool completely. Dust the cake with powdered sugar.
Comments
Commenting has been turned off.