February 19, 2013 | Keuka Lake Wine Trail, Keuka Winery | Tambi Schweizer
Food and Wine Events Along the Keuka Lake Wine Trail Commence for 2013
With Mother Nature unleashing winter storm "Nemo" on a major part of the Northeast,
we here at Heron Hill Winery and the rest of the wineries on the Keuka Lake Wine Trail opened
our doors to many visitors who were not scared to come out and enjoy a wonderful Finger Lakes event called the Cheese and Wine Lovers Weekend. At Heron Hill, we invited First Light Creamery to
come spend the weekend with us, sampling and selling their cheeses. The cheese maker, Trystan
and his fiancée Emily were happy to get away from the goat farm for a weekend bringing us 25
pounds of their Cream Roasted Garlic and Pepper Chèvre cheese. We used it to bake into
our Chèvre Puff Napoleons over Arugula Salad (recipe available here) topped with Roasted Garlic Red Wine Balsamic Dressing from a local producer, Chef Lerman.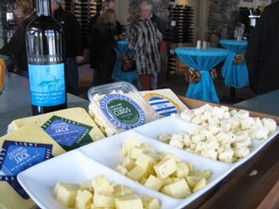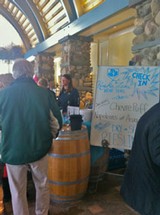 We received rave reviews from all our customers giving lots of great praise and thanks
for using so many local producers. We really pride ourselves on trying to acquire as many
products produced in the Finger Lakes as possible. We are hoping to arrange with First Light Creamery to carry their cheeses in our Blue Heron Café for the 2013 season. The full lines of products that we carry from Chef Lerman have always been hot sellers in the food section of the gift shop.

After such a successful for all the Keuka Lake wineries, I am already looking forward to our next wine trail event, "Viva Italia!" on April 6th & 7th. Each of the 7 participating Keuka Lake wineries chooses a region of Italy with rich flavors enhanced by superb, food-friendly wines produced from each of our vineyards. I just got a preview of the recipe from our Café Director, Mike Oliver for the event and am very excited that we are going to be serving Roasted Eggplant Cannelloni Neapolitan a specialty from the town of Naples located in the Italian region of Campania.
This event always brings back great memories from when I spent a semester in Florence,
Italy. What a great country, so hospitable and the food was AMAZING! My house mother,
Roberta, was always making traditional recipes. I was very glad that I walked 4-5 miles a day to
work off all the calories from the breakfasts and generous dinners that she created each day.
I hope to see some familiar faces and make some new friends at our Keuka Lake Wine Trail events this year. These food & wine events are so much fun and you get to be greeted each and every time by my smiling face! Salute to an incredible 2013 season!
Comments
Commenting has been turned off.