October 21, 2013 | Harvest, Ingle Vineyard, Keuka Winery | John Ingle
Mid Harvest Report
October is always a crazy busy month, except for last year. By the first week of October in 2012 we were done - finished - with the harvest. An early spring - dry, hot summer and smallish crop led to a two to three week early harvest. It was bizarre - but good. 2013 is almost the opposite. A late spring, cool damp summer and a large crop has made us two to three weeks behind schedule. Actually, mid-October, we've just started. We brought in 22 degrees Brix Pinot Noir early this week and are now almost done with the Chardonnay.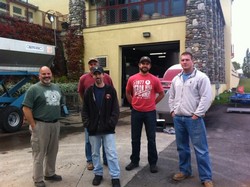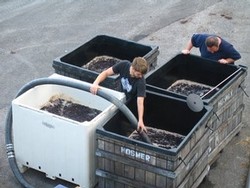 (Some of the Heron Hill Harvest Crew on the press pad; Zeb & Bernard with crushed Pinot Noir)
The damp summer led to many mildew problems. I have talked to growers who had to spray 15 to 20 times for assorted diseases. The average is 6 to 10 times so there was a lot of mildew pressure. Ingle Vineyard, under the supervision of Vineyard Manager Kyle Franzoni and assistant Zeb Archer, has managed to bring a large crop of ultra-ripe, super clean grapes to the press deck. The Heron Hill vineyard, managed by Don Riesenberger, is also looking awesome. Brix (sugar) levels are over 20 degrees and up to 22 degrees. This will bring bold, tasty wines with great depth and character.
Last weekend we shared the harvest duties with sweepstakes winner Jaime Murphy, and her husband James. Not only were they a delight to work with but they really pulled their weight in the vineyard, keeping up with the well-seasoned crew we have. It was a gorgeous day in the Finger Lakes and hand-picking beautiful Pinot Noir, enjoying a vineyard picnic of all organic, home-grown fruits and vegetables, followed by supervising the activities on the press deck at the winery made for a very memorable day for all. Thanks to everyone who helped put this great Heron Hill experience together: Elke, Erin, Kate, Bernard, and especially Sales Director Eric Frarey who came up with this great idea.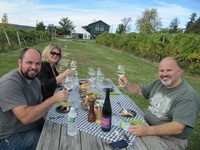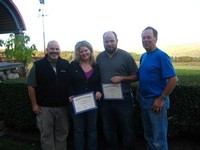 (Sweepstakes winners having lunch in the vineyard; Sweepstakes winners receive certificates from owner John Ingle and sales director Eric Frarey after a successful day.)
As we watch for the rest of the harvest to occur we are full of exuberance and pride as the fruits of our labor promise great things in the bottle!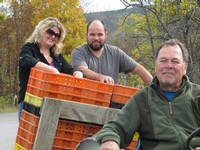 (John Ingle with Sweepstakes winners at Ingle Vineyard)

Comments
Commenting has been turned off.