July 29, 2012 | Tambi Schweizer
The Palettes of Keuka
Have you heard? The Palettes of Keuka are out and on display all around the lake! I am so excited to be joining the event for the 5th consecutive year. The Palettes of Keuka is actually in the sixth year of the very successful arts event. This year the artists really "stepped it up another notch!" I was at the preview showing of all the palettes at Pleasant Valley Winery and was beyond impressed with all of them. I am so glad to be part of bringing art to the forefront all around Keuka Lake. The event allows the committee to provide funding for numerous art related activities and scholarships for the ongoing arts development in and around Hammondsport and Keuka Lake.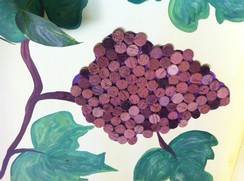 I again went out of the box this year and made a stand up wine rack that hold 6 bottles. It was another idea that come to me in the middle of the night (…like usual)! For the grape design, I sawed off the tops of red wine corks to give it another creative feel. I currently have left the back blank but am willing to paint a design on the wine rack for another hundred (or two) at the auction. I am sure my favorite auctioneer, Steve Muller, will help draw the price up with this piece of information!

This year's auction is scheduled for Saturday, September 8th. I really hope anyone who appreciates art and wants to give back to the community WILL be there! The preview begins at 10:00 am and the live auction starts at 1:00 pm sharp. I will be there to help bid up the prices, I can't wait….it's always exciting to see what everyone is willing to pay for great art.
Comments
Commenting has been turned off.