March 4, 2011 | John Ingle
Pruning vines, making maple syrup and cleaning bluebird houses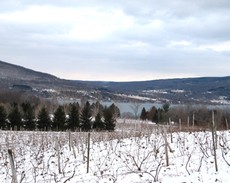 One of the most frequently asked questions I get is "What do you do all winter when the vines are dormant?" I can assure you, it isn't nothing. I was a youth hockey couch for 20 years in addition to working 20 acres of vineyard. We raised four kids and I was there every day to greet them off the school bus, top priority. But the constant activity through that time is the "bushwacking" of some 12,000 vines each winter for the last 40 (!) years. Simple math gives an idea of the measure of the task. I can prune 150 +/- vines a day on a good day - divide that into the 12,000 vines I've always had (until adding the 1,000 vines each of Merlot and Cabernet Sauvignon last spring, that is 80 work days, or 14 work weeks. We finish the harvest in November, or early December when we make Icewines, then we cover the bases of the vines, called "hilling up", into December. Take out holidays, snow days, assorted projects and distractions and it's a busy winter. April 1st is our "done" date for pruning, the start of the vintage season. I will blog on that process later.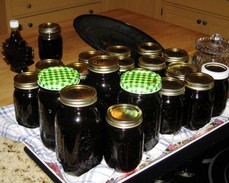 As the winter work wraps up, temperatures climb and it's time to make maple syrup. We get 5 to 10 gallons of syrup off about 60 taps. We used to burn the sap down with grape trunks. I thought I might be the only guy to do that - in the world! Another spring tradition here is cleaning the bluebird houses. Migratory as well as resident bluebirds like to pair off and prepare for nesting in March, so the houses, (we have about 50 of them) need to be clean and ready for April 1st.
Doing these and other side projects every year gets you into a pace, a rhythm, of nature and life. It can be hectic but it also brings a simple continuity that makes farm life satisfying. Soon it will be spring.
Comments
Carrie White
@ Mar 22, 2011 at 3:27 AM
The vintage season is really soon… I always become very excited at this period of a year… This tells us about summer that will come right after it) And except this the main reason for my joy is that at last we have something to do outside, but not just inside the buildings, like the whole winter was…)
thesis writing
@ Mar 22, 2011 at 6:29 AM
It's not so delicious as useful for immunity. If you have opportunity you must drink it.
minority grants

@ Aug 25, 2011 at 6:44 AM

Thanks for such an informative article, it's been very useful. Brilliant post and useful information Looking forward to future posts in this field thanks.

Commenting has been turned off.