March 21, 2012 | Keuka Lake Wine Trail | Tambi Schweizer
Q&A with Tambi about Viva Italia
Participating in a Wine Trail Event? Your questions answered here!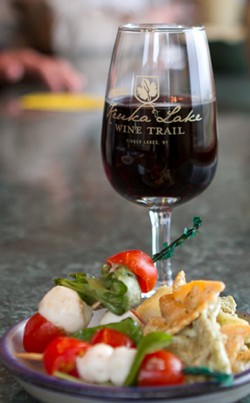 Why did Heron Hill decide to participate in the Keuka Wine Trail?
Heron Hill has been an active participant of the Keuka Lake Wine Trail since the inception. As a participant of the Keuka Lake Wine Trail, all the wineries participate in each and every event. We spend countless dollars on advertising and making sure that we have the absolute best brochure in the region, with a center section dedicated to the 6 events that we do over the course of the year. Established in 1985, the Keuka Lake Wine Trail aims to provide a high-quality, lively experience where guests will feel excited by the food, wine and scenery and stimulated by the conversation.
You can download the brochure at: http://www.keukawinetrail.com/contact-us/
How many people, would you say, the events draw?
Each event draws a different size crowd, for the "off season" events (Cheese & Wine Lovers, this past February, Viva Italia on March 31 & April 1st and Keuka in Bloom May 5 & 6), we generally expect to draw about 500-600 people. It is a very manageable number considering that the event is spread over 8 wineries over 2 days. The "in-season" events (BBQ at the wineries, June 9 & 10 and June 23 & 24, Harvest Celebration, Sept 15 & 16 and the Keuka Holidays Nov 10 & 11 and Nov 17 & 18) are generally sell outs or close to sell outs. The number of tickets sold range from 800-1200 over the course of a weekend.
What can you tell me specifically about Viva Italia?
Each of the eight member wineries around Keuka Lake will prepare a rich variety of food inspired by the flavors and cooking styles from different regions in Italy. Samples of food will be served with complementing local wines. Event attendees will sample a delicious variety of dishes prepared with high-quality ingredients and wineries will make recipes available to enjoy at home. A preview of the event menus includes pasta e fagioli, gorgonzola tortellini, roasted red pepper polenta, zuppa di scarola, pistachio biscotti and lemon-almond cookies.
What are you most looking forward to about it?
I am very excited to see what the attendees thought about all the different regional styles of food. The different regions of Italy all have such varied cuisine and I believe that all the wineries are taking advantage of it!
What would you say people enjoy most about the wine trail events?
All of the returnees are generally commenting on what delicious wines all the wineries have, saying things like "They have great wines and the services has always been warm and welcoming" & "A must-stop on your tour of Keuka!" Another returnee raved about the amount of food they received, the wine tasting, recipes, etc.... Great fun, great wine! They commented on how much they enjoyed the view, the wine, the drive and the smiles.
When does it start?
Event hours are Saturday 10 a.m. to 5 p.m. and Sunday 11 a.m. to 5 p.m. Event attendees may visit all eight wineries in one day or plan an overnight stay to spend more time enjoying the area's other attractions.
Where should they begin? How much does it cost?
Two ticket options are available for this self-guided food and wine event. Sunday-only tickets are $19.00 per person; tickets for the full weekend are $25.00 per person. All ticket holders will receive a souvenir wine glass. When the ticket holder purchases their ticket, they will be assigned to a starting winery and will then start on their highly manageable drive around the Keuka Lake. It can be done in a day, still allowing time to stop at each of the unique eight wineries on the trail or it can be broken up over the weekend. The striking overlooks, on-the-water restaurants, parks, antique barns and charming villages will encourage you to slow down – spend a few days and discover what makes the Keuka Lake Wine Trail different.
Where and how do I purchase my tickets?
Purchasing tickets in advance is highly recommended as most events sell out. A limited number of tickets may be available at the door for a $5.00 surcharge. For all Keuka Lake Wine Trail events, conveniently purchase tickets by calling 800.440.4898, by visiting a Wegmans customer service desk or online at www.keukawinetrail.com.
Comments
Commenting has been turned off.