March 28, 2014 | Bernard Cannac
A Finger Lakes Winemaker Returns to the comforts of France
A couple of weeks ago, I was able to visit my family in France. It was very relaxing to be able to spend some time with my family and close friends. It has been a gastronomic adventure. Every year, I make a point visiting some friends in an overnight stay. My friends work in the vineyard industry and distillery industry. Interestingly enough, we met twelve years ago…on Long Island, NY. And we realized we were from nearby villages in Languedoc. We have been in a few interesting places through the years, and this time it was a buffet, "French Style": all you can eat foie gras, smoked salmon, shrimp cooked in many different styles, and a variety of other French specialties. I had to have frog legs of course! One of my plates (and there were a few!), had most of the "delicacies" I miss in the US: tripes, veal kidneys, chicken hearts and quail; the "vegetables" were sautéed mushrooms with potatoes (no room to waste with greens that evening!). And to pair with it, we had bottles of a local red wine from the "Abbaye de Fonfroide", a medieval monastery. Although I wish I would have been able to share a bottle of Heron Hill Blaufrankisch with my friends. As you can see, I also stacked on some iconic French desserts: I love Canelés, and "Baba au Rhum" has been one of my favorite desserts since my childhood. We stuck with our trusty red for dessert, but Heron Hill Late Harvest Vidal Blanc would have paired perfectly with both desserts. Oh and I had to sneak in some more cheeses even on my dessert platter!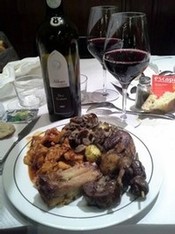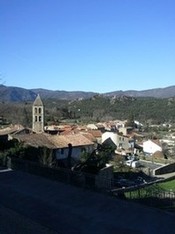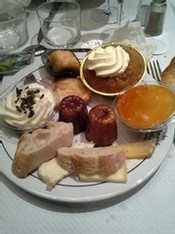 A few days after this food orgy (no, it was not an overdose…), I went with my family to an exclusive restaurant lost in a tiny village in the back country, called l'Ortensia, in Saint-Gervais-Sur-Mare: wonderful landscape and amazing food, focusing on nature-friendly local farmers. We had fresh foie gras (I can't have enough of it…), perfectly cooked scallops duo with beets and a spicy lemon gelée. The main course was veal tenderloin with crispy bacon, homemade potato chips, Brussels' sprouts and salsify served with a green pea purée. It was just exquisite. To accompany most of our meal, we had a Côtes du Roussillon called "Les Sorcières", which means "The Witches". It was a young wine, very rich and fruity with bold tannins: a delicious match.
My wife could not accompany me this time around...so I promised her we will visit l'Ortensia next yea!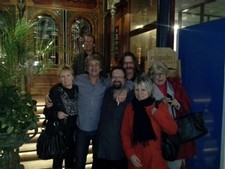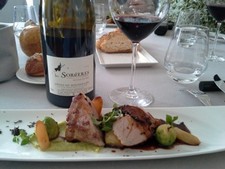 Comments
Commenting has been turned off.