March 13, 2013 | In the Cellar, Keuka Winery | Bernard Cannac
Signs of Spring at the Winery
At this time of the year, we are busy pruning in the vineyard. Pruning is a fundamental stage to the rest of the growing season: it allows us to control the crop we will have at harvest. Each bud we keep will develop and become a fruit baring shoot. The more we leave on the vine, the more grapes we will have at harvest. Consider the energy one vine puts into producing fruit; too many grapes tend to dilute quality and drain the vine from its energy and reserves. On the other hand, we still have to be careful to leave enough buds to balance the vine's natural vigor and have some extra buds knowing some may never develop due to winter damage, spring frost or even later season threats like deer.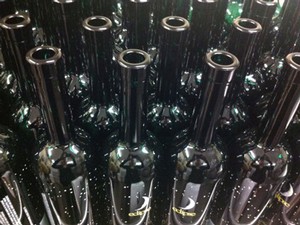 There's always something interesting developing in the cellar. Currently, most of the 2012 reds are now in barrels, as we pumped older reds from barrels to be filtered and bottled. We just bottled Game Bird Red and 2010 Eclipse Red. Next week, we will bottle 2010 Ingle Vineyard Pinot Noir and 2011 Ingle Vineyard Chardonnay. The 2012 whites are being cold and protein stabilized, we plan to bottle these sometime in June. We also have some specially selected Reserve wines for which I'm particularly excited about this spring: 2011 Baco Noir, 2011 Blaufränkisch, 2012 Pinot Gris and 2012 Gewurztraminer. Yes, Baco Noir is almost there, as many customers have been asking for it for a while.
The 2012 vintage will be Heron Hill's first Pinot Gris and Gewurztraminer ever! We are very excited about these two wines and plan to release around 200 cases each. Pinot Gris, also known Pinot Grigio, can be a very shy wine. I have found our 2012 Reserve Pinot Gris to be very different than any Pinot Grigio I have encountered. Our Pinot Gris is very expressive on the nose and complex with tropical fruit and cherry blossom notes.
Many people have asked for a Gewurztraminer since I started at Heron Hill in 2009. We will release the wine in just a couple months! For me, the nose is lychee, characteristic of the varietal, but it also has some floral notes, making the bouquet very elegant.
On a personal note, I am looking forward to visiting my friends and family in southern France at the end of March. So much for trying to lose some weight! When I visit, each meal is a feast, easy on the greens but heavy on the fat and tasty meats and cheeses. It feels really good to go back to where I grew up…my grandparents' villages, and my grandfather's vineyards where I used to work with my father. Although so much as changed or looks very different, I still love to return to these locations where I savor the memories.
Comments
Commenting has been turned off.