July 10, 2015 | Aimee Coates
Summer Tasting Room Happenings on Seneca Lake
Summer is in full swing at Heron Hill's Tasting Room on Seneca Lake! With plenty of picnic tables on our private patio, it's a great spot to relax with a glass of your favorite Heron Hill wine and eat a casual lunch. The grill is hot and we're offering delicious chicken kabobs and all beef hot dogs on Saturdays from 11 am to 4 pm and Sundays from 12 to 4 pm. Yes, our tasting room is pet-friendly as long as your pet is friendly and on a leash.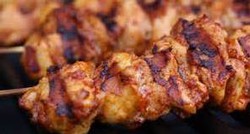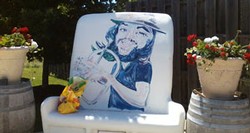 We had to say a heartfelt goodbye to two longtime team members this June. Most of you know the familiar faces of our manager Steve Acker and his wife Pam, who greeted so many of you over the years. They have officially retired and moved on to a very busy schedule of grandkids, volunteer positions and hopefully some much deserved relaxation. In addition, our pint-sized librarian, Rachel, has taken on yet another wonderful position in our community. She's now the media specialist for "Our Town Rocks" – a health improvement project for the town of Dundee, NY. We miss them immensely but wish everyone well, and we hope to still see all them often as they are sure to stop-by to replenish their stock of Heron Hill wine. Aimee Coates is now at the helm with one of the very best tasting room teams on Seneca Lake.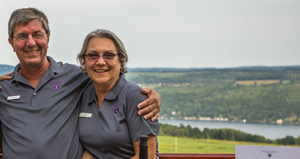 Thank you, Pam & Steve Acker!
Some new faces at the Seneca Tasting Room…
Jacob as joined us and is doing a great job outside cooking at the grill before he heads off to college in the fall. We have yet another amazing Nancy on our team – she's a local schoolteacher who has a great personality and extensive wine knowledge. You can still find the original Nancy here on the weekends, as well as Donna, Doreen, Erin and Susie. We welcome you to stop by to say hello and taste Heron Hill's newest wine releases including Ingle Vineyard Pinot Noir 2013, Eclipse Red 2013, and Reserve Blaufränkisch 2013. Our intimate Tasting Room on Seneca Lake is open daily; Monday-Saturday 10 am to 5 pm and on Sunday 11 am to 5 pm.
Comments
Commenting has been turned off.