July 2, 2012 | Seneca Tasting Room | Steve & Pam Acker
Summer Suggestions from the Tasting Room on Seneca
Greetings from the tasting room of Heron Hill on Seneca Lake.
Spring marked the beginning of our 7th year here, and we are pleased to welcome back many of our outstanding staff including Alicia, Erin, Carol, Ed, Bill and Virginia, with the addition of a new assistant manager, Aimee, who brings experience and some new ideas to our tasting room.
When you visit this year, you will notice that we now offer wine served by the glass to be enjoyed on our patio. We are conveniently located on route 14, nearly halfway between Watkins Glen and Geneva, a great place to bring your picnic and take a mid-day break.
You will also notice that the really special features that keep our guests returning have not changed. We continue to pride ourselves on our excellent service by a well trained team, a relaxed and fun tasting experience, and most importantly, great wine.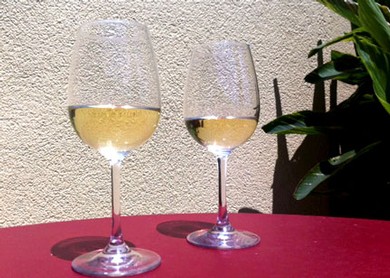 Summer traditions of entertaining and fresh farmstand food are an anticipated part of the season. Combine that with a lovely chilled wine, maybe the Classic Chardonnay 2010 or Semi-dry Riesling 2010 and you have a perfect match. Another perfect pairing is grilled peaches with vanilla ice cream and our 2008 Vidal Blanc Late Harvest dessert wine. It is truly an unforgettable summer taste.
We look forward to seeing you this summer so pack your picnic, come for a tasting, and then relax at one of our tables or on the lawn with a chilled glass of your favorite Heron Hill wine. It just sounds like such a good way to spend a lazy, hazy summer afternoon.
Comments
Commenting has been turned off.