November 24, 2015 | Harvest, Ingle Vineyard | John Ingle
Thanksgiving at the Ingle home
Thanksgiving at the Ingle home is a perfect opportunity to share the Ingle Vineyard lifestyle with family and friends. Being an avid gardener as well as a grape grower, Thanksgiving is all about homegrown. The festivities begin with Ingle Vineyard Chardonnay unoaked, our favorite wine! Crisp and refreshing with complex flavors of apple and lemon, it satisfies the palate. As we move into the dinner mode our thoughts turn to turkey and a versatile red such as the just released Ingle Vineyard Merlot Reserve 2013. A bright and juicy wine with medium body and a silky mouthfeel that will nicely complement the assorted organic homegrown delicacies such as sweet peas, mashed potatoes, whipped sweet potatoes (yes, all from our Finger Lakes garden) and stuffing made with our carrots, celery, herbs and raisins. Traditional and time-tested flavors. For dessert we look forward to our organic apple cider pie paired with a delicious Ingle Vineyard Icewine 2010. This is a luscious wine that has an intriguing aroma of glycerine followed by creamy sweet flavors of quince and pear – nice foil for the pie.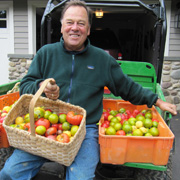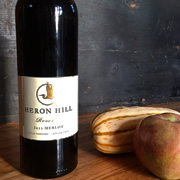 Thanksgiving has always been my favorite holiday because it's all about family, sharing, counting our blessings and enjoying our home. All recommended wines are available at our three tasting rooms and online at heronhill.com. Enjoy!
Heron Hill Winery, Heron Hill Tasting Room at Bristol, and Heron Hill Tasting Room on Seneca Lake are closed on Thanksgiving Day, however please join us for Small Business Saturday. Visit any one of our three locations on November 28th for storewide wine discounts and holiday cheer.
Comments
Commenting has been turned off.