September 12, 2012 | Harvest, In the Cellar | Bernard Cannac
The Great Story of Muscat
Muscat grape is considered one of the oldest, if not the oldest, grape domesticated by man. Its origin is unknown but it could come from the Middle East or the Arabian Peninsula where it could have been cultivated about 4,000 years ago, if not longer. It is believed that traders and/or soldiers brought the Muscat vine from the Arabian Peninsula to the Mediterranean: soon Egyptians, Greeks and Romans not only grew it but also took the vines with them during their conquests and spread it all around the Mediterranean. It then was propagated throughout all of Europe, from Portugal to Russia. In the Nineteenth Century, Muscat was introduced in South Africa, Australia and New Zealand.
Because of such a long heritage, there are at least two hundred different varieties containing the name Muscat. They belong to the Vitis Vinifera family. Examples?
Muscat Blanc à Petits Grains is commonly used in Asti Spumante (sparkling) and Muscat De Frontignan (Vin Doux Naturel). It also has many different names: Muscat d'Alsace, Muskatelle, and Moscato Bianco. Moscato Bianco in Italy is used to make the sweet, effervescent Moscato d' Asti wine that is currently on trend and widely referred to in the United States as just Moscato.
Muscat of Alexandria gets its name from the Egyptian City of Alexandria, one of the most advanced cities of its time, with the first and biggest Librairy, before tsunamis, earthquakes and invasions destroyed it. This Muscat grape can be found in Moscatel wines, sherry wines, or as table grape and raisin.
Muscat Ottonel, also called Moskately, is used in dessert wines in Austria and Eastern Europe.
Muscat of Hamburg has a darker color and is used as table grape or dessert wine in Eastern Europe and Northern Italy.
To make it even more confusing, each region can have a different name for the same grape.
Apart from settle variations, all these varieties of Muscat tend to express the same aromatic characteristic. The compound Linalol present in the juice is very aromatic and is described as musqué in French. It is reminiscent of Lychee, an Asian fruit you can find in…Asian Cuisine. It is somewhat similar to the aroma of a Gewurztraminer, which may be a sign of a Family tie between the two varietals. The spicy note in the Muscat bouquet is not too far fetched from the spicy aroma of the Gewurztraminer, Gewurz meaning spice in German.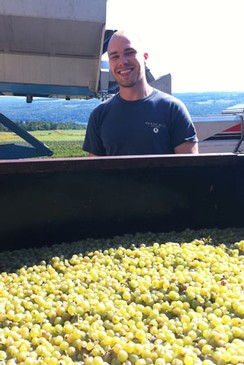 At Heron Hill Winery, we grow Muscat Ottonel and we added a new planting of Muscat Blanc. Muscat Ottonel is used in the production of Dessert wines, but grape production has been so limited that we have not made a Muscat Late Harvest in a couple of years. Hopefully, with the Muscat Blanc coming into production in a couple of years, we will be able to produce a Muscat Late Harvest.
Crushing Muscat on September 12, 2012: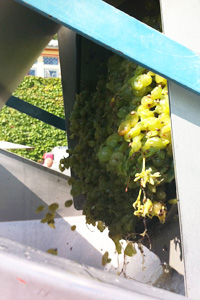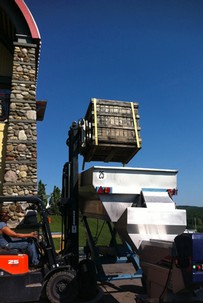 Some of our grapes come from various grape growers throughout the Finger Lakes (Keuka, Seneca, Cayuga and Skaneateles Lakes). One of our growers on the west side of Seneca Lake has planted a vineyard of Valvin Muscat. Valvin Muscat is a cross between Muscat Ottonel (Vitis Vinifera) and a hybrid called Muscat du Moulin. It was developed at Cornell University in Geneva, NY. Valvin Muscat is a hardier variety than most Vinifera, and exudes the same typical lychee and spicy aromas as any European Muscat.
With these grapes, we produce the Heron Hill Muscat. The first release was in 2010 with the 2009 vintage. It sold out in a few months! We are now about to run out of the 2010 vintage, and we will then switch to the 2011, which has the new Heron Hill Classic label and a screw cap! So far, the Heron hill staff has been very excited about this new release about to happen. Just twenty-four hours after bottling, we offered a pre-release taste of the 2011 Muscat at our Label Launch Party on August 1st. It was very well received on a hot summer afternoon paired with roasted turkey and mango-cilantro coulis on a slice of baguette.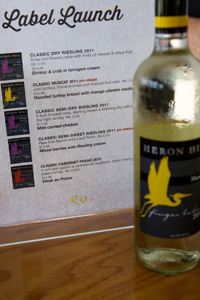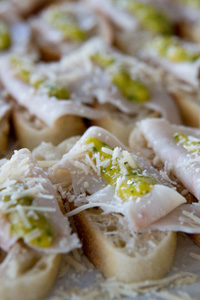 Comments
Commenting has been turned off.