November 22, 2011 | Keuka Lake Wine Trail, Keuka Winery | Tambi Schweizer
We had a great time at Keuka Holidays!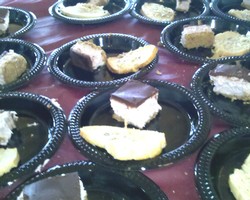 What a great season, I made it through October and just finished two busy sold-out weekends of Keuka Holidays, two of our biggest weekends of the year! We had a record-braking crowd on the first Saturday with over 1000 people through the door…wow was I tired! We served a fabulous Roasted Red Pepper Soup topped with an Asiago Crisp and a side of Eclipse Red Raspberry Cheesecake. We received rave reviews from everybody, check out the links for the recipes!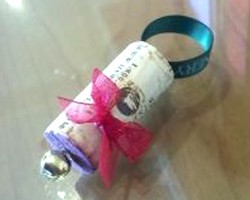 This year we had one of our staff members, Lauren, hand make 1,200 cork ornaments. Lauren spent countless hours tying bows, cutting ribbons and gluing jingle bells on each cork. I think Lauren recruited a few of her friends to help her with this project…maybe enticing them with a home cooked meal and lots of wine!
As the 2011 season winds down, we are already gearing up for 2012! I have already booked tons of groups for the upcoming season, especially October (one of the busiest months). I am also working on ordering a great present for our wine club members (sorry…can't reveal the secret yet!). The final shipment of the season is always a great one with two of our most special wines leaving the building…the Gold Club is even receiving an unreleased wine!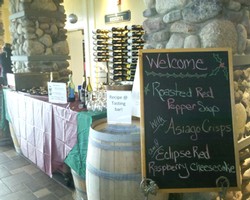 As I get ready to take a small breather, Bernard (our winemaker) just stopped by and said that we are going to hand-pick our Late Harvest Vidal Blanc next Wednesday! Even though it is my day off, I am a trooper and will be there with bells on! I am just thinking about what I will bring for a hot drink to keep me warm while picking, maybe hot mulled cider with a little Goldschläger?
Remember now that it's the slower season, (the best time to visit in my opinion), you can stop, visit and taste for an hour or two and we can try to solve all the world's problems!

Comments
Commenting has been turned off.