August 15, 2012 | Keuka Winery, Weddings | Kara Smith
Wedding Season is in Full Bloom
Wedding Season is in Full Bloom
With 12 weddings down this season, I have about 10 more to go.
Several new wedding trends have caught my eye this year.
Here are five that I love:
Trend 1 - No set rules. "Pick" a seat.
Many of my bride and grooms are opting out of seating charts and allowing guests to "pick" their own seat. Several have used Pinterest to come up with cute, witty signs to explain their decision for keeping the seating open.
Trend 2 – Let them eat ice cream cake!
I have had many couples express their dislike for traditional cake and they truly use their imagination for the dessert. Ice cream cake, shortcake bars, ice cream bars, cookie tables and a rice crispy cake are just some of the tasty trends I have seen.
Trend 3 – DIY Florals
I have had a few brides make their own bouquets out of fabric and buttons. The nice thing about these bouquets, you will have them forever. They never dry out, die or get ruined. Brides are also opting to go with versatile Mason jars and wildflowers for a more simple, romantic feel.
Trend 4 - Thumbprint Trees
As a guest book, I have seen several hand painted trees where guests use their thumbs to make a print and write their names. As long as you have a pre-done sample, it turns out nicely and you then have a piece of original artwork for years to come.
Trend 5 - The first look
The Bride and Groom have been using the Heron Hill Tower to "meet" prior to the wedding. This allows the couple a private viewing of each other prior to the ceremony. They also make time to organize and shoot pictures ahead of time, giving themselves the ability to join cocktail hour.
If you are looking for new and fresh ideas, I recommend visiting the following websites: Pinterest.com and GreenBrideGuide.com; as well as Well Wed magazine online and in print. They all have great ideas for weddings.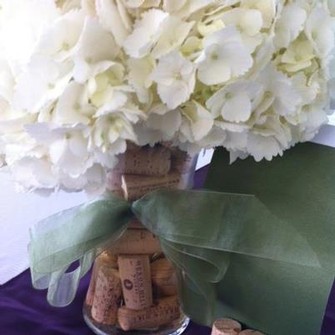 Don't forget to sign-up for the Heron Hill Wedding Show happening on Sunday, August 26th from 1:00 - 4:00. We will have a selection of great vendors to help you with your big day…brides enjoy a complimentary glass of wine!
Comments
Commenting has been turned off.