February 9, 2011 | Wholesale | Mike "Ollie" Oliver
Welcome baby Morgan!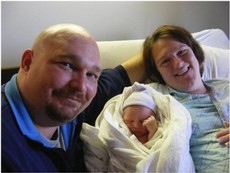 I would be remiss if I didn't start by noting the arrival of my son, Morgan Ronald! He was born New Year's Eve morning. Both Morgan and Mom (Tanya) are happy and healthy. At this point, he has grown to nearly 10 pounds. Sleep has become a precious commodity, but that is to be expected.
Recently, I have returned to the wonderful world of Wholesale Sales. January, despite the weather, proved to be a highly productive month for me! I managed to travel from Cooperstown and Syracuse to Cuba and Salamanca. While riding with our distributors' sales reps, I managed to sell a fair amount of wine. In particular, I look forward to the addition of the entire Ingle Vineyard series at Allen's Wine & Spirits in Olean. With John Coco coming on board, I expect to see increased interest while I'm on the road.

A fair amount of my time is devoted to booking store tastings and scheduling events. We will be pouring at Corning's Cabin Fever this Friday. I have scheduled tastings from Savor Syracuse to the Alfred University Alumni Gala and look forward to the next Cork & Fork.

As for the Café, I was looking forward to a relaxing winter before revamping the menu and beginning to assemble my staff. Kitty, Paul, and Kara have been contacting me about the new menu to pass along to upcoming groups and promotions. With the amazing response to the menu that we saw last year, changes will be minimal. I have had requests for particular items and am considering these.

Additionally, we will be hosting a weekly Happy Hour at the Café. Initially, we were considering Thursday, but Music in the Park may draw our perspective crowd away. At this point, I think that Wednesdays might be a better option. The plan for this event is to offer tapas, wine by the glass, and beer by the bottle. I think that with Kitty's amazing networking and publicity savvy, we can expect an amazing turn out. I am considering a discount for employees of other wineries…

Next weekend, we have the first Wine Trail event of the year. I will be making Curried Chicken Satays and a Raspberry Cheesecake. The ladies in the office are a bit concerned that I will not be fully prepared for this event, so they recommended that I make an extra cheesecake, just to be sure. With that said, if you are at the winery on Monday, ask for leftovers!
Comments
Lily Green

@ Mar 22, 2011 at 3:20 AM

This is so touching when father is very excited about his children's birth… I think that tell about you as about very careful and tender person and I can say for sure that your wife is very lucky woman to have such a husband… Anyway my congratulations!

Commenting has been turned off.