September 14, 2011 | Blue Heron Café | Mike "Ollie" Oliver
Gearing up for fall at the Blue Heron Cafe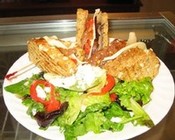 The summer to date has been great at the Blue Heron Café! We have seen crowds comparable to last year, but recent tweaks like linen napkins, proper water glasses, and some higher-class features have really impressed the customers. From Crab Napoleons to Roasted Red Pepper Involtinis, a greater variety of dishes have been well received.

We have hosted a bunch of groups this summer. I attribute this to our Marketing Guru, Kitty, who pressed me very early in the year for my menu. With the additional exposure in the pre-season months, we have easily doubled our groups from last year. To highlight these events, in August we hosted a group from Keuka College for a five course Tapas and Tastings. Thrown into this, we fed the vendors for the Wedding Show and have a couple of corporate events for later in the season. Don't forget to check out the music lineup for Tunes in the Tent, which kicks off with the Crosseyed Cats on September 25th!

Recently, we reduced our hours to Friday through Monday, as the weekday crowd tends to be a bit lighter. The mid-week break is appreciated, as the weekend crowds have been impressive. This has allowed me to offer a bit of time to the Wholesale department. At the end of the month, Lakeside Restaurant will be showcasing us for a Wine Dinner. Beef & Brew in Geneva has also selected us as their Winery of the Month.
Comments
Commenting has been turned off.