November 18, 2011 | Blue Heron Café, Keuka Lake Wine Trail | Mike "Ollie" Oliver
Having fun with Keuka Holidays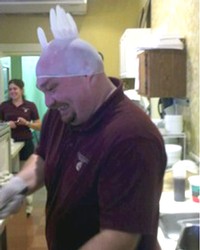 With the unpredictable October weather, some improvisation was necessary. Cool, rainy days brought smaller crowds, but the limited seating in the Blue Heron Café was challenging even for lighter crowds. Putting the tower heaters and conference room to use helped to hold the crowd. For the last weekend, we even used one of the tent sides to close off the opening of the awning. All of these tactics combined worked well to keep the crowds happy!

Tunes in the Tent proved to be another great series for the year. From Virgil Cain and the Movers to the Keuka Kats, we saw good crowds for most of the events. The Wine Club VIP members really seemed to enjoy the events too. Again, weather offered a few challenges, but the big tent heaters kept everyone cozy under the cover. Look forward to the lineup for next year's Tunes in the Tent to come out by February!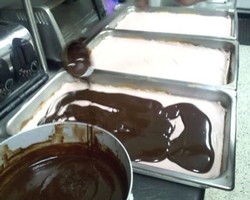 Last weekend and this upcoming weekend will wrap up Wine Trail events for the year. For Keuka Holidays, I will be preparing a Cream of Roasted Red Pepper Soup topped with Asiago Crisps and an Raspberry Cheesecake with Chocolate Eclipse Ganache. The soup is one of the Café favorites and the cheesecake is a recipe that I developed on a whim, featuring raspberry and Eclipse Red in the filling and topped with an Eclipse Red Chocolate Ganache. The numbers for this event are amazing, we served just over 1000 people on the first weekend and expect to see nearly 800 next weekend! As we approached the end, we had to makes sure it stayed fun!

Comments
Commenting has been turned off.