May 12, 2011 | Blue Heron Café, Wholesale | Mike "Ollie" Oliver
Blue Heron Cafe is opening on May 20th!
Lately, I have been going in several different directions! Primarily, it has been the tail end of my Wholesale season. Between working with our distributor's sales reps and striking out on my own, I have had a pretty good sales season! The winter brought a flurry of stores adding the fine line of Heron Hill wines and lately, restaurants that are preparing to open have been revamping their wine lists and making room for us. I am currently working on scheduling several wine dinners at local restaurants; look for us to be featured at the Lakeside (on Keuka Lake) and the Village Tavern in Hammondsport in the near future.

My second concentration has been Wine Trail events because unfortunately, the food doesn't cook itself! February brought the Truffles and Tastes and April showcases the Artisan Cheese event. The April event paired us with Lively Run Creamery and we highlighted the Roasted Garlic and Pepper Chevre. Suffice it to say, the Pesto Cream Pizza with fresh Spinach was a hit, although I think the staff might have influenced the total number of pizzas that I had to make… Next up is Keuka in Bloom this weekend. If you are joining us, I hope you enjoy the Pancetta and Sage Stuffed Pork Loin, check out the recipe here.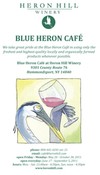 With the season finally changing, my third direction is preparing to open the Café. I have been fortunate to discover that some of my staff will be returning. Modifications have been made to the menu, the wine list is being generated, and the tables and chairs will be arriving soon. With a thorough cleaning and some modifications, we will be opening on May 20th. Be sure to look up the Live Music Calendar and join us for a sandwich and a glass of wine! You can also request a menu here.

Comments
Commenting has been turned off.