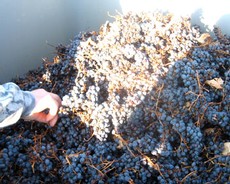 As of last week, we are officially done with harvest. The last crop we picked is a Late Harvest Cabernet Franc we had let hang on the vines at Ingle Vineyard. There will be no Icewine this year, but we are very pleased with the Late Harvest Vidal, the Late Harvest Riesling from Ingle Vineyard and the Late Harvest Cabernet Franc.
In the vineyard, pruning will start with the New Year. In the cellar, we are monitoring the Malolactic fermentations on the 2011 reds, and starting to stabilize the 2011 whites so they will be ready to be bottled in the spring. The 2011 harvest has been one of the biggest harvests at Heron Hill Winery, and somewhat challenging because of the weather conditions and a cellar filling very quickly with freshly pressed juice. Now we have more time to take a more regular pace, after the excitement of the harvest season. But there is always something to do on a vineyard and in a cellar.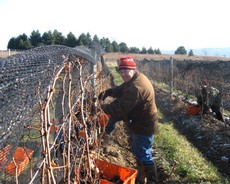 As the holidays approach, I would like to take the opportunity to wish you all a "Joyeux Noël" (Merry Christmas) and a "Bonne Année 2012" (Happy New Year 2012). My wife and I will spend Christmas on Long Island with her Family. Being Italians, they have "The Feast of the Seven Fishes" every Christmas Eve. It is an occasion to see relatives we do not have the chance to visit as often as we wish. There is not that much fish though, mostly lobster tails, shrimp and clams in different sauces and styles. I usually bring some Heron Hill Semi-Dry Riesling, which tends to please everybody. The Heron Hill Muscat remains the favorite for the appetizers.
Traditionally, my mom in France makes the "Bûche de Noël" (Yule log). It is not an easy task to undertake. I have tried to make it myself a couple of years ago: the taste was great, but the cake collapsed and looked more like a layered cake than a round log. But my mom also makes festive dishes that are much easier, which I am able to recreate, given that my mom never uses measuring cups. She was a chef for forty years and never used any of these. She would say: "use a small glass of flower, like the ones we use for dinner, the small ones, not the tall glasses, and overfill it up a little but not too much… Well, you'll see…" Thanks mom, I am so glad I called! It is so clear to me now! So, most of my recipes are done by taste.
For the Holidays, my mom always made Flambée Shrimp. It is so easy and spectacular too. Here's her recipe:
Flambée Shrimp for the holidays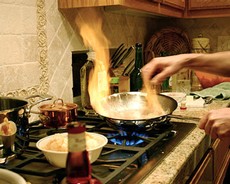 First, sauté some chopped garlic in a frying pan with olive oil (which can be replaced by butter). When the garlic is slightly brown, add the raw shrimp and sauté them on one side for a couple of minutes. Flip them and sauté them on their other side for another couple of minutes, or until almost cooked (can't you feel the resemblance with one of my mom's recipes?) You can add some salt and pepper to taste during this step. In the meantime, in a small saucepan, warm up some Whiskey or Rum, about 1/4 cup. When the Whiskey is smoking (it does not have to be boiling), TURN OFF ALL BURNERS ON THE STOVE (you will see how important that is!), place the frying pan in safe surroundings, clear of flammable objects (I usually leave the pan on the stove as it is a pretty safe spot in my kitchen), pour the smoking Whiskey over the shrimp, and with a long match, ignite the Whiskey. The alcohol will burn with a blue light. You can wait until all the alcohol has burned down, or you can stop the flambée by covering the frying pan with its cover. That will give an extra kick to the dish. If we have guests (I also make that dish just for my wife and I occasionally), they often get awed by the show!

I traditionally use raw shrimp with their shell, and they are eaten as an appetizer. They are quite tasty on their own, but I like to make a homemade Mayonnaise or Aioli.
Homemade Maynnaise or Aioli for the Flambée Shrimp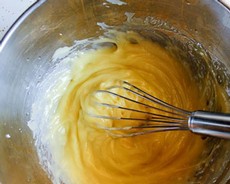 Again, it is very simple: put one to two egg yokes in a bowl, add a pinch of salt and pepper. Then, with a small whisk, start whisking and add olive oil VERY SLOWLY. Towards the end, you can add finely chopped fresh garlic to make it an Aioli ("Ail" means garlic in French). Just dip the shelled shrimp in the Aioli, and enjoy! Here too, the Heron Hill Semi Dry Riesling or Muscat complement the dish very well.
I have made a variation of this recipe to make a main dish at last Valentine's Day dinner I had with my wife at our house. I first sautéed the shrimp in garlic and olive oil until almost cooked, then set them aside in a plate. I then sautéed a little more garlic in Olive oil, and then added some scallops. I did not want to mess up the cooking of the scallops. That is why I decided to cook the shrimp and the scallops separately. Better be safe than sorry on a romantic date… When they were almost ready, I added the shrimp back in the pan with the scallops and then poured the warm spiced Rum, ignited it, and after the alcohol burned off, I poured the shrimp and scallops over pasta. Et voilà! It was quick, efficient, and it looked like I was a skilled French chef! Because the flavors were not as prominent with the pasta, Eclipse White or Ingle Vineyard Chardonnay pair extremely well with the dish.
Enjoy the holidays!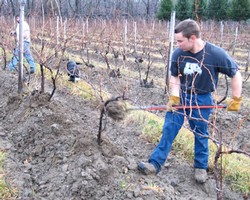 It's December, time to turn the page. It seems as if each month has a focus, October was harvest, November has been shoveling up the dirt onto the vines to protect them throughout the winter cold and December begins the pruning that will continue until March. Hand pruning some 14,000 vines at a rate of 150/day takes all winter, almost every workday until April 1st when the "season" begins. Parallel to the vineyard work is the garden work. (And I use the term "work" in the positive sense as in project or pastime.)
Our game-plan with the garden is to work (focus) for seven months and then enjoy the fruits of our labor for the five winter months. We freeze a lot of our food; spinach, peas, corn, broccoli, beans, all freeze well. Fruits also are stored frozen or dried including pears, strawberries, peaches, raisins, etc. Mother Nature does a beautiful job preparing us for winter storage with root vegetables. Our root cellar is chockfull with potatoes, carrots, beets, parsnips, brussels sprouts, onions, garlic and the "best thing you never ate": celeriac!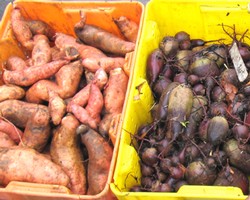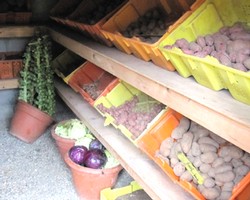 Sprinkled with olive oil, and oven roasted at 400 degrees for 20-30 minutes, along with slices and chunks of the other root crop, it tastes nutty and unique like nothing you've ever had. Try it. Celeriac is also good boiled, mashed and added to mashed potatoes - ah the bounty.
For over 40 winters we've pruned the vines in the daytime and savored the fruits of our labor at night - what's wrong with that game-plan?
Recent Posts
November 13, 2019

October 16, 2019

May 9, 2019

April 22, 2019

January 7, 2019

July 27, 2017

December 27, 2016

December 9, 2016

November 11, 2016

November 7, 2016
Blog Categories
Blog Archives
Our Writers