October 19, 2011 | Bristol Tasting Room | Christina Bowe
Heron Hill at Bristol is having an amazing year!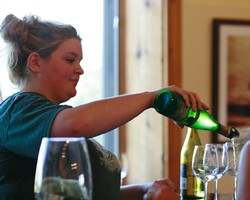 The name Canandaigua is derived from the Seneca Nation's name which is spelled variously Kanandarque, Ganondagan, Ga-nun-da-gwa, or in a modern transcription, tganǫdæ:gwęh, which means "the chosen spot", or "at the chosen town". This area has become a destination for people all over the world.
Our Heron Hill team at Bristol has hosted people from Europe, South America and North America. When asked why they have travelled to this area, they tell us because the Finger Lakes are becoming an "up and coming" wine region and they wanted to check it out. Most of the natives to the area take our region's beauty for granted. When you hear our visitor's amazement at the scenery, the area as a whole, it puts it all in perspective … how lucky we actually are to live here.
Last month we had our first event, a Vineyard Soiree. With the help of the Canandaigua Merchants Association, we had a day at the vineyard. Many local people, visitors and our staff were exposed to Canandaigua merchants, such as; Wick-edly Sent Soap & Candle Company, F. Oliver's Oils and Vinegars, Sweet Expressions, New York New York, Coach Street Clay, Rio Tomatlan Mexican, Simply Crepes and music and dancing lessons by Tommy Gravino/Sheila Trumble. Heron Hill provided cider making with samples and free wine tastings. It was a great time! Being our first year, we have the kinks out, so stay tuned for next year's event.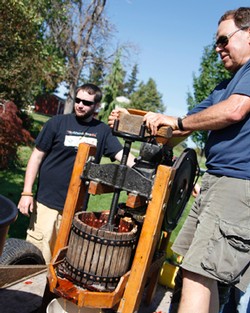 Check out the entire photo gallery of our Vineyard Soiree here!
Our newly improved gift shop offers Heron Hill logo items, as well as products made locally, including our Maple Syrup items made just down the road. If you have not had the opportunity to visit our Bristol location come sip great wines, browse our newly expanded gift shop and take in the beautiful views of the Finger Lakes.
As we begin to wind down for the season, we are beginning to think about next year. Keep a look out for our new and exciting events coming in 2012.
Comments
By Files

@ Jan 13, 2012 at 6:39 AM

Glad to hear that you had an amazing year! You definitely deserved this) I sincerily wish you further success!

Commenting has been turned off.