September 29, 2011 | Harvest | John Ingle
What made me go into the wine business?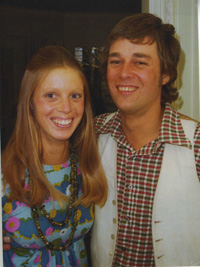 I often get asked "What made me go into the wine business?" Well, nothing made me, I chose to, willingly and enthusiastically. And it's funny because I can almost remember making the decision to do so. I was an English teacher in Colorado and felt there must be more for me. I had been curious about organic gardening and read books about the "farm life".
It was exactly forty years ago, in 1971, that we, my wife, Joey, and I worked in a neighbor's vineyard picking Concord grapes. As I stood on that sun drenched hillside breathing in the smells of fresh air and ripe grapes I realized this was satisfying to me. The rhythm of the work, steady and focused, the rhyme of the workers, chatting and laughing as they worked their way up and down the rows and the thought that it's vintage time! People all over the world, Europe, Australia, America, literally everywhere, were doing the same thing, harvesting grapes, to make wine. A sacramental beverage, as old as history, alive and dynamic in so many cultures and lands, it was inspirational to me. I knew that I had found my path and my loving wife has walked by my side for forty years, pursuing a career but more so, a life and lifestyle of living a "farm life".
Comments
Commenting has been turned off.