January 26, 2011 | Weddings | Kara Smith
WellWed Wedding Affair
It is certainly a quiet time of year here at Heron Hill Winery. I spend most of January preparing for inventory, contacting possible brides and cleaning endless amounts of wedding chairs.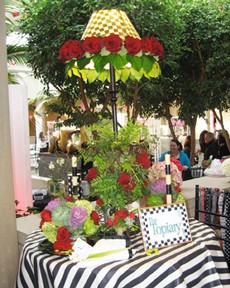 While preparing for the upcoming season, during this "slow time" I have been able to do several wine tastings and talk with some of our nice customers. I have also attended several bridal shows over the course of the last two months.

The most recent bridal show I attended was the 2nd Annual Finger Lakes Wedding Affair at the Memorial Art Gallery in Rochester, NY. What a beautiful show. WellWed hosted it and did a fabulous job of bringing together all of the wedding professionals of the Finger Lakes Region. The theme this year was carnival. Everything was decorated as though the brides had just walked into a carnival. The Well Wed staff thought of everything from candied apples to cotton candy martini's.

I was able to sneak away from the booth to speak with several of the other wedding professionals and see their work. The Topiary out of Pittsford, NY had several gorgeous displays. They had a table display as well as a bridal bouquet sample. I also spent time getting to know the ladies, and I am excited to work with them in the near future.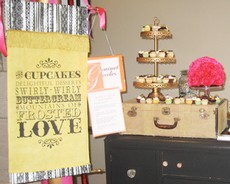 As I was walking around, I made a point to try some of the sweet treats from Gourmet Goodies of Victor, NY. I have never been disappointed by what they create. I specifically sampled their red velvet cupcakes with a cream cheese center and the chocolate cupcake with a peanut butter center. Delicious!

I also stopped to try the paella that All Occasions Catering of Rochester, NY prepared as samples. This was my first time trying their cuisine, and I must say it was yummy.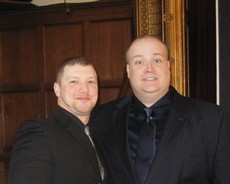 Throughout the show, music was provided by a few of our favorite guys, Nate and Jason of Fingerlakes Entertainment. They also provided all the music for the couture fashion show. I am looking forward to working with them this upcoming season.

All in all this was a great show. I am ready for wedding season to arrive! I have many wonderful couples I am working with this year. On a side now, this week marks my 1 year anniversary at Heron Hill Winery! What a wonderful first year!
Comments
Tambi

@ Jan 26, 2011 at 8:19 AM

Congratulations on putting up with us for a whole year! You have been a pleasure to work with!!!!! Just a reminder that when you go to wedding shows, you are supposed to bring us back samples....

Commenting has been turned off.