September 22, 2011 | Keuka Lake Wine Trail | Tambi Schweizer
Fall is here, along with that comes harvest!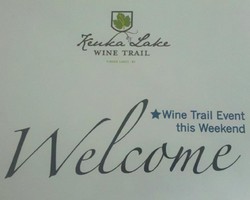 Ahhhh…September! Harvest is here and you know what that means; it's the start of the really crazy-busy season! We kicked September off with a jammed packed weekend with Labor Day and "oh boy" did we labor hard at the winery! We had live music by Bruce Holler on Sunday afternoon, unfortunately I was pouring so much wine in the tasting hall that I never got a chance to get out there to even say hello.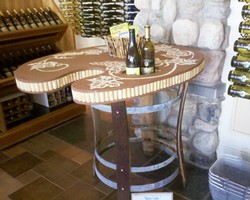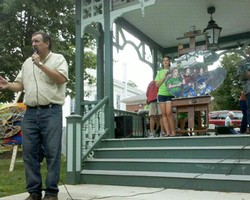 The following weekend on the 10th, I had Saturday off because I went to the 2011 Palettes of Keuka auction! The Palettes of Keuka has inspired upwards of 40 artists each year to create artwork on giant size artist palettes. This event has offers wonderful opportunities to provide funding for numerous art related activities and scholarships. Each year the committee directs thousands of dollars in funding towards the support of the arts in our area. In four short years they have created a Keuka Lake tradition with the grand finale auction held in the village square in Hammondsport. I ended up buying two palettes, one called "Wine, Wonderful, Wine" by Lenolee Spraker and "Pants in the Park" by Andy Clark. I got great deals on both; in total I spent only $170.00! As the auction was winding down, with only a few palettes to go, the auctioneers Steve Muller and Ken Corey, posed a challenge to the audience. As you can see by the picture there are many corks that make-up the border in my palette, the auctioneers asked if anyone could guess the total number that I used to make it with! After many crazy guesses (346, 824, 600, 572) someone shouted out 200… seeing that I had used 185 ½ corks - they were the winner. I had told Steve and Ken that I would donate a bottle of wine of the winner's choice!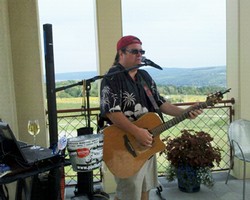 This past weekend was our Harvest Tour of Food and Wine on the Keuka Lake Wine Trail. What a great weekend, I was the greeting committee and check-in person serving the wine and food with Linda on Saturday and Helen on Sunday. It was a great weekend to be in the tent in our parking lot, as the seaplanes were in town and we got to watch them go around the lake at 1:00 on Saturday….very Cool!!! At the trail check-in table we were serving a Butternut Squash, Potato & Sausage Gratin paired with their choice of our Classic Pinot Noir 2008 or our Classic Dry Riesling 2009. Both worked exceptionally well with the rich and creamy gratin.
So far September has proven to be a great success; let's hope with our first Tunes in the Tent this coming Sunday it continues! I can't wait to see the "Crosseyed Cats" perform starting at 12:30 on Sunday! Hope to see everybody here for Harvest!
Comments
Kitty

@ Sep 22, 2011 at 12:06 PM

Nice palatte! That is such a great cause and I know that all of H'Port gets involved with that. How much did that sell for at the auction? Is the buyer going to use it as a real table or make it into a display? I already miss it in the tasting hall :(

Commenting has been turned off.