December 1, 2011 | Harvest | John Ingle
Turning the page into December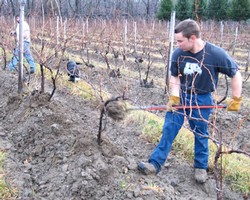 It's December, time to turn the page. It seems as if each month has a focus, October was harvest, November has been shoveling up the dirt onto the vines to protect them throughout the winter cold and December begins the pruning that will continue until March. Hand pruning some 14,000 vines at a rate of 150/day takes all winter, almost every workday until April 1st when the "season" begins. Parallel to the vineyard work is the garden work. (And I use the term "work" in the positive sense as in project or pastime.)
Our game-plan with the garden is to work (focus) for seven months and then enjoy the fruits of our labor for the five winter months. We freeze a lot of our food; spinach, peas, corn, broccoli, beans, all freeze well. Fruits also are stored frozen or dried including pears, strawberries, peaches, raisins, etc. Mother Nature does a beautiful job preparing us for winter storage with root vegetables. Our root cellar is chockfull with potatoes, carrots, beets, parsnips, brussels sprouts, onions, garlic and the "best thing you never ate": celeriac!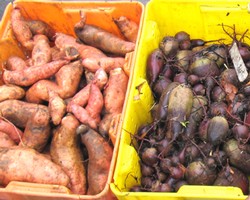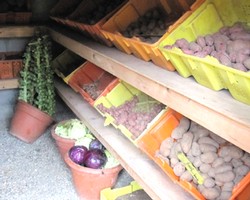 Sprinkled with olive oil, and oven roasted at 400 degrees for 20-30 minutes, along with slices and chunks of the other root crop, it tastes nutty and unique like nothing you've ever had. Try it. Celeriac is also good boiled, mashed and added to mashed potatoes - ah the bounty.
For over 40 winters we've pruned the vines in the daytime and savored the fruits of our labor at night - what's wrong with that game-plan?
Comments
Commenting has been turned off.