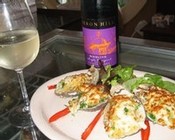 The Blue Heron Café is now open everyday! To celebrate this, we have begun hosting Happy Hour on Wednesday's starting at 5:00 and going until 7:00. We set aside our regular menu and concentrate on several featured appetizers to satisfy the yen for lighter fare. Last week, we showcased the Oysters Rockefeller. For the near future, we are considering a wine paired flight of three or four different appetizers.
I have been booking group lunches and parties left and right. For the first time at Heron Hill, I will be preparing a Wedding Rehearsal Dinner for one of our brides. As we finalize the menu, I am reminded of some of the amazing dishes that I used to prepare and it is inspiring me to find ways to get these flavors on the Café menu.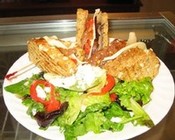 Don't forget, live music starts on the Café Terrace this Sunday! The schedule is available on the website and, of course, in the Tasting Hall. We start off with Bruce Holler featuring Peter Baker on the conga.



As we kick off summer, I am counting down the days until the Heron Hill Wedding Show! Heron Hill Winery and Pembrook Pines Radio Group will be hosting our first show on August 28, 2011 from 1-4 pm. Registration for all brides is free, sign up here and bring a guest!

Each bride will receive a "goody" bag filled with several wedding planning tools provided by The Wedding Planner, Rochester Wedding, Rochester Bride & Groom and more.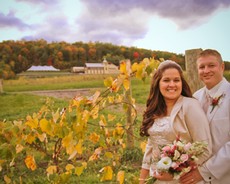 The staff from Heron Hill and Pembrook Pines has been working diligently to bring the areas top wedding professionals to you. We are happy to announce that David's Bridal will be attending the show with several of their dresses from each collection. The Finger Lakes Wellness Center & Health Spa will also be here. They are one of the local spas in the area offering wonderful services at great prices. What a prefect way to spend the day before your wedding. Betty Kay Bakery out of Bath will be here decorating their delicious cakes as well as providing samples. Tom Mike Photography will have his wedding albums on display! ServU Credit Union will be here to help you with all your financial questions.

During the show, will be giving away several great prizes. Here are a few teasers of what some of the exhibitors will be giving away throughout the afternoon:
Walker Cake Company - free set-up and delivery of your wedding cake
Berry Vine Creations - $200 off your floral package of $1000 or more.
SEVideo – Flip Camera and Video Package
Owen ENTERTAINMENT – Pair of Darien Lake Tickets
LaVere Media – Framed Art Print
And so much more!!
Join us for an afternoon of wine tasting, sampling food from local caterers, admiring photos from the area's top photographers and exploring floral options for your big day. Register at www.heronhill.com and be sure to bring a guest!

We are beginning our 6th year at Heron Hill on Seneca. After the long, cold winter (as in never ending) we are glad to be fully operational again. Heartfelt thanks to our loyal good neighbors who braved the snow and winds to visit on the weekends and left fortified with bottles of their favorite Heron Hill wines to enjoy at home. Many of our "snow birds" returned, only to wish they had waited a bit longer as the cold and rain persisted into May. But still they visited and enjoyed reconnecting with us. Now that we have finally seen that glimmer of warmth, our thoughts turn to outdoor entertaining. There is nothing nicer than sitting on the porch and enjoying a chilled glass of wine with friends. Some of our summertime favorites include Heron Hill Dry Riesling 2008 or for those who prefer a slightly fruiter wine the Semi-Dry 2008. Both pair well with an appetizer such as grilled pizza with artichokes and shrimp or a simple platter of locally produced cheese and fruit. If you keep it local and fresh you can't miss.

Many of your favorite staff have returned to make your visit enjoyable and informative and they will help guide your selections. They also know where the best farm stands are located and will help with food and wine pairings. Alicia has been with us over a year and is graduating in June with a Masters degree in Corporate and Community Education. We congratulate her for her accomplishment! For one of her final research papers, which she is submitting to the Journal of Wine Research, Alicia conducted a survey of our customers regarding what they anticipate of their winery visit experience. A quality product and reputation establishes a relationship with a customer. Her findings confirm that customer service, including a knowledgeable, personable, fun visit, is what keeps that relationship strong and ongoing. That is what the Seneca team strives for and we were pleased to see that we received very positive feedback. Combine that with our award-winning wines and relaxed atmosphere and you will have an experience to savor.



We are very excited to announce a visit from our winemaker on Saturday, June 18. Bernard Cannac will be at our Seneca tasting room from 1-4 pm to meet our visitors, discuss the wines and answer your questions. It will be a fun and informative afternoon. Mark your calendar and plan to come by.
Recent Posts
November 13, 2019

October 16, 2019

May 9, 2019

April 22, 2019

January 7, 2019

July 27, 2017

December 27, 2016

December 9, 2016

November 11, 2016

November 7, 2016
Blog Categories
Blog Archives
Our Writers