Ah...summer in the Finger Lakes. Much awaited, all too brief. I asked Team Seneca to share some of their summer "favorite things" moments. Aimee leads off, her words and those that follow from the rest, tell the story.
"Summer is long awaited in the Finger Lakes and once it is here we savor every beautiful sunny day and every warm summer night. My favorite thing is firing up the grill (OK…it's gas but you still have to push the button, right?), then I pour 2 glasses of deep, rich Blaufränkisch to share with my 24 year old son, Mathew. Warm and welcoming, the wine gets your mouth ready for those steaks. My daughter, Katie will want chicken and classic Semi-Sweet Riesling. And my baby, 19 year old Ann, will invite a few extras over for dinner. This will only happen a few times this summer, when we are all together for a great meal and lots of laughs. (The rest of the time, it's me and the dog hanging out on the patio with a glass of Cab Franc and a block of cheese on a paper plate.) But when it happens...it is truly one of my favorite things." --Aimee
Erin enjoys sitting on the patio sipping a glass of Vidal Blanc while watching 4th of July fireworks and celebrating the start of summer.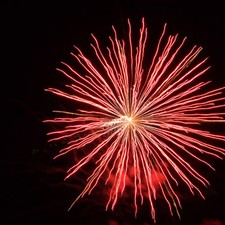 Ed said, "Summer in the Finger Lakes is the best and there is nothing better than enjoying a Heron Hill 2011 Dry Riesling. Now with the new twist-off cap, I can kick-back in my hammock and open my Riesling with ease, savor it, and know that life doesn't get any better."
Straight to the point, Bill replied, "Local produce, good wine and no snow."
Carol talked about the summer pleasure of sitting on her deck and watching the hummingbirds enjoy the light, lovely nectar of her flowers as she enjoys the soft, floral presentation of the Heron Hill Muscat.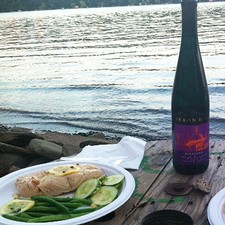 Steve and I had the same thoughts…a full house for the 4th of July and watching our kids and grandbabies and goofy dogs play in the lake...sunset boat rides…grilled clams and sweet corn and son Dan's 7 hour BBQ ribs (smokey, sweet, heat)…a chilled glass of Ingle Vineyard Riesling on the porch with friends.
We would love to hear some of your "favorite things" moments.
Cheers to summer! (It's not over yet.)

Greetings from the tasting room of Heron Hill on Seneca Lake.
Spring marked the beginning of our 7th year here, and we are pleased to welcome back many of our outstanding staff including Alicia, Erin, Carol, Ed, Bill and Virginia, with the addition of a new assistant manager, Aimee, who brings experience and some new ideas to our tasting room.
When you visit this year, you will notice that we now offer wine served by the glass to be enjoyed on our patio. We are conveniently located on route 14, nearly halfway between Watkins Glen and Geneva, a great place to bring your picnic and take a mid-day break.
You will also notice that the really special features that keep our guests returning have not changed. We continue to pride ourselves on our excellent service by a well trained team, a relaxed and fun tasting experience, and most importantly, great wine.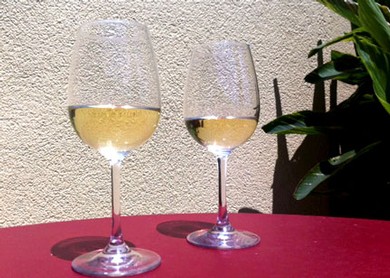 Summer traditions of entertaining and fresh farmstand food are an anticipated part of the season. Combine that with a lovely chilled wine, maybe the Classic Chardonnay 2010 or Semi-dry Riesling 2010 and you have a perfect match. Another perfect pairing is grilled peaches with vanilla ice cream and our 2008 Vidal Blanc Late Harvest dessert wine. It is truly an unforgettable summer taste.
We look forward to seeing you this summer so pack your picnic, come for a tasting, and then relax at one of our tables or on the lawn with a chilled glass of your favorite Heron Hill wine. It just sounds like such a good way to spend a lazy, hazy summer afternoon.

Our son and wife visited from Philadelphia last week, one of many trips they have made this summer. With them this time however, they brought another couple for their first taste of the Finger Lakes. The four of them managed to fit in almost every imaginable activity in a few short days ranging from water skiing and hiking to evening bonfires on the beach (with the mandatory s'mores which we serve with the Heron Hill 2008 Late Harvest Vidal Blanc) and of course there was a small amount of touring and wine tasting. They also enjoyed a great lunch at the Blue Heron Café! It was a terrific weekend and they were awed by not only the quality of the food and wines, which they sampled, but by the shear pristine and breathtaking beauty of our back roads, farms and vineyards and amazing crystal clear lakes. It was wonderful to witness their appreciation of this area that we are privileged to call home.



It is critical that we do all we can to protect our treasure. We are being threatened by a proposal from Inergy, LP based in Kansas City, MO to construct and operate an underground storage facility for propane and butane gas as well as constructing a 14-acre brine pond on a slope above Seneca Lake. Additionally, there would be construction of a rail and truck transfer facility. It is a frightening proposition. To learn more, go to gasfreeseneca.com, Heron Hill Winery is a proud member of the Gas Free Seneca business coalition.

We are beginning our 6th year at Heron Hill on Seneca. After the long, cold winter (as in never ending) we are glad to be fully operational again. Heartfelt thanks to our loyal good neighbors who braved the snow and winds to visit on the weekends and left fortified with bottles of their favorite Heron Hill wines to enjoy at home. Many of our "snow birds" returned, only to wish they had waited a bit longer as the cold and rain persisted into May. But still they visited and enjoyed reconnecting with us. Now that we have finally seen that glimmer of warmth, our thoughts turn to outdoor entertaining. There is nothing nicer than sitting on the porch and enjoying a chilled glass of wine with friends. Some of our summertime favorites include Heron Hill Dry Riesling 2008 or for those who prefer a slightly fruiter wine the Semi-Dry 2008. Both pair well with an appetizer such as grilled pizza with artichokes and shrimp or a simple platter of locally produced cheese and fruit. If you keep it local and fresh you can't miss.

Many of your favorite staff have returned to make your visit enjoyable and informative and they will help guide your selections. They also know where the best farm stands are located and will help with food and wine pairings. Alicia has been with us over a year and is graduating in June with a Masters degree in Corporate and Community Education. We congratulate her for her accomplishment! For one of her final research papers, which she is submitting to the Journal of Wine Research, Alicia conducted a survey of our customers regarding what they anticipate of their winery visit experience. A quality product and reputation establishes a relationship with a customer. Her findings confirm that customer service, including a knowledgeable, personable, fun visit, is what keeps that relationship strong and ongoing. That is what the Seneca team strives for and we were pleased to see that we received very positive feedback. Combine that with our award-winning wines and relaxed atmosphere and you will have an experience to savor.



We are very excited to announce a visit from our winemaker on Saturday, June 18. Bernard Cannac will be at our Seneca tasting room from 1-4 pm to meet our visitors, discuss the wines and answer your questions. It will be a fun and informative afternoon. Mark your calendar and plan to come by.

We survived Columbus weekend. Phew! So many people, so much wine, so much fun.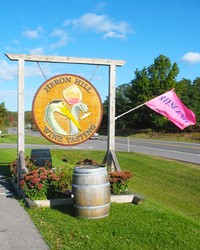 It is hard to believe that more than 7,000 guests have passed through the doors of "Seneca" this season. Reflecting back over the past several months, I think one of the best aspects of working in a tasting room is getting to know our customers, and realizing that no matter where we call home, we are all very much alike. There is a common love of family, food and wine. We enjoy all of our guests, but there are some that strike a cord. One such visitor is the Mom from the Bronx who, four years ago, came in a little teary-eyed after having dropped her daughter at college. I have seen her every semester since as she makes her trek to pick up and drop off. A wine novice initially, she has become a huge Riesling fan and always takes some Classic Semi-dry home with her. This June will probably be our last encounter, but it has been fun watching the progression from freshman to senior Mom.
Another memory involves a young couple married in July 2006, the summer we opened, who were honeymooning in the Finger Lakes. They too have returned every year to enjoy a tasting and celebrate their anniversary. This year they asked for only one glass and he tasted solo as they are now expecting their first child.
And I will be forever grateful for Mrs. C., my high school French teacher who's tenacity helped me retain enough vocab to fumble through a tasting with a group who spoke almost no English. (Bernard, where are you when I need you?) I'm not exactly certain what was said, but a good time was had by all. There are enough stories to fill a book.
Fall is really a beautiful time to visit the wineries. Leaves are turning and the smell of grapes is in the air. As the weather cools our tastes change and we make the transition from light and refreshing to warm and comforting. There will be more Classic Cabernet Franc and Reserve Pinot Noir on our table, more soup and hearty pastas.
Many thanks to our visitors from near and far for what you bring to our "table". We enjoy meeting you and hearing your stories. We appreciate your interest in our wonderful wines that require so much attention and work to get from vineyard to bottle and also your appreciation for the beautiful Finger Lakes area. Many thanks also to our terrific staff who put in some hectic days and do such a good job.
A votre santé!

By Steve and Pam Acker, Managers at the Seneca Lake Tasting Room
Our summer season is moving along at breakneck speed and we thought you should be introduced to the great group of people that make Heron Hill on Seneca such a wonderful place to visit. We will also share our best "5:05" (that is the sip of choice at closing time…..) from each team member.
Alicia joined us this spring and brings with her a wealth of wine knowledge from working in the industry for several years, as well as visiting many Finger Lakes wineries and sampling their products. Alicia's "5:05"……..Late Harvest Riesling 2006
Barb has been with Heron Hill for 3 years and is our assistant manager. Working briefly for another winery, she is knowledgeable and interesting (their loss, our gain!), she hopes to make this her career. Barb's "5:05"………..Reserve Pinot Noir 2007
Bill is one of our new employees this year and is our on site fix-it man and amateur winemaker. (Look out Bernard) Bill's "5:05"…….Ingle Vineyard Riesling 2007 Dick is a 3 year employee who currently, along with his wife Diana, owns and operates Pilgrims Way B&B in Glenora. Dick's pick…….Reserve Pinot Noir 2007
Ed joined the team this spring and is the other half of the "Ed and Gerry" team. He came to us via NYC and Florida and his "5:05" favorite is…..Classic Dry Riesling 2008
Erin, also new this year, is a preschool and physical education teacher and soccer and basketball coach! Erin rarely "sips" because she is almost always going to a game of some sort, but if she could, her "5:05" would be………..Classic Semi-Sweet Riesling 2008
Gerry was a graphic artist for romance magazines in NYC. She and Ed are "snow birds" who will leave us in October and hopefully return next May. Gerry is now romancing the Semi-Dry Riesling 2008
Pam is the tasting room manager who has been with Heron Hill on Seneca since the doors opened in 2006. Pam's end of shift sip would be the Reserve Pinot Blanc 2008.
Last, but not least, is Steve. He is the retail manager and snake charmer who would most likely be sipping the Ingle Vineyard Riesling 2007 at the end of the day.
This diverse and incredibly talented group of individuals makes up TEAM SENECA. They are well trained, knowledgeable, fun and friendly. Stop by, say hello and taste. Find out for yourselves what makes Heron Hill on Seneca special!


By Steve & Pam Acker, Managers at the Seneca Lake Tasting Room
One of the things that keeps a career (and life in general) interesting, is change. With the beginning of the summer season upon us some changes have come to the tasting room at Heron Hill on Seneca. We have said goodbye to some talented and interesting staff who have moved on to their next challenges and at the same time we are welcoming new members to the Seneca team. Just as when we say goodbye to a special old vintage there is a slight sadness but then that is replaced by the anticipation of new things to come! With varied history and backgrounds there are new dynamics and ideas to share. Be assured that you will continue to find a well trained group ready to assist you in all your wine needs.
It has been a pleasure working with Kara and Paul from the Keuka location to introduce some exciting new items and terrific food items, many from local suppliers, to the retail shop.
Weather permitting we will again this summer be able to offer tastings on the patio at our outside bar. A lovely spot to sample some summer favorites such as the Heron Hill Classic Chardonnay 2008 or any one of the delicious Rieslings. Additionally, we will provide some great recipes to help you get the party started and keep it going. White wine summer sangria is featured and if you haven't tried it yet now is the time. There are also some summer dishes(vegetable risotto!) you'll want to try so come in and pick up a copy. This group loves food almost as much as it loves wine!
As we begin our fifth season on Seneca we invite you to stop by, have a taste, and say hello to some old friends here on Seneca and quite possibly you will leave having made some new ones as well.

WHITE WINE SUMMER SANGRIA
Ingredients:
3 bottles Heron Hill Semi-Sweet Riesling 2008 or Game Bird Blush
1 litre bottle lemon-lime seltzer
¾ cup orange liquor (optional)
¾ cup orange juice
Cranberry juice
1 each - lemon, lime, orange thinly sliced

Directions:
Freeze cranberry juice in two ice cube trays several hours before serving
Keep all other ingredients well chilled
In a large pitcher or punch bowl combine wine, liqueur, and orange juice. Add sliced fruit and let mixture sit a few minutes to combine flavors. When ready to serve, add the cranberry ice cubes and seltzer.

By Steve & Pam Acker, Managers at the Seneca Lake Tasting Room
The last thing we remember at the end of August was looking forward to fall, harvest time and anticipating many busy days in the tasting room. Since then, we've said good-bye to many of our neighbors who have shuttered their lake homes and headed south, loading their cars with ample supplies of Heron Hill wines for the months to come.
The blur that was September and October brought all that we thought it would…along with some pleasant additions. The long awaited outside tasting bar was a great success. For the few truly beautiful afternoons that this autumn held, guests were eager to enjoy their wine sampling al fresco, basking in the sun and enjoying the view of the rolling farmland. We shared many stories, recipes and of course many conversations about wine while they sipped and sampled the best that Heron Hill has to offer.
As we transitioned from fruity summer blush and light crisp Chardonnay to soul warming reds, the release of the 2007 Reserve Pinot Noir couldn't have been better timed. What a pleasure it has been to pour that wine and the customer response has been so exciting! Of course Riesling goes with everything and I can't wait to whip up my first Choucroute of the season where I will use the 2006 Ingle Vineyard Riesling both as an ingredient and an accompaniment. Yum. (Light a fire, grab a book and pour a glass of wine while it simmers away, the recipe follows.)
It has been a great season and the crew here on Seneca has enjoyed meeting and serving so many wonderful guests. We are still open daily and look forward to seeing you as the holidays approach, and are always eager to assist with your wine needs and food pairing questions.
CHOUCROUTE (pork and sausage with sauerkraut)

1 tablespoon olive oil
1 large onion coarsely chopped
2 cloves garlic minced
1 small apple cored and sliced
2 pounds sauerkraut rinsed and drained (fresh or in glass jars, not canned)
1 cup 2006 Ingle Vineyard Riesling
1 cup chicken stock
2 pounds country style ribs
2 pounds sausage (best with fresh Polish sausage like Kielbasa or a light garlic sausage)

Heat a 6 to 8 quart enameled cast-iron casserole (do not use aluminum or black iron) and warm the olive oil. Lightly brown the spare ribs and remove from pot. Add the onions and garlic and lightly sauté. Add the apples, sauerkraut, wine and stock and lightly stir to combine. Top the mixture with the spare ribs, add a pinch of freshly ground black pepper and cover. Place casserole in a 350 degree oven for 1 hour. Add the sausages and return to oven for an additional 40 minutes or until meat is falling off the bone and sausage is cooked through. Wonderful served on a family style platter with mashed potatoes on the side. Enjoy!

By Steve & Pam Acker, Managers at the Seneca Lake Tasting Room
Summer on Seneca has brought many pleasures in the form of welcoming new visitors to our tasting room, reconnecting with old friends and neighbors, and of course entertaining with wonderful food and wines from our area. Weekends are fun and busy with mid-week the best time for a visit if a slower pace is what you enjoy. The cool rainy start has given way to the hot, hazy days of August and this has a definite impact of what we eat and drink.
We are frequently asked for advice in pairing wines to a menu or occasion and are eager to help. The bounty at the local farm stands is exceptional this time of year and offers the opportunity to explore some interesting recipes with wine compatibility. One of our favorites is a fresh mixed green salad with roasted baby beets and local goat feta dressed with a delicate balsamic vinaigrette. I often serve this first course with the Ingle Vineyard Riesling 2006. The light citrus fruit and crisp finish of this wine make it a summer favorite.
The release of our new Game Bird Blush also timed perfectly with the warmer weather. It's a terrific "picnic pink" whose bright fruitiness just begs for grilled veggies, chicken or just sipping during a lazy loll in the hammock!
As the summer winds down our season cranks up. We anticipate a very busy fall and have a few surprises up our sleeves. We recently welcomed Staci to the team here on Seneca. She, along with the rest of our seasoned staff, will be happy to assist you in the retail wine and gift shop and hope to make your visit fun and interesting. We are also looking forward to "Ron" and his roving hot dog cart (aka The Dog Haus) arriving in September along with some Saturday music on the patio. Stay tuned for details and be sure to come by and check us out. Thanks for a great summer and we hope to see you soon!

By Steve & Pam Acker, Managers at the Seneca Lake Tasting Room
Hello again from Steve and Pam at the Seneca Lake tasting room of Heron Hill Winery! The soft scents and gentle warmth of early June beckon us to linger outside just a bit longer. That calls for a glass of Heron Hill Classic Semi-Dry Riesling 2007 on the porch, deck or dock as evening falls.
We welcome back all our good neighbors who have returned for the season to once again enjoy the very special feeling of summer on Seneca. Open daily to serve you, we will be adding a new tasting bar to the patio for those great early summer days when you just don't want to come inside. If you have friends visiting from out of town (and who living on the lake doesn't!!!) we invite you to bring them by for a taste and let them experience our award winning wines and the truly unique flavor of the lakes. Then take home a favorite bottle or two to share over dinner and you have an instant party. Check out our gift shop that features many locally produced products that pair beautifully with our wines.
Our event tent will be arriving shortly to accommodate larger tasting groups. Please call ahead if you are planning a group visit of 10 or more so we may better serve you.
Whether you are an avid fisherman, golfer, gardener or beach bum, summer calls for getting together with friends and family for food and fun. As the weather warms and barbeques and picnics become the menu of choice, remember that a well-chilled bottle of your favorite Heron Hill wine is the perfect accompaniment. Pair grilled shrimp or chicken with a fruity white such as our Eclipse White 2006, a warm weather favorite or the crisp refreshing Classic Chardonnay 2007. Try ribs with a Riesling of your choice. For an afternoon event, keep things light with a flavorful White Wine Summer Sangria made with our Classic Semi-Sweet Riesling 2007. The recipe follows.
No matter the season, day of the week or the menu choice, a glass of wine makes an ordinary day a little more fun and festive. We are happy to share some of our food and wine pairings with you and also love to hear some of your own favorites. If you like the idea of hosting your own wine tasting party for some friends, we can help with that as well.
We hope to see you soon at our tasting room and retail shop on Seneca Lake. In the meantime enjoy the upcoming lazy, hazy days of summer with some friends and a glass of Heron Hill wine. We will be!
WHITE WINE SUMMER SANGRIA
Ingredients:
3-Bottles Heron Hill Semi-Sweet Riesling 2007 well chilled
1-litre bottle lemon-lime seltzer
¾ cup orange liqueur (optional)
¾ cup orange juice
Cranberry juice
1-each lemon, lime and orange thinly sliced
Freeze cranberry juice in two ice cube trays several hours before serving. Keep all other ingredients well chilled. In a large pitcher or punch bowl combine wine, liqueur (if using) and orange juice. Add sliced fruit and let sit for a few minutes to combine flavors. When ready to serve, add the seltzer and cranberry ice cubes.