Our son and wife visited from Philadelphia last week, one of many trips they have made this summer. With them this time however, they brought another couple for their first taste of the Finger Lakes. The four of them managed to fit in almost every imaginable activity in a few short days ranging from water skiing and hiking to evening bonfires on the beach (with the mandatory s'mores which we serve with the Heron Hill 2008 Late Harvest Vidal Blanc) and of course there was a small amount of touring and wine tasting. They also enjoyed a great lunch at the Blue Heron Café! It was a terrific weekend and they were awed by not only the quality of the food and wines, which they sampled, but by the shear pristine and breathtaking beauty of our back roads, farms and vineyards and amazing crystal clear lakes. It was wonderful to witness their appreciation of this area that we are privileged to call home.



It is critical that we do all we can to protect our treasure. We are being threatened by a proposal from Inergy, LP based in Kansas City, MO to construct and operate an underground storage facility for propane and butane gas as well as constructing a 14-acre brine pond on a slope above Seneca Lake. Additionally, there would be construction of a rail and truck transfer facility. It is a frightening proposition. To learn more, go to gasfreeseneca.com, Heron Hill Winery is a proud member of the Gas Free Seneca business coalition.

In the spring we were praying for the rain to stop, and now we are praying for the rain to come back and visit us! Growing grapes involves a lot of dancing. The vines could use some water, but on the bright side, the vineyard is fungus free. It looks like we will have more fruit than last year, making Zach, our vineyard manager pretty excited. At this point, we are catching up with all kind of work in the vineyard. The grapes are at the "berry touch" stage, which means that the berries are slowly growing and now touching each other, closing the cluster. The berries are still very hard, like pebbles. Next, we will be seeing the berries go into veraison, when they change color, from green to yellow or purple, depending on the varietal. It will be in a few weeks. Then, they will continue to grow in size and soften during maturation.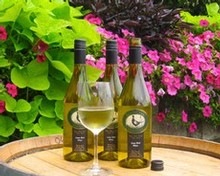 Wednesday was our first bottling with screw caps. The chosen first wine was the Game Bird White. Game Bird Red is to follow next week. We chose the Game Bird Series to start because the wines do not require any bottle aging: they are ready to be enjoyed as soon as they recover from bottle shock. In a few months, we will use screw caps on some wines from the Classic Line, like the Rieslings, the Chardonnay and the Muscat. The red wines benefit from some aging in the bottle, so we will keep using natural corks on these wines. Screw cap closures help preserve the freshness and fruitiness of the wines. Natural corks allow small amounts of air to reach the wine through the cork, inducing the slow oxidation which aging actually is. Some screw cap closures allow some oxygen to get in the bottle, mimicking a natural cork. Maybe we will look into these in the future. But the unique sound that a natural cork makes when opening a bottle of fine wine is a very important part of the whole experience, and so far scientists have not been able to recreate this pop for a screw cap. I have tried to make that sound, but it just sounds silly.
Another excitement in the cellar is the arrival of Dan Pantaleo as the new Assistant Winemaker. I worked with Dan on Long Island for four years. He has been with us for almost two months now, and he is adjusting nicely to a new environment. He has plenty of work in the cellar and is very helpful at keeping me grounded. He is getting the wines cold and heat stabilized and ready to be bottled over the month of August and September. Welcome, Dan!

Watch video and see pictures of the screw cap machine here.
Recent Posts
November 13, 2019

October 16, 2019

May 9, 2019

April 22, 2019

January 7, 2019

July 27, 2017

December 27, 2016

December 9, 2016

November 11, 2016

November 7, 2016
Blog Categories
Blog Archives
Our Writers