October brought a first for me at the winery, also known as "Tunes in the Tent"! I had reviewed past sales with Christy, our CFO, but I wasn't quite sure what to expect. In the end, we discovered that in general, it isn't worth it to keep the Café open while the party is going full bore in the Tent! The obvious exception to this is Columbus Day weekend. I am resigning myself to the fact that for all intents and purposes, for this weekend, "all bets are off"! Columbus Day weekend proved to be the busiest three day stretch that the Café has seen for the entire year!

As the season came to a close for the Café, the seasonality of the business came around to show itself. We had closed for most of the weekdays, but as October came to a close, even the weekend crowd started to dwindle.
The first annual Cork & Fork offered a brief foray back into the Wholesale market for me. This event, held in Seneca Falls, was the first "selling event" that I have ever attended. As a first for me and a first for them, there was a fair amount of last minute conversation about the finer points of the event. When it was said and done, we got some amazing exposure from the Friday night VIP tasting! We were paired with Dano's (in Hector) for the evening and all were impressed with our coordination. Saturday brought the selling end of the event. The expected crowd was much larger than the actual crowd, but after all, it is the first annual event…

While the Café was closing for the season, which was accompanied by a flurry of cleaning and storing of equipment, I had a chance to witness an event that I hadn't had a chance to experience before. The tear down of the tent was a monumental experience for me. A mere two days after our last Tunes in the Tent, the tent as a whole was disassembled for the year. This might also be read as "After putting on our last big show of the year, I only had a day to clean up!" Without realizing it, we had stored a fair amount of stuff under the tent!

With the Café closed, it was time for me to return to Wholesale ventures. Specifically, the task at hand is to touch base with my year-round accounts to ensure that they are prepared for the holidays. This, of course, allows for the chance to show off the new vintages! Some of my customers have seemed to be a bit put-off by the fact that I have had to split my attention for the year. After explaining that if they simply purchased more wine…

How could I leave this entry without mentioning the close of the final Wine Trail weekend of the season?! After preparing the Chicken Riggies for consecutive weekends of Keuka Holidays, let's suffice it to say that I am looking forward to a chance to "find my muse" for February's event, Truffles & Tastes! To be fair, it has been a fun year of Wine Trail food. I am, however, looking forward to a surprise for February, maybe homemade Truffles…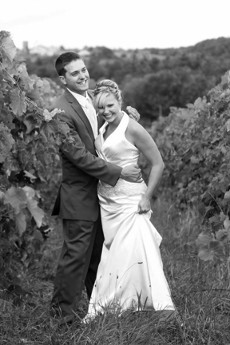 I have completed my first season at Heron Hill Winery!! What a season it was! Between weddings, ordering for the gift shop and my own wedding, it was crazy. Let's just say the honeymoon in St. Lucia was more than needed!
I had to the pleasure of working with several wonderful couples this summer and fall. Each wedding had their own unique twist and a party to remember. I want to thank all of them for choosing us as their venue. They helped make my first season memorable.
I also had the pleasure of working with some of the wedding industries finest: Corning Catering, Around the Corner Catering, The Village Tavern, Finger Lakes Entertainment, Dianna Hart, Chrissy Albright, Schwartz Photography, Van Scooters, Pleasant Valley, Bath Floral and others. Everyone was a joy to work with and made every detail perfect.
As for my own wedding in September...it was PERFECT!! Thank you to all of the Heron Hill staff that helped to make my day special. We had an amazing time followed by an unforgettable honeymoon in St. Lucia.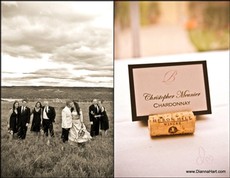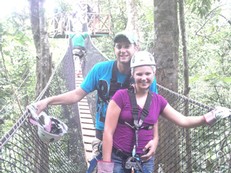 We spent 7 glorious days laying on the beach, zip lining, hiking and swimming in the ocean. We stayed at the Sandals Regency La Toc. The resort was gorgeous. The food was fantastic. We had the option of dining at 8 different restaurants each night. We drank our share of the local beer called Piton and sampled several of their specialty drinks. I highly recommend St. Lucia to honeymooners and couples for a relaxing, well-deserved break from life!
As fall comes to a close, I am finally catching up on orders for all those Christmas goers. I have created an assortment of gift baskets here this season. They make great gifts for just about anyone. Be sure to visit our website or stop in to browse what we have to offer. Gift cards are my favorite gift to give for the holidays as well. Why not give the gift of wine! We also have several wine clubs that are a great idea as well. Wine clubs are the gift that keeps on giving!!
Come visit us in the off-season and happy holidays!!
Recent Posts
November 13, 2019

October 16, 2019

May 9, 2019

April 22, 2019

January 7, 2019

July 27, 2017

December 27, 2016

December 9, 2016

November 11, 2016

November 7, 2016
Blog Categories
Blog Archives
Our Writers