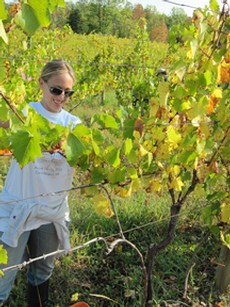 Hello, I'm Josie Holden, the daughter of owner John Ingle. This fall, I was apart of the 2010 Harvest at Ingle Vineyard. It was a great experience and we think this will be a great year for wine, especially the reds. I always enjoy the harvest time and being a part of the family business. It always makes me proud to know that my parents started this from the ground up. I have been working for the family business for a couple years in retail and providing wine tastings. We have opened a new wine tasting room on Canandaigua Lake, on the wine trail. I had the opportunity to work there during the summer and fall season. We had a slow turn out at first, but once word of mouth got around, people visited and enjoyed their experience. I am looking forward to what lies ahead for next season.
During the 2010 Harvest I got to do something new this year. I helped pick some Botrytis grapes, also known as "Noble Rot" for the first time, which are Riesling grapes. I learned something new, which is that this can happen if all the conditions are right, as my father, wrote about in his blog. When we were all picking the grapes, everyone had their own bucket and we were only allowed to pick the really moldy and brown grapes. My father called this "selective picking". Botrytis grapes can be made into a dessert wine. When a Riesling grape has Botrytis it makes the grapes sweeter and higher in sugar content. That is why these grapes are perfect for making a sweet wine.
Every year is different and I look forward to all the exciting times that lay ahead for our vineyards!

By John Ingle, Owner/Grapegrower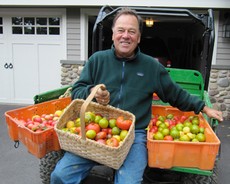 As always, harvest 2010 has been a wild ride. Fueled by one of the hottest, and wettest years ever, grapes ripened a month early! We were almost guaranteed a great year, it was just a matter of how far we could push our luck for further excellence. Having my wife, daughter, son-in-law and many friends help with the grape picking made it even more of a labor of love. We shared the rhythms of the harvest; hurrying, waiting, wet, dry, cold, tired, excited all mixed together and multiplied by 12 or 15 of how many pickers we had day to day.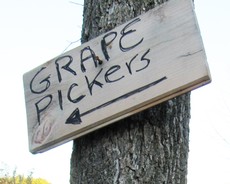 As the season progressed we brought in wave after wave of beautiful, ripe grapes - Pinot Noir, Chardonnay and Cabernet Franc, all up to 26 Brix, incredible! As the Riesling ripened we got 6 days of warm monsoon-type rain and glorious green prapes turned nut brown almost overnite. It was rot! Closer inspection revealed a sweet raisening aroma and flavor...it was "Noble Rot", botrytis, Mother Nature's gift to dessert-wine lovers. The crew tightened their belts and made four different "passes" through the two acre vineyard much of the time on hands and knees picking up fallen grapes off the ground and never a peep or ugh or yuck! It was a team effort rewarded with a "piece of history". The 2010 Ingle Vineyard Bunch Select Riesling will carry memories of effort and excellence - to be shared with joy with friends and family for many years.
By Jo Ingle, Owner/Grapegrower

Our garden has been put to bed after yet another bountiful season. There is still much to do!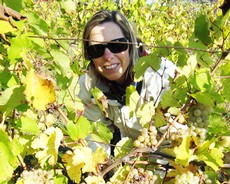 All through the summer months the ripened vegetables are harvested, sorted, cleaned, cut and prepared for freezing. This year has been particularly good. The long hot summer days with a bit of rain here and there, helped to make for an abundant crop of vegetables and fruits. We grow everything! Spinach, peas, beans, strawberries, raspberries, blueberries, corn, melons, squashes, artichokes and more. You name it, we grow it. In addition to the produce going into the freezer, we also can spaghetti sauce, bread and butter pickles from an old family recipe, and beautiful pink applesauce made especially for the grandchildren.
Winter is here. The days are short and cold. The kitchen is filled with the aroma of jellies cooking and hot paraffin melting. The freezer is full, the cupboards are packed, and we're ready to hunker down and enjoy the fruits of our labor.

Here at Heron Hill, I feel very blessed to have the best staff in the whole world! Their dedication to the Winery continues to blow me away. The tasting hall staff is usually first here and the last to leave. I am so thankful that they spend each and EVERY weekend with me! I want to send out a VERY heartfelt thank you to each and every one of them, they are the ones who make my job SO much easier.

My devoted staff works so hard, especially from May to November, our busiest months. We see hundreds and hundreds of people on any given weekend, and even after an exhausting day/week/weekend they are still smiling!

The two staff members who have been here the longest are Audrey and Dave. These two taught me a lot about wine, customers and a few (secret) tricks that I still use to this day. Audrey, or "Odd-rey", as we call her, is the one who always has great bright red lipstick and is generally begging me to work. I think she would rather be here working with the customer than working on her HUGE house that she is re-modeling. We always joke that Dave has been working here since he was 2 years old, he started as support crew for the events tent and has done just about every job possible here! When he turned 21, I was finally able to have him at the tasting bar. He is so great with the customers; it is always an extremely informative tasting.

Karyn and Jen both started this season and are transplants to the area. Jen fell in love with Keuka Lake and decided to move up here full time, leaving here Biology students back in NJ. I am sure they miss her terribly!!! Jen is soft-spoken and very passionate about the Finger Lakes and especially her favorite Lake, Keuka. Karyn lived in Seattle for a long time and just recently re-located back to the area to come help her elderly mom. When Karyn walked in to the winery, my manager Paul and I basically loved her from the first moment and hired her on the spot. Karyn is very energetic and so much fun.

Anne is one taster who has an incredible amount of wine knowledge; I really enjoy learning from her and her wine writer husband also. Almost every customer that Anne waits on is always amazed by the vast amount of information that she can fit into a tasting. Anne lives here locally on the lake and really enjoys gardening. Love her great hints!

Kelsey and Danielle are the local girls! Kelsey is studying to be Occupational Therapist in Ithaca, and is great about coming home EVERY weekend to work at the winery, at times even bringing here adorable dog Latte to come play at the winery with us! Kelsey is so sweet, always keeping us entertained with great "Dave" (see Dave above) stories. Danielle is our fiery redhead, who is usually setting us straight and trying to keep us in line! Danielle works both at the tasting bar and in retail, so you have a variety of places to catch her. She started back to college in January, after giving us notice that she was going back to school to be a pharmacist. She had been our event/wedding coordinator for 1 ½ years prior.

For the last Keuka Lake wine trail event, Keuka Holidays, we had a special guest appearance by Ted! He used to work here every weekend last September & October, coming up just for the weekend to work at the tasting bar! Another red-head, he has a full time job as an assistant manager at a bowling center in Lock Haven, PA. When he was up this past time, he even worked on his birthday! As the best Tasting Hall Manager, I even made him his favorite; an Oreo cheesecake.

Even though Jill & Linda don't work in the tasting hall, I have to give them a shout out. They work in the gift shop on weekends whenever I need them. Jill and her new husband Damin are awesome, they help us whenever I ask (which is usually a lot…sorry guys!!!). Damin helps with the support, washing glass racks, stocking the tasting hall and even jumping on the tasting bar whenever I need him. Jill is great in the gift shop, having the patience of a saint. Jill and Damin even got married here this summer, what a beautiful wedding. I was so glad to be a part of it! Linda works full time as a cashier at a local bank, so she is a perfect fit for working the register here at the winery. Linda always brings us great snacks, a great way to keep up the energy since we never get a lunch break!!!

I can't forget Paul and Kara, my two closest work partners! Paul is the Retail manager, aka our numbers guy. He is always giving us the goal and letting us know how close we are or are not. Paul & his wife Gail started helping out at the winery over 10 years ago during the busy weekends. Just a few years ago he left a very high stress job to come work at the winery. He is always cracking jokes and keeping our spirits up! Kara started back in January, taking over Danielle's spot as event/wedding coordinator. Kara and her new husband Eli work every wedding together and also sell Eli's glass in our gift shop. Kara and Eli also get married here at the winery in September and of course left us for 2 weeks during the busiest time (….grrrrr).

Thank you. Thank you. Thank you. The whole staff makes it such a great place to work!
Recent Posts
November 13, 2019

October 16, 2019

May 9, 2019

April 22, 2019

January 7, 2019

July 27, 2017

December 27, 2016

December 9, 2016

November 11, 2016

November 7, 2016
Blog Categories
Blog Archives
Our Writers