This year the Keuka Lake Wine Trail's Keuka Holidays event weekends both sold out by early. We are very thankful that so many people have chosen to celebrate the beginning of their holiday season by visiting our wineries. Once again, the ornament you receive at Heron Hill Winery was made by a local craftsperson. I'm also very excited to share the Mushroom Burgundy Soup recipe below from Blue Heron Cafe because it's so easy and so flavorful!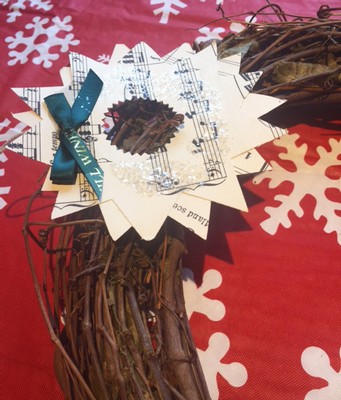 INGREDIENTS:
6 cups of milk
3 cups chopped button mushrooms
1⁄2 diced red onion
1⁄2 bunch of diced green onions
1⁄2 cup chicken stock
1⁄2 cup of Eclipse Red
2 tablespoons of garlic
2 tsp of sage Day-old bread (any type)
1 cup Asiago cheese

TO PREPARE:
In a medium-hot pan with olive oil, sauté the garlic until almost soft then add in the red and green onion. Sweat the onions then add in the mushrooms. Once the mushrooms are tender add in the Eclipse Red wine to deglaze. Once the red wine reduces add in the chicken stock and cook for about 5-6 minutes and add milk, leaving on low simmering for about 20 minutes. Add in the sage, salt and pepper to your liking. Once the soup thickens turn off and wait about 10 minutes before serving to cool down the soup. Once cooled top with home style croutons.
TO MAKE HOMESTYLE CROUTONS:
Cut bread into small cubes and toast. Once toasted, toss in olive oil and toss with salt & pepper and top with shredded Asiago cheese.

Did you know? More than a third of Americans own a dog, and many of them like to take their furry companions everywhere, especially when they come to the Finger Lakes on vacation and are coming to places like wineries and restaurants. Well, guess what? We at Heron Hill Winery are very dog friendly!
We offer many doggie treats for sale for your pooch at the winery and love to have them come into the winery as it offers a fun distraction for the staff. For our dog treats, Kiley's Canine treats, locally sourced from here in the Finger Lakes region offers all-natural gourmet (non-alcoholic) bone-shaped dog biscuits. Don't think we left out the kitties as well, since they are equally as important, we sell kitty treats for them too!
At the Blue Heron Café on Keuka we love to have the pooches and their owners come dine with us. We have different size water bowls for all size dogs to borrow as they lounge on the patio. We realize that by offering dog owners a place to eat with their pet, we can benefit both you as the consumer and the winery too by having a place to relax with your dog!
In addition to being a dog-friendly location, we work with 2 local animal shelters here in the Finger Lakes region with a couple donation boxes on our front counter. You would be amazed by the amount of money we collect here at the winery during our busy season. The dog shelters have both collected thousands of dollars from us over the past year. We love to support all the animals at the local shelter. Don't forget to drop your leftover change in the boxes after buying your wine when you stop by with your pooch.
Here are some of the labs that help around the vineyard and winery: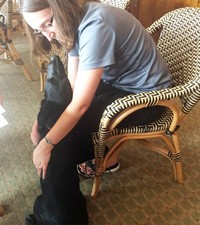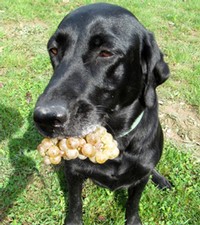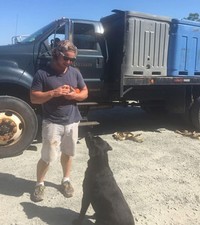 Barrel samples... tank samples...hanging out with the owner & winemakers…what could be a better way to spend the day than as a wine club member of Heron Hill Winery? As the Wine Club Manager, I enjoyed the time planning, cleaning and getting ready for many of our club members to come to the Spring Barrel Tasting held on Saturday, May 10th.
We started with a "welcome wine" in the Bottling Room where wine club members received nametags and had the opportunity to meet and mingle. The welcome wines were a choice of Classic Muscat--a fun springtime wine, aromatic, floral and slightly spicy off-dry, or our Classic Cabernet Franc--a deep, rich wine with raspberry & cherry, and slight licorice spiciness to offset the deeper fruit. Both wines were a huge hit and got the group off to a lively start.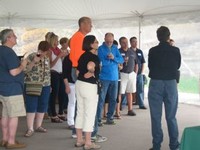 Next, I sent half of the group to the cellar to taste barrel & tank samples with the winemaker Bernard Cannac, and the new addition to our winemaking team Mark Patterson. In the cellar, we were greeted with a gourmet Finger Lakes meat & cheese board to accompany two barrel samples and three tank samples. The two barrel samples were both Cabernet Franc from Jeff Morris of Glenora Farms/Morris Vineyard, but they were in different oak barrels, so it was interesting to compare and contrast. Many of the wine club members were surprised how the flavors were so different just from spending time in two different oak barrels. The first two tank samples were both Rieslings from different lakes, one from Seneca Lake (west side) and one from Cayuga Lake (west side). This was a lesson in terroir, and again the club members were astonished with the differences and still slight similarities of the Riesling (soon to be wine)! The final tank sample was Pinot Blanc from Morris Vineyard, a favorite among the samples!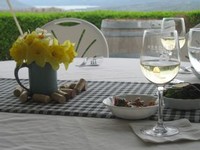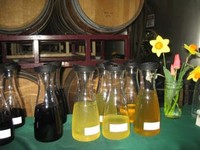 Meanwhile, the other half of the wine club members headed to the Tower where they were treated to a fresh hummus & crudités tray while talking with the owner of Heron Hill Winery, John Ingle. He spoke about the vineyard conditions and how the winter affected the berries for this upcoming harvest.
In the Tower, we were happy to announce that Heron Hill's Classic Dry Riesling 2012 is featured on the front cover of the June issue of Wine & Spirits magazine and named a '100 Top Value of the Year' with 92 points and a feature on pairing the Dry Riesling with Atlantic seafood. We were also excited to share that we received Double Gold for our Reserve Pinot Gris from the Finger Lakes International Wine Competition!
Request information on joining a Heron Hill Wine Club here >> http://www.heronhill.com/Wine-Clubs
Choose between the Platinum Club or Gold Club. Both wine clubs receive 2 bottles shipped every other month along with a newsletter and recipes. Wine Club members enjoy 20% off most wine purchases throughout the year along with many other perks!

With Mother Nature unleashing winter storm "Nemo" on a major part of the Northeast,
we here at Heron Hill Winery and the rest of the wineries on the Keuka Lake Wine Trail opened
our doors to many visitors who were not scared to come out and enjoy a wonderful Finger Lakes event called the Cheese and Wine Lovers Weekend. At Heron Hill, we invited First Light Creamery to
come spend the weekend with us, sampling and selling their cheeses. The cheese maker, Trystan
and his fiancée Emily were happy to get away from the goat farm for a weekend bringing us 25
pounds of their Cream Roasted Garlic and Pepper Chèvre cheese. We used it to bake into
our Chèvre Puff Napoleons over Arugula Salad (recipe available here) topped with Roasted Garlic Red Wine Balsamic Dressing from a local producer, Chef Lerman.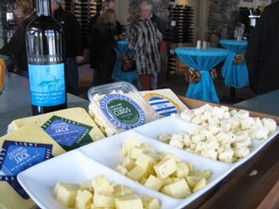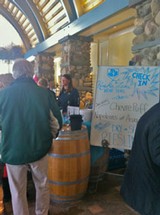 We received rave reviews from all our customers giving lots of great praise and thanks
for using so many local producers. We really pride ourselves on trying to acquire as many
products produced in the Finger Lakes as possible. We are hoping to arrange with First Light Creamery to carry their cheeses in our Blue Heron Café for the 2013 season. The full lines of products that we carry from Chef Lerman have always been hot sellers in the food section of the gift shop.

After such a successful for all the Keuka Lake wineries, I am already looking forward to our next wine trail event, "Viva Italia!" on April 6th & 7th. Each of the 7 participating Keuka Lake wineries chooses a region of Italy with rich flavors enhanced by superb, food-friendly wines produced from each of our vineyards. I just got a preview of the recipe from our Café Director, Mike Oliver for the event and am very excited that we are going to be serving Roasted Eggplant Cannelloni Neapolitan a specialty from the town of Naples located in the Italian region of Campania.
This event always brings back great memories from when I spent a semester in Florence,
Italy. What a great country, so hospitable and the food was AMAZING! My house mother,
Roberta, was always making traditional recipes. I was very glad that I walked 4-5 miles a day to
work off all the calories from the breakfasts and generous dinners that she created each day.
I hope to see some familiar faces and make some new friends at our Keuka Lake Wine Trail events this year. These food & wine events are so much fun and you get to be greeted each and every time by my smiling face! Salute to an incredible 2013 season!

Have you heard? The Palettes of Keuka are out and on display all around the lake! I am so excited to be joining the event for the 5th consecutive year. The Palettes of Keuka is actually in the sixth year of the very successful arts event. This year the artists really "stepped it up another notch!" I was at the preview showing of all the palettes at Pleasant Valley Winery and was beyond impressed with all of them. I am so glad to be part of bringing art to the forefront all around Keuka Lake. The event allows the committee to provide funding for numerous art related activities and scholarships for the ongoing arts development in and around Hammondsport and Keuka Lake.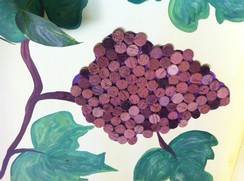 I again went out of the box this year and made a stand up wine rack that hold 6 bottles. It was another idea that come to me in the middle of the night (…like usual)! For the grape design, I sawed off the tops of red wine corks to give it another creative feel. I currently have left the back blank but am willing to paint a design on the wine rack for another hundred (or two) at the auction. I am sure my favorite auctioneer, Steve Muller, will help draw the price up with this piece of information!

This year's auction is scheduled for Saturday, September 8th. I really hope anyone who appreciates art and wants to give back to the community WILL be there! The preview begins at 10:00 am and the live auction starts at 1:00 pm sharp. I will be there to help bid up the prices, I can't wait….it's always exciting to see what everyone is willing to pay for great art.

Participating in a Wine Trail Event? Your questions answered here!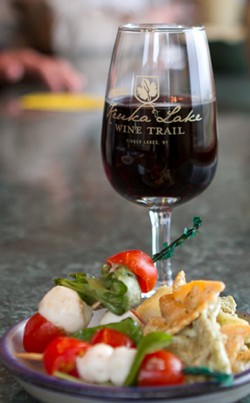 Why did Heron Hill decide to participate in the Keuka Wine Trail?
Heron Hill has been an active participant of the Keuka Lake Wine Trail since the inception. As a participant of the Keuka Lake Wine Trail, all the wineries participate in each and every event. We spend countless dollars on advertising and making sure that we have the absolute best brochure in the region, with a center section dedicated to the 6 events that we do over the course of the year. Established in 1985, the Keuka Lake Wine Trail aims to provide a high-quality, lively experience where guests will feel excited by the food, wine and scenery and stimulated by the conversation.
You can download the brochure at: http://www.keukawinetrail.com/contact-us/
How many people, would you say, the events draw?
Each event draws a different size crowd, for the "off season" events (Cheese & Wine Lovers, this past February, Viva Italia on March 31 & April 1st and Keuka in Bloom May 5 & 6), we generally expect to draw about 500-600 people. It is a very manageable number considering that the event is spread over 8 wineries over 2 days. The "in-season" events (BBQ at the wineries, June 9 & 10 and June 23 & 24, Harvest Celebration, Sept 15 & 16 and the Keuka Holidays Nov 10 & 11 and Nov 17 & 18) are generally sell outs or close to sell outs. The number of tickets sold range from 800-1200 over the course of a weekend.
What can you tell me specifically about Viva Italia?
Each of the eight member wineries around Keuka Lake will prepare a rich variety of food inspired by the flavors and cooking styles from different regions in Italy. Samples of food will be served with complementing local wines. Event attendees will sample a delicious variety of dishes prepared with high-quality ingredients and wineries will make recipes available to enjoy at home. A preview of the event menus includes pasta e fagioli, gorgonzola tortellini, roasted red pepper polenta, zuppa di scarola, pistachio biscotti and lemon-almond cookies.
What are you most looking forward to about it?
I am very excited to see what the attendees thought about all the different regional styles of food. The different regions of Italy all have such varied cuisine and I believe that all the wineries are taking advantage of it!
What would you say people enjoy most about the wine trail events?
All of the returnees are generally commenting on what delicious wines all the wineries have, saying things like "They have great wines and the services has always been warm and welcoming" & "A must-stop on your tour of Keuka!" Another returnee raved about the amount of food they received, the wine tasting, recipes, etc.... Great fun, great wine! They commented on how much they enjoyed the view, the wine, the drive and the smiles.
When does it start?
Event hours are Saturday 10 a.m. to 5 p.m. and Sunday 11 a.m. to 5 p.m. Event attendees may visit all eight wineries in one day or plan an overnight stay to spend more time enjoying the area's other attractions.
Where should they begin? How much does it cost?
Two ticket options are available for this self-guided food and wine event. Sunday-only tickets are $19.00 per person; tickets for the full weekend are $25.00 per person. All ticket holders will receive a souvenir wine glass. When the ticket holder purchases their ticket, they will be assigned to a starting winery and will then start on their highly manageable drive around the Keuka Lake. It can be done in a day, still allowing time to stop at each of the unique eight wineries on the trail or it can be broken up over the weekend. The striking overlooks, on-the-water restaurants, parks, antique barns and charming villages will encourage you to slow down – spend a few days and discover what makes the Keuka Lake Wine Trail different.
Where and how do I purchase my tickets?
Purchasing tickets in advance is highly recommended as most events sell out. A limited number of tickets may be available at the door for a $5.00 surcharge. For all Keuka Lake Wine Trail events, conveniently purchase tickets by calling 800.440.4898, by visiting a Wegmans customer service desk or online at www.keukawinetrail.com.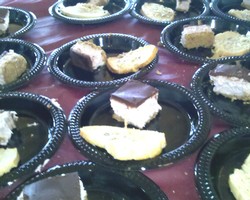 What a great season, I made it through October and just finished two busy sold-out weekends of Keuka Holidays, two of our biggest weekends of the year! We had a record-braking crowd on the first Saturday with over 1000 people through the door…wow was I tired! We served a fabulous Roasted Red Pepper Soup topped with an Asiago Crisp and a side of Eclipse Red Raspberry Cheesecake. We received rave reviews from everybody, check out the links for the recipes!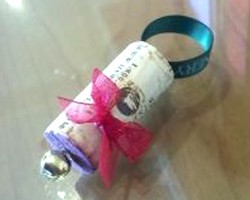 This year we had one of our staff members, Lauren, hand make 1,200 cork ornaments. Lauren spent countless hours tying bows, cutting ribbons and gluing jingle bells on each cork. I think Lauren recruited a few of her friends to help her with this project…maybe enticing them with a home cooked meal and lots of wine!
As the 2011 season winds down, we are already gearing up for 2012! I have already booked tons of groups for the upcoming season, especially October (one of the busiest months). I am also working on ordering a great present for our wine club members (sorry…can't reveal the secret yet!). The final shipment of the season is always a great one with two of our most special wines leaving the building…the Gold Club is even receiving an unreleased wine!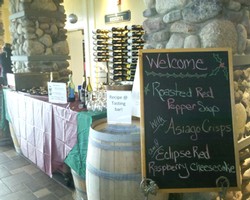 As I get ready to take a small breather, Bernard (our winemaker) just stopped by and said that we are going to hand-pick our Late Harvest Vidal Blanc next Wednesday! Even though it is my day off, I am a trooper and will be there with bells on! I am just thinking about what I will bring for a hot drink to keep me warm while picking, maybe hot mulled cider with a little Goldschläger?
Remember now that it's the slower season, (the best time to visit in my opinion), you can stop, visit and taste for an hour or two and we can try to solve all the world's problems!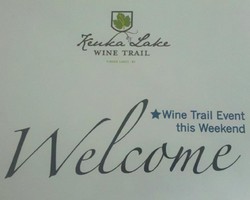 Ahhhh…September! Harvest is here and you know what that means; it's the start of the really crazy-busy season! We kicked September off with a jammed packed weekend with Labor Day and "oh boy" did we labor hard at the winery! We had live music by Bruce Holler on Sunday afternoon, unfortunately I was pouring so much wine in the tasting hall that I never got a chance to get out there to even say hello.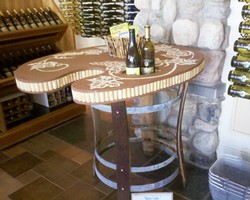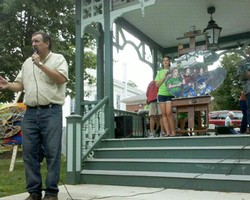 The following weekend on the 10th, I had Saturday off because I went to the 2011 Palettes of Keuka auction! The Palettes of Keuka has inspired upwards of 40 artists each year to create artwork on giant size artist palettes. This event has offers wonderful opportunities to provide funding for numerous art related activities and scholarships. Each year the committee directs thousands of dollars in funding towards the support of the arts in our area. In four short years they have created a Keuka Lake tradition with the grand finale auction held in the village square in Hammondsport. I ended up buying two palettes, one called "Wine, Wonderful, Wine" by Lenolee Spraker and "Pants in the Park" by Andy Clark. I got great deals on both; in total I spent only $170.00! As the auction was winding down, with only a few palettes to go, the auctioneers Steve Muller and Ken Corey, posed a challenge to the audience. As you can see by the picture there are many corks that make-up the border in my palette, the auctioneers asked if anyone could guess the total number that I used to make it with! After many crazy guesses (346, 824, 600, 572) someone shouted out 200… seeing that I had used 185 ½ corks - they were the winner. I had told Steve and Ken that I would donate a bottle of wine of the winner's choice!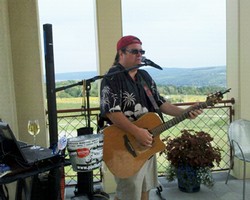 This past weekend was our Harvest Tour of Food and Wine on the Keuka Lake Wine Trail. What a great weekend, I was the greeting committee and check-in person serving the wine and food with Linda on Saturday and Helen on Sunday. It was a great weekend to be in the tent in our parking lot, as the seaplanes were in town and we got to watch them go around the lake at 1:00 on Saturday….very Cool!!! At the trail check-in table we were serving a Butternut Squash, Potato & Sausage Gratin paired with their choice of our Classic Pinot Noir 2008 or our Classic Dry Riesling 2009. Both worked exceptionally well with the rich and creamy gratin.
So far September has proven to be a great success; let's hope with our first Tunes in the Tent this coming Sunday it continues! I can't wait to see the "Crosseyed Cats" perform starting at 12:30 on Sunday! Hope to see everybody here for Harvest!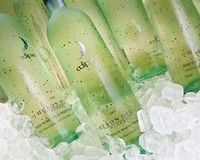 Summer is officially here! After a long, demanding Independence Day weekend we are recovering with a glass of the newly released favorite, the Blaufränkish! Just prior to the weekend, we released the newest vintage (2008) of our Reserve Blaufränkish. It has a deep dark color that foretells a rich, robust and complex wine. Upon opening the bottle, the rich aromas of anise, black raspberry and chocolate soften the rich fruit that leads you into a touch of spicy clove and soft sweet vanilla. For a special dinner we cooked up a (freshly home grown) tomato Basil pizza on the grill that was fabulous with the Blaufränkish.

I am getting SO excited for a fabulous weekend; a large group of us are headed to the Finger Lakes Wine festival. We always love to listen to the live music starting Friday night at the Toga Party; I especially love watching everybody pass by with their crazy outfits! On Saturday I am slinging and selling lots of wine in the Pit pass area; come visit!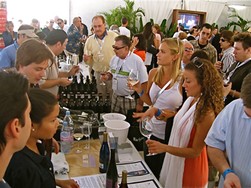 Meanwhile, in the other sections of the festival there is FREE Live music available all day in the Brewers' Garden, Cabernet Courtyard, Sparkling Courtyard and The Park. Styles, like the festival, are eclectic so you'll find upbeat blues and jazz to singer song writer acoustic shows...you'll hear covers, you'll hear originals...you may even find that music comes to you!

On Saturday night after the close of the event we head back to the campsite and have a gourmet meal prepared by the "guys", they are going to be using the smoker to cook two whole turkeys and there will be plenty of sides including baked beans, deviled eggs, salad, macaroni salad and my personal favorite potato salad! After dinner and a few glasses of wine we go watch the GeVa Comedy Improv group out of Rochester. They were so funny last year and kept us laughing for hours! The show starts Saturday evening at 6pm at the Tiki Hut Bar near the camper festival entrance and is open to anyone so stop by for a night cap and be prepared to laugh!!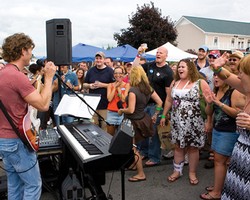 On Sunday I finally get to be on the "right" side of the bar! I get to go around and see all my friends from the local wineries and check out the "competition", generally buying a few cases of wine! I can't wait to see and taste some amazing wines (other than Heron Hill's)!

Hope to see you there, cheers!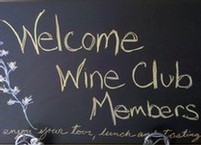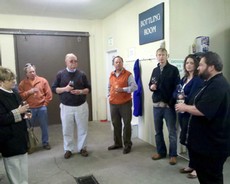 What a spectacular weekend! On Saturday, we hosted a Wine Club Barrel Tasting & Tour here at the winery on Keuka Lake! It was a great behind the scenes experience for our Wine Club members. They started out in the cellar with a private barrel tasting and tour with the Winemaker, Bernard Cannac and Owner/Grapegrower, John Ingle. Bernard spent about an hour explaining the process of wine making and how the production staff works. The assistant winemaker, Brian Barry, was also there as our token "cellar rat" offering another point of view.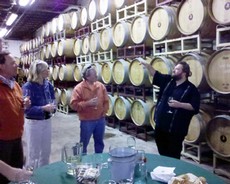 In the cellar, the Wine Club members were treated to a taste of two never before released wines. The first sample was a tank sample of our 2009 Riesling Reserve. This new reserve wine is going to be a dry Riesling that will have grapes from two different vineyards, our estate vineyard and Ingle Vineyard (John's vineyard on Canandaigua Lake). The members seemed pleased with the progress of the young wine. The next sample was the 2009 Cabernet Sauvignon Reserve, a surefire hit with the crowd! The winemakers pointed out the fact that the barrel samples are only a suggestion of what the finished wine will taste like. Tasting out of the barrel or the tanks gives you a glimpse into how the wine will taste once fully aged.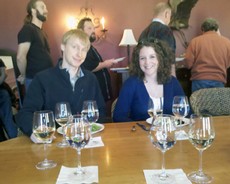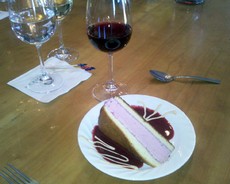 They wine club members were also able to see the bottling line and got some new information that is not being released to the public yet!!! Stay tuned!
After the tour we were off to the conference room for an amazing lunch that was produced by our very own Mike "Ollie" Oliver, our Café Manager and Head Chef! Ollie offered an amazing selection of food for lunch including, Chicken Caesar wraps, Calabrese wraps, Roast Beef Panini with an herbed Horseradish mayo with sautéed peppers and onions, and my personal favorite the Turkey Panini with a Cajun Aioli sauce. One of the highlights of the meal was the beautiful fruit tray that paired beautifully with the Classic Muscat wine. For dessert large smiles were came out from the crowd when we presented the Charlotte a la Framboise, a cool and creamy raspberry mousse sandwiched between two layers of fluffy cake. The cake was the perfect pairing for the barrel sample of the 2010 Blaufrankish. The exquisitely prepared meal was thoroughly enjoyed by all in attendance.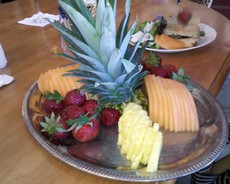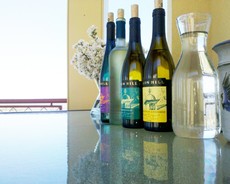 After a delightful meal we headed up to the tower to finish off the afternoon with a sampling of all of the wines from Ingle Vineyard and the newest vintages (not yet released) from the Eclipse Series. During the discussion, John and Bernard explained how in the Ingle Vineyard Cabernet Franc, field blending is part of the wine making process. A field blend is a wine that is produced from two or more different grape varieties inter-planted in the same vineyard. In the days before precise varietal identification, Ingle Vineyard was thought to have been planted with 100% Cabernet Franc, but upon closer inspection we noticed that there is about 10-15% Cabernet Sauvignon intermingled in the vineyard. The field blend of the Cabernet Franc with a smattering of Cabernet Sauvignon allows Bernard and Brian an effortless, though inflexible, blending.
Next weekend brings us round two of the Wine Club Barrel Tasting & Tour. I am sure it will be equally amazing…