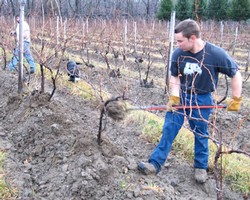 It's December, time to turn the page. It seems as if each month has a focus, October was harvest, November has been shoveling up the dirt onto the vines to protect them throughout the winter cold and December begins the pruning that will continue until March. Hand pruning some 14,000 vines at a rate of 150/day takes all winter, almost every workday until April 1st when the "season" begins. Parallel to the vineyard work is the garden work. (And I use the term "work" in the positive sense as in project or pastime.)
Our game-plan with the garden is to work (focus) for seven months and then enjoy the fruits of our labor for the five winter months. We freeze a lot of our food; spinach, peas, corn, broccoli, beans, all freeze well. Fruits also are stored frozen or dried including pears, strawberries, peaches, raisins, etc. Mother Nature does a beautiful job preparing us for winter storage with root vegetables. Our root cellar is chockfull with potatoes, carrots, beets, parsnips, brussels sprouts, onions, garlic and the "best thing you never ate": celeriac!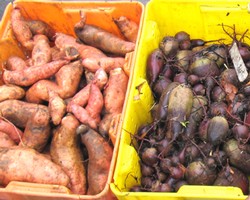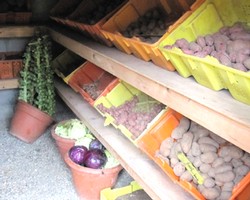 Sprinkled with olive oil, and oven roasted at 400 degrees for 20-30 minutes, along with slices and chunks of the other root crop, it tastes nutty and unique like nothing you've ever had. Try it. Celeriac is also good boiled, mashed and added to mashed potatoes - ah the bounty.
For over 40 winters we've pruned the vines in the daytime and savored the fruits of our labor at night - what's wrong with that game-plan?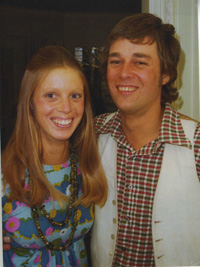 I often get asked "What made me go into the wine business?" Well, nothing made me, I chose to, willingly and enthusiastically. And it's funny because I can almost remember making the decision to do so. I was an English teacher in Colorado and felt there must be more for me. I had been curious about organic gardening and read books about the "farm life".
It was exactly forty years ago, in 1971, that we, my wife, Joey, and I worked in a neighbor's vineyard picking Concord grapes. As I stood on that sun drenched hillside breathing in the smells of fresh air and ripe grapes I realized this was satisfying to me. The rhythm of the work, steady and focused, the rhyme of the workers, chatting and laughing as they worked their way up and down the rows and the thought that it's vintage time! People all over the world, Europe, Australia, America, literally everywhere, were doing the same thing, harvesting grapes, to make wine. A sacramental beverage, as old as history, alive and dynamic in so many cultures and lands, it was inspirational to me. I knew that I had found my path and my loving wife has walked by my side for forty years, pursuing a career but more so, a life and lifestyle of living a "farm life".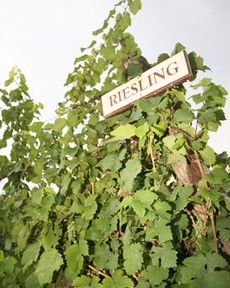 As the summer seems to go blazing by, August approaches and brings with it the 3rd annual Finger Lakes Riesling Festival. This family-oriented event, August 13 and 14 brings together food, music, wine and fun. It's held on the north shore of Canandaigua Lake and has drawn over 20,000 participants the last two years. Heron Hill Winery is a major sponsor and will feature the entertainment at the music tent, including Prime Time Funk and Nik and the Nice Guys, two of Rochester's top bands. On Sunday morning the Campbell Brothers gospel music will fill the air with joy. One of the best parts of the festival is that entry is free. You pay to taste wine and beer, and over a dozen regional cheeses, but the music, the car show, the arts and crafts displays, etc. are all free. We're very excited about the mobile ap being offered to learn more about this great event. Learn more about Finger Lakes Riesling, groove to the tunes, bask in the sun and join your friends for two days of family fun. See you there!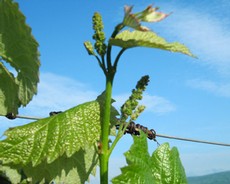 Oh the promise of spring, with hope and destiny in the air. Icy fingers of winter loosen their grip and green appears among the brown of the landscape. We pray our way through the "frost period" when recalcitrant grapevines that have awakened too early feel a bitter sting for their efforts. Well into May we see the flush of buds on canes that reveal the promise of the vintage, will it be large, small, early, late, difficult or wet? We can only imagine and wonder.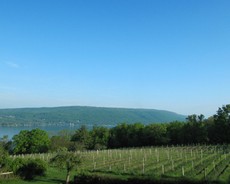 So far we are about a week late in bud-break and a couple of weeks behind in spring chores, such as plowing "away" from the vines, discing new centers, etc. The great news is, we have lots o' buds, due to the wet weather! Almost 100% bud viability on the vines previews a bountiful crop. Not every vintage in the Finger Lakes is a large one, or a classic one. We take the cards and make it work. Having that promise of spring through that makes the work a little easier, the target a little clearer, as we strive to produce world-class grapes for world-class wines at Heron Hill.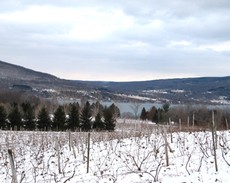 One of the most frequently asked questions I get is "What do you do all winter when the vines are dormant?" I can assure you, it isn't nothing. I was a youth hockey couch for 20 years in addition to working 20 acres of vineyard. We raised four kids and I was there every day to greet them off the school bus, top priority. But the constant activity through that time is the "bushwacking" of some 12,000 vines each winter for the last 40 (!) years. Simple math gives an idea of the measure of the task. I can prune 150 +/- vines a day on a good day - divide that into the 12,000 vines I've always had (until adding the 1,000 vines each of Merlot and Cabernet Sauvignon last spring, that is 80 work days, or 14 work weeks. We finish the harvest in November, or early December when we make Icewines, then we cover the bases of the vines, called "hilling up", into December. Take out holidays, snow days, assorted projects and distractions and it's a busy winter. April 1st is our "done" date for pruning, the start of the vintage season. I will blog on that process later.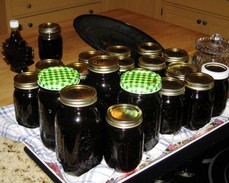 As the winter work wraps up, temperatures climb and it's time to make maple syrup. We get 5 to 10 gallons of syrup off about 60 taps. We used to burn the sap down with grape trunks. I thought I might be the only guy to do that - in the world! Another spring tradition here is cleaning the bluebird houses. Migratory as well as resident bluebirds like to pair off and prepare for nesting in March, so the houses, (we have about 50 of them) need to be clean and ready for April 1st.
Doing these and other side projects every year gets you into a pace, a rhythm, of nature and life. It can be hectic but it also brings a simple continuity that makes farm life satisfying. Soon it will be spring.

By John Ingle, Owner/Grapegrower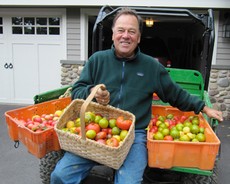 As always, harvest 2010 has been a wild ride. Fueled by one of the hottest, and wettest years ever, grapes ripened a month early! We were almost guaranteed a great year, it was just a matter of how far we could push our luck for further excellence. Having my wife, daughter, son-in-law and many friends help with the grape picking made it even more of a labor of love. We shared the rhythms of the harvest; hurrying, waiting, wet, dry, cold, tired, excited all mixed together and multiplied by 12 or 15 of how many pickers we had day to day.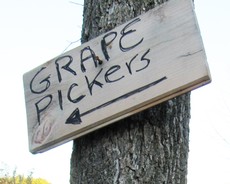 As the season progressed we brought in wave after wave of beautiful, ripe grapes - Pinot Noir, Chardonnay and Cabernet Franc, all up to 26 Brix, incredible! As the Riesling ripened we got 6 days of warm monsoon-type rain and glorious green prapes turned nut brown almost overnite. It was rot! Closer inspection revealed a sweet raisening aroma and flavor...it was "Noble Rot", botrytis, Mother Nature's gift to dessert-wine lovers. The crew tightened their belts and made four different "passes" through the two acre vineyard much of the time on hands and knees picking up fallen grapes off the ground and never a peep or ugh or yuck! It was a team effort rewarded with a "piece of history". The 2010 Ingle Vineyard Bunch Select Riesling will carry memories of effort and excellence - to be shared with joy with friends and family for many years.
By Jo Ingle, Owner/Grapegrower

Our garden has been put to bed after yet another bountiful season. There is still much to do!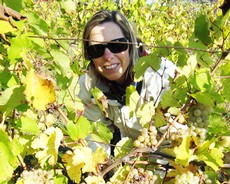 All through the summer months the ripened vegetables are harvested, sorted, cleaned, cut and prepared for freezing. This year has been particularly good. The long hot summer days with a bit of rain here and there, helped to make for an abundant crop of vegetables and fruits. We grow everything! Spinach, peas, beans, strawberries, raspberries, blueberries, corn, melons, squashes, artichokes and more. You name it, we grow it. In addition to the produce going into the freezer, we also can spaghetti sauce, bread and butter pickles from an old family recipe, and beautiful pink applesauce made especially for the grandchildren.
Winter is here. The days are short and cold. The kitchen is filled with the aroma of jellies cooking and hot paraffin melting. The freezer is full, the cupboards are packed, and we're ready to hunker down and enjoy the fruits of our labor.

By John Ingle, Owner/Grapegrower
It's autumn in the Finger Lakes, harvest time, and I feel like I'm "sitting on a gold mine." It has been the hottest summer in memory and the result is ultra-ripe grapes. The sweetness level is comparable to middle or late October. Half of the Pinot Noir, our "Old Field" has been picked and brought over, I bought these vines from Hermann Wiemer over 25 years ago. The other half of Pinot will be brought in tomorrow. These pictures are of the Chardonnay from "Carl's Block", which is a higher elevation vineyard, these grapes will be used in the Unoaked Chardonnay because they have a higher acidity. The other half of Chardonnay grapes, from "Vern's Block" will also be brought in tomorrow. Last year, "Vern's Block" was hit with frost, so it's nice to see it bounce back this year.
Part of the excellence we're seeing is due to the late frosts that reduced the crop size here in mid-May. Less fruit – more concentration, better ripening. Last year it was cold and wet – what we call a "Riesling year." Moderate alcohol levels, nice crisp acidity, years like this in 2010 are red wine years. The heat builds ripeness, ups sugar levels, and creates more alcohol as well as more body and color in the wine. We used to only get 3 or 4 out of 10 years as red wine years (70's and 80's) in the Finger Lakes. So it's very energizing to have this opportunity. Now that's like "sitting on a gold mine."

This has been a wild and crazy spring and summer. After dodging frosts through May we've dealt with excessive heat, rain and dry spells. Every week has seen at least one or two "gully gushers" filling Canandaigua or Keuka lakes above normal levels. The vines are thriving nonetheless and it appears to be a moderate crop size with balanced leaf to fruit ratios and very good prospects for exceptional quality levels across the board in 2010. The generous rains were well timed and and greatly appreciated by winemaker Bernard Cannac and our production team as 6 acres of Riesling, Muscat and Vidal were planted at Heron Hill and an acre each of Merlot and Cabernet Sauvignon went in at Ingle Vineyard. Well chosen locations and carefully matched clones bode great things for future Heron Hill and Ingle Vineyard wines.

As the young vines shoot upward, the doors of Heron Hill's third tasting room fly open. Up the road from Bristol Harbor Resort, off Route 21 on the west side of Canandaigua Lake, Heron Hill at Bristol opened July 15th after over a year of work and preparation. There were many hurdles, hoops, and hassles to contend with but patience and perseverance prevailed. It was a great learning experience and it was especially the support and enthusiasm of Heron Hill fans, that carried me with the momentum to "git 'er done". With new manager Chuck Oyler on the scene along with my daughter Josie and several other enthusiastic servers, we're rarin' to bring delicious Heron Hill wine closer to Rochester and surrounding towns. Please do stop by and visit us soon!

By John Ingle, Owner/Grapegrower
Here I go, I'm doing it again – somebody stop me. For almost forty years I've had a passion to plant things, especially grapevines. It was 1971 when I first noticed this proclivity. My wife, Joey, and I were recent college grads and were picking up a few bucks helping our neighbor harvest his grapes. We fell in love with the whole experience and cleared some twenty acres of land in preparation to plant grapevines. It was like jumping out of a window without looking. We weren't farmers and the learning curve was steep. Since then we've ripped out vineyards and replanted them – over and over. We've also had large gardens every year since our 1971 start. I just love to plant, love to grow, love to harvest. So, this year we are planning a new plantation of vines at Heron Hill on Keuka Lake.
I've had some of the oldest vines in the East planted in 1968 but old age and bad weather led to the demise of some 7-8 acres. The last two years we've been plowing and preparing the soil and this May in will go over 8,000 vines. The project will include Riesling, Muscat and Vidal varieties in several different clones. There also will be two acres, one each of Merlot and Cabernet Sauvignon at our Canandaigua Vineyard. It will be a big job but we're very excited about the wines that will be produced at Heron Hill. At least this time I have some 40 years of farming experience to help me with my "growing" pains!


By John Ingle, Owner/Grapegrower
I could blog about the assorted sources of stress in the "idyllic" life of a winery owner. Or I could rant about the hassles, hurdles and roadblocks encountered in dealing with government, laws and politics when trying to provide alcohol to the masses. Instead I'm returning to my roots and talking about grapevines.
I love being in the vineyard, it's always different and always the same. There is a cyclical process that occurs over a year's time and for grapevines, it's call a "vintage". Each vintage is different with the type of weather and growing season Mother Nature deals and it's the same in that the recurring tasks and procedures required to yield the best grapes are quite similar each year.
It is now late January and for the 38th year in a row, I am in the vineyard pruning grapevines. People ask what do you do in the winter as a winery owner? Go to Vegas? Au Contraire, it's the balmy breezes of negative digit wind chill readings that greet me each morning or I stand bundled up like an Eskimo to whack away at some 150+ grapevines a day.
Each year a vine will produce long canes, 2 to 6 feet, with buds or internodes along each cane, up to 200 buds per vine. If these canes aren't cut back, the vine will over produce and shut down. The 150 buds must be cut back to 20-50 buds to "balance" the vine's leaf surface with the crop load. You can get a bigger than normal crop one year but you probably won't the next year.
Pruning 1 acre, about 600+ vines a week means I have twenty weeks to hand prune my vines myself, take out weekends, holidays, white outs or freezing weather and I'm busy from December 1st to April 1st. I'm tired just thinking about it. But I do love it, each vine, creating the "balance". I feel like an artist.
I recently answered some questions from Lenn Thompson of the New York Cork Report, a blog devoted to New York Wines. Here's a link to his online article: Q&A with John Ingle, Owner of Heron Hill Winery.