What a glorious 2015 season…and now I look forward to what 2016 will bring! I want to take this opportunity to introduce
myself. My name is Nicolette DeAngelis and I am the new Wedding & Events Coordinator for Heron Hill Winery. I have been a part of the Heron Hill team for nearly two years. I began working behind the tasting bar and interning while I finished my Bachelor of Science degree in Business from Mansfield University. Upon graduating this past May, I spent some time on the road working in wholesale selling Heron Hill wines. I transitioned to assisting with events in mid-July under the mentorship of the previous event coordinator, Elke Schmitt. I am so excited for this wonderful opportunity and to bring couples' visions to life at this breathtaking venue in the Finger Lakes.
Here are some of my favorite wedding details from the past season:
The First Look
One of my favorite aspects of weddings is the star-struck reactions couples exchange when they see each other for the first time on their special day. It is an overwhelming moment and absolutely irreplaceable. The "First Look" is when couples actually see each other before the ceremony and specifically take time to photograph this special moment. It makes the moment more intimate and allows for crisp and precise pictures, then the couple uses less of their time during the reception for picture taking.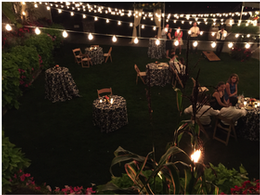 Lighting on the Lawn
The Heron Hill lawn adjacent to the main event tent is a stunning aspect of the venue with its lush colors and dangling greenery. Some couples this past season brought in extra bistro lighting and tables for the lawn so it could be utilized after dark. It brings a romantic feel to the area and is the cherry on top of an already beautiful outdoor landscape.
"Pick a seat, not a side"
Typically, seating for a ceremony is split between the "Bride's side" and the "Groom's side." Some couples chose to have everybody blend together and veer away from labeled seating. This brought a special synergy to ceremonies as well as avoided the confusion of guests figuring out on what side to sit.
There are a few aspects of my job that make me love it so much. My absolute favorite part is the relationship I gain with couples. In order to envision exactly what they want their wedding day to be, I get the opportunity to get to know who they are and what is important to them. Every couple is dramatically different and that is my second favorite part of this job. The event tent has different ambiance every single weekend. It keeps me intrigued and challenged to execute unique weddings every week. My third favorite part of the job is seeing the connection that happens at weddings. There is nothing quite like seeing the love in couples' eyes throughout the evening…a tearing up during a father-daughter dance, or a maid-of-honor gushing over how much love she has for the couple. It is an event where everybody sees the bigger picture about how important it is to love those close to us, which can be overlooked in the day-to-day shuffle.
Overall, I have such a passion for this job and creating memorable experiences is my number one priority. I am ecstatic to see what 2016 brings...there are sure to be many beautiful weddings and exciting new experiences!