December 13, 2010 | Harvest | John Ingle
John & Jo Ingle's 2010 harvest notes
By John Ingle, Owner/Grapegrower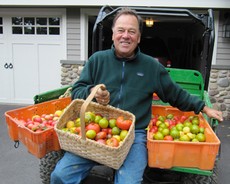 As always, harvest 2010 has been a wild ride. Fueled by one of the hottest, and wettest years ever, grapes ripened a month early! We were almost guaranteed a great year, it was just a matter of how far we could push our luck for further excellence. Having my wife, daughter, son-in-law and many friends help with the grape picking made it even more of a labor of love. We shared the rhythms of the harvest; hurrying, waiting, wet, dry, cold, tired, excited all mixed together and multiplied by 12 or 15 of how many pickers we had day to day.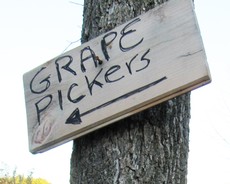 As the season progressed we brought in wave after wave of beautiful, ripe grapes - Pinot Noir, Chardonnay and Cabernet Franc, all up to 26 Brix, incredible! As the Riesling ripened we got 6 days of warm monsoon-type rain and glorious green prapes turned nut brown almost overnite. It was rot! Closer inspection revealed a sweet raisening aroma and flavor...it was "Noble Rot", botrytis, Mother Nature's gift to dessert-wine lovers. The crew tightened their belts and made four different "passes" through the two acre vineyard much of the time on hands and knees picking up fallen grapes off the ground and never a peep or ugh or yuck! It was a team effort rewarded with a "piece of history". The 2010 Ingle Vineyard Bunch Select Riesling will carry memories of effort and excellence - to be shared with joy with friends and family for many years.
By Jo Ingle, Owner/Grapegrower

Our garden has been put to bed after yet another bountiful season. There is still much to do!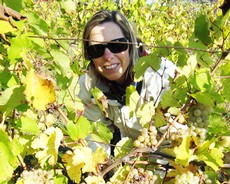 All through the summer months the ripened vegetables are harvested, sorted, cleaned, cut and prepared for freezing. This year has been particularly good. The long hot summer days with a bit of rain here and there, helped to make for an abundant crop of vegetables and fruits. We grow everything! Spinach, peas, beans, strawberries, raspberries, blueberries, corn, melons, squashes, artichokes and more. You name it, we grow it. In addition to the produce going into the freezer, we also can spaghetti sauce, bread and butter pickles from an old family recipe, and beautiful pink applesauce made especially for the grandchildren.
Winter is here. The days are short and cold. The kitchen is filled with the aroma of jellies cooking and hot paraffin melting. The freezer is full, the cupboards are packed, and we're ready to hunker down and enjoy the fruits of our labor.
Comments
Commenting has been turned off.