July 20, 2011 | John Ingle
See you at the Finger Lakes Riesling Festival!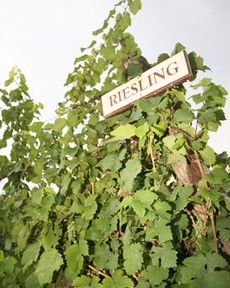 As the summer seems to go blazing by, August approaches and brings with it the 3rd annual Finger Lakes Riesling Festival. This family-oriented event, August 13 and 14 brings together food, music, wine and fun. It's held on the north shore of Canandaigua Lake and has drawn over 20,000 participants the last two years. Heron Hill Winery is a major sponsor and will feature the entertainment at the music tent, including Prime Time Funk and Nik and the Nice Guys, two of Rochester's top bands. On Sunday morning the Campbell Brothers gospel music will fill the air with joy. One of the best parts of the festival is that entry is free. You pay to taste wine and beer, and over a dozen regional cheeses, but the music, the car show, the arts and crafts displays, etc. are all free. We're very excited about the mobile ap being offered to learn more about this great event. Learn more about Finger Lakes Riesling, groove to the tunes, bask in the sun and join your friends for two days of family fun. See you there!
Comments
Commenting has been turned off.