October is always a crazy busy month, except for last year. By the first week of October in 2012 we were done - finished - with the harvest. An early spring - dry, hot summer and smallish crop led to a two to three week early harvest. It was bizarre - but good. 2013 is almost the opposite. A late spring, cool damp summer and a large crop has made us two to three weeks behind schedule. Actually, mid-October, we've just started. We brought in 22 degrees Brix Pinot Noir early this week and are now almost done with the Chardonnay.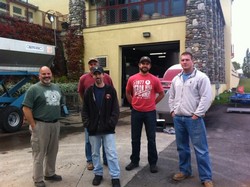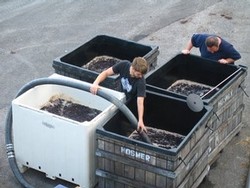 (Some of the Heron Hill Harvest Crew on the press pad; Zeb & Bernard with crushed Pinot Noir)
The damp summer led to many mildew problems. I have talked to growers who had to spray 15 to 20 times for assorted diseases. The average is 6 to 10 times so there was a lot of mildew pressure. Ingle Vineyard, under the supervision of Vineyard Manager Kyle Franzoni and assistant Zeb Archer, has managed to bring a large crop of ultra-ripe, super clean grapes to the press deck. The Heron Hill vineyard, managed by Don Riesenberger, is also looking awesome. Brix (sugar) levels are over 20 degrees and up to 22 degrees. This will bring bold, tasty wines with great depth and character.
Last weekend we shared the harvest duties with sweepstakes winner Jaime Murphy, and her husband James. Not only were they a delight to work with but they really pulled their weight in the vineyard, keeping up with the well-seasoned crew we have. It was a gorgeous day in the Finger Lakes and hand-picking beautiful Pinot Noir, enjoying a vineyard picnic of all organic, home-grown fruits and vegetables, followed by supervising the activities on the press deck at the winery made for a very memorable day for all. Thanks to everyone who helped put this great Heron Hill experience together: Elke, Erin, Kate, Bernard, and especially Sales Director Eric Frarey who came up with this great idea.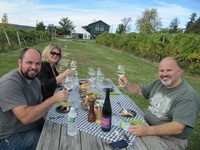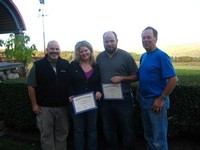 (Sweepstakes winners having lunch in the vineyard; Sweepstakes winners receive certificates from owner John Ingle and sales director Eric Frarey after a successful day.)
As we watch for the rest of the harvest to occur we are full of exuberance and pride as the fruits of our labor promise great things in the bottle!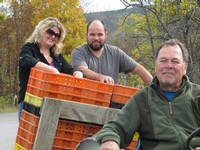 (John Ingle with Sweepstakes winners at Ingle Vineyard)


The 2013 harvest is imminent. Some early varieties such as the seedless, are already ripe and others are progressing nicely with Brix (sugar) levels at 16-18 degrees: the goal is to get to 22 degrees, that would make well balanced wines. They say grapes ripen about 1 degree per week so the next four to six weeks are crucial.
Many of you already know how the weather in the Finger Lakes has been this summer—it's been cool and wet. Lots of vine growth but constant mildew pressure. Last year, 2012, was a hot and dry season with Brix levels up to 25 degrees—good for rich, full bodied wines—what I call a "Pinot Noir Year." In contrast, as in this season, cool damp weather is perfect weather for a "Riesling Year." Crisp acidity, steely, mineral laden, food-friendly wines also including the rising star—unoaked Chardonnay.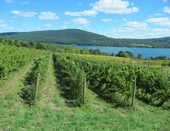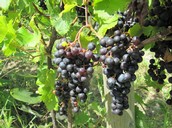 So the stage is set, Mother Nature holds the cards, a couple of cards are "up," but the remaining cards will tell the hand. The only different is we can't fold, just come back next year and do it, again—it's a vintage!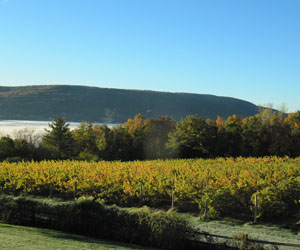 There is a standing joke in the wine business that in Bordeaux, France, every vintage is the best ever and thus justifying raising the price. Fortunately, and unfortunately, this is not the case in the Finger Lakes of New York. Every year there seems to be some glitch that throws a wrench in to the works of what would be the best vintage ever. We've seen extensive winter bud kill from -20 degree temperatures; we've seen Spring frosts into the low twenties in May; we've seen hurricanes that wash out the harvest and turn a seemingly great harvest into a good harvest. There are so many things that can go awry. Wine growers must be super-resilient just to survive, not to mention excel.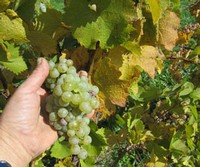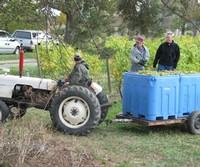 2012 appeared to be another one of those years as we experienced devastating late spring frosts state-wide in early May, reducing potential crop loads by up to 25%. These difficulties were followed by localized hailstorms that actually wiped out some vineyardists' crops. Surviving these events, we endured a summer long drought that further stressed the vines, and the farmers. As harvest approached, timely rainfall arrived and the brix (sugar) levels soared. Usually we are delighted to get 21° or 22° brix but this year brought up to 25° brix levels across the board. The rains held off and super-ripe, clean fruit arrived for crushing up to three weeks early. It was a very fast harvest with everything ready to come in at the same time. The production team scrambled and as the fermentations are now over we see – in my opinion after 40 years as a grape grower – the best year ever! Time will tell – next year we'll know the results. Stay tuned…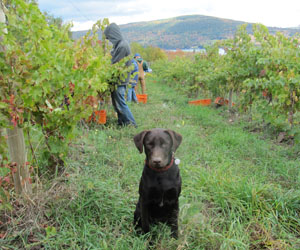 Muscat grape is considered one of the oldest, if not the oldest, grape domesticated by man. Its origin is unknown but it could come from the Middle East or the Arabian Peninsula where it could have been cultivated about 4,000 years ago, if not longer. It is believed that traders and/or soldiers brought the Muscat vine from the Arabian Peninsula to the Mediterranean: soon Egyptians, Greeks and Romans not only grew it but also took the vines with them during their conquests and spread it all around the Mediterranean. It then was propagated throughout all of Europe, from Portugal to Russia. In the Nineteenth Century, Muscat was introduced in South Africa, Australia and New Zealand.
Because of such a long heritage, there are at least two hundred different varieties containing the name Muscat. They belong to the Vitis Vinifera family. Examples?
Muscat Blanc à Petits Grains is commonly used in Asti Spumante (sparkling) and Muscat De Frontignan (Vin Doux Naturel). It also has many different names: Muscat d'Alsace, Muskatelle, and Moscato Bianco. Moscato Bianco in Italy is used to make the sweet, effervescent Moscato d' Asti wine that is currently on trend and widely referred to in the United States as just Moscato.
Muscat of Alexandria gets its name from the Egyptian City of Alexandria, one of the most advanced cities of its time, with the first and biggest Librairy, before tsunamis, earthquakes and invasions destroyed it. This Muscat grape can be found in Moscatel wines, sherry wines, or as table grape and raisin.
Muscat Ottonel, also called Moskately, is used in dessert wines in Austria and Eastern Europe.
Muscat of Hamburg has a darker color and is used as table grape or dessert wine in Eastern Europe and Northern Italy.
To make it even more confusing, each region can have a different name for the same grape.
Apart from settle variations, all these varieties of Muscat tend to express the same aromatic characteristic. The compound Linalol present in the juice is very aromatic and is described as musqué in French. It is reminiscent of Lychee, an Asian fruit you can find in…Asian Cuisine. It is somewhat similar to the aroma of a Gewurztraminer, which may be a sign of a Family tie between the two varietals. The spicy note in the Muscat bouquet is not too far fetched from the spicy aroma of the Gewurztraminer, Gewurz meaning spice in German.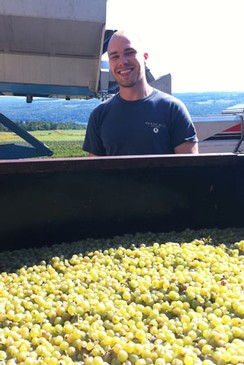 At Heron Hill Winery, we grow Muscat Ottonel and we added a new planting of Muscat Blanc. Muscat Ottonel is used in the production of Dessert wines, but grape production has been so limited that we have not made a Muscat Late Harvest in a couple of years. Hopefully, with the Muscat Blanc coming into production in a couple of years, we will be able to produce a Muscat Late Harvest.
Crushing Muscat on September 12, 2012: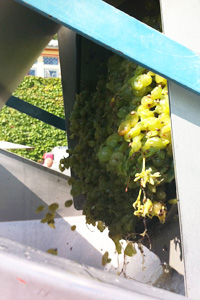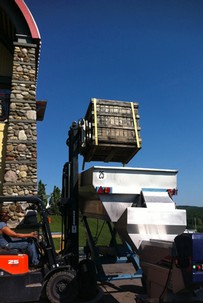 Some of our grapes come from various grape growers throughout the Finger Lakes (Keuka, Seneca, Cayuga and Skaneateles Lakes). One of our growers on the west side of Seneca Lake has planted a vineyard of Valvin Muscat. Valvin Muscat is a cross between Muscat Ottonel (Vitis Vinifera) and a hybrid called Muscat du Moulin. It was developed at Cornell University in Geneva, NY. Valvin Muscat is a hardier variety than most Vinifera, and exudes the same typical lychee and spicy aromas as any European Muscat.
With these grapes, we produce the Heron Hill Muscat. The first release was in 2010 with the 2009 vintage. It sold out in a few months! We are now about to run out of the 2010 vintage, and we will then switch to the 2011, which has the new Heron Hill Classic label and a screw cap! So far, the Heron hill staff has been very excited about this new release about to happen. Just twenty-four hours after bottling, we offered a pre-release taste of the 2011 Muscat at our Label Launch Party on August 1st. It was very well received on a hot summer afternoon paired with roasted turkey and mango-cilantro coulis on a slice of baguette.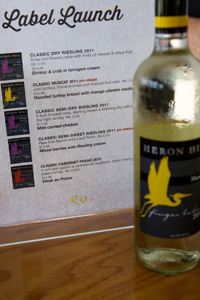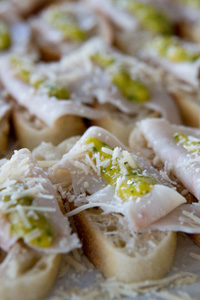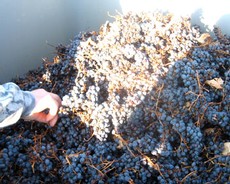 As of last week, we are officially done with harvest. The last crop we picked is a Late Harvest Cabernet Franc we had let hang on the vines at Ingle Vineyard. There will be no Icewine this year, but we are very pleased with the Late Harvest Vidal, the Late Harvest Riesling from Ingle Vineyard and the Late Harvest Cabernet Franc.
In the vineyard, pruning will start with the New Year. In the cellar, we are monitoring the Malolactic fermentations on the 2011 reds, and starting to stabilize the 2011 whites so they will be ready to be bottled in the spring. The 2011 harvest has been one of the biggest harvests at Heron Hill Winery, and somewhat challenging because of the weather conditions and a cellar filling very quickly with freshly pressed juice. Now we have more time to take a more regular pace, after the excitement of the harvest season. But there is always something to do on a vineyard and in a cellar.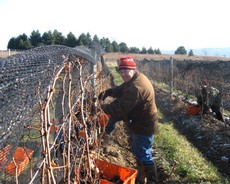 As the holidays approach, I would like to take the opportunity to wish you all a "Joyeux Noël" (Merry Christmas) and a "Bonne Année 2012" (Happy New Year 2012). My wife and I will spend Christmas on Long Island with her Family. Being Italians, they have "The Feast of the Seven Fishes" every Christmas Eve. It is an occasion to see relatives we do not have the chance to visit as often as we wish. There is not that much fish though, mostly lobster tails, shrimp and clams in different sauces and styles. I usually bring some Heron Hill Semi-Dry Riesling, which tends to please everybody. The Heron Hill Muscat remains the favorite for the appetizers.
Traditionally, my mom in France makes the "Bûche de Noël" (Yule log). It is not an easy task to undertake. I have tried to make it myself a couple of years ago: the taste was great, but the cake collapsed and looked more like a layered cake than a round log. But my mom also makes festive dishes that are much easier, which I am able to recreate, given that my mom never uses measuring cups. She was a chef for forty years and never used any of these. She would say: "use a small glass of flower, like the ones we use for dinner, the small ones, not the tall glasses, and overfill it up a little but not too much… Well, you'll see…" Thanks mom, I am so glad I called! It is so clear to me now! So, most of my recipes are done by taste.
For the Holidays, my mom always made Flambée Shrimp. It is so easy and spectacular too. Here's her recipe:
Flambée Shrimp for the holidays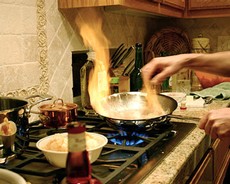 First, sauté some chopped garlic in a frying pan with olive oil (which can be replaced by butter). When the garlic is slightly brown, add the raw shrimp and sauté them on one side for a couple of minutes. Flip them and sauté them on their other side for another couple of minutes, or until almost cooked (can't you feel the resemblance with one of my mom's recipes?) You can add some salt and pepper to taste during this step. In the meantime, in a small saucepan, warm up some Whiskey or Rum, about 1/4 cup. When the Whiskey is smoking (it does not have to be boiling), TURN OFF ALL BURNERS ON THE STOVE (you will see how important that is!), place the frying pan in safe surroundings, clear of flammable objects (I usually leave the pan on the stove as it is a pretty safe spot in my kitchen), pour the smoking Whiskey over the shrimp, and with a long match, ignite the Whiskey. The alcohol will burn with a blue light. You can wait until all the alcohol has burned down, or you can stop the flambée by covering the frying pan with its cover. That will give an extra kick to the dish. If we have guests (I also make that dish just for my wife and I occasionally), they often get awed by the show!

I traditionally use raw shrimp with their shell, and they are eaten as an appetizer. They are quite tasty on their own, but I like to make a homemade Mayonnaise or Aioli.
Homemade Maynnaise or Aioli for the Flambée Shrimp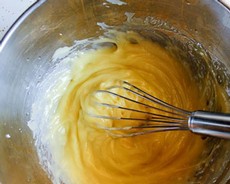 Again, it is very simple: put one to two egg yokes in a bowl, add a pinch of salt and pepper. Then, with a small whisk, start whisking and add olive oil VERY SLOWLY. Towards the end, you can add finely chopped fresh garlic to make it an Aioli ("Ail" means garlic in French). Just dip the shelled shrimp in the Aioli, and enjoy! Here too, the Heron Hill Semi Dry Riesling or Muscat complement the dish very well.
I have made a variation of this recipe to make a main dish at last Valentine's Day dinner I had with my wife at our house. I first sautéed the shrimp in garlic and olive oil until almost cooked, then set them aside in a plate. I then sautéed a little more garlic in Olive oil, and then added some scallops. I did not want to mess up the cooking of the scallops. That is why I decided to cook the shrimp and the scallops separately. Better be safe than sorry on a romantic date… When they were almost ready, I added the shrimp back in the pan with the scallops and then poured the warm spiced Rum, ignited it, and after the alcohol burned off, I poured the shrimp and scallops over pasta. Et voilà! It was quick, efficient, and it looked like I was a skilled French chef! Because the flavors were not as prominent with the pasta, Eclipse White or Ingle Vineyard Chardonnay pair extremely well with the dish.
Enjoy the holidays!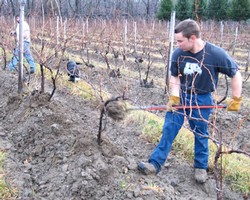 It's December, time to turn the page. It seems as if each month has a focus, October was harvest, November has been shoveling up the dirt onto the vines to protect them throughout the winter cold and December begins the pruning that will continue until March. Hand pruning some 14,000 vines at a rate of 150/day takes all winter, almost every workday until April 1st when the "season" begins. Parallel to the vineyard work is the garden work. (And I use the term "work" in the positive sense as in project or pastime.)
Our game-plan with the garden is to work (focus) for seven months and then enjoy the fruits of our labor for the five winter months. We freeze a lot of our food; spinach, peas, corn, broccoli, beans, all freeze well. Fruits also are stored frozen or dried including pears, strawberries, peaches, raisins, etc. Mother Nature does a beautiful job preparing us for winter storage with root vegetables. Our root cellar is chockfull with potatoes, carrots, beets, parsnips, brussels sprouts, onions, garlic and the "best thing you never ate": celeriac!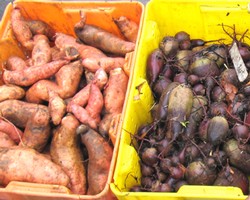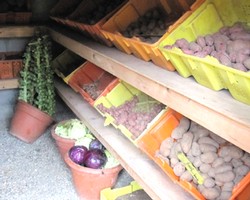 Sprinkled with olive oil, and oven roasted at 400 degrees for 20-30 minutes, along with slices and chunks of the other root crop, it tastes nutty and unique like nothing you've ever had. Try it. Celeriac is also good boiled, mashed and added to mashed potatoes - ah the bounty.
For over 40 winters we've pruned the vines in the daytime and savored the fruits of our labor at night - what's wrong with that game-plan?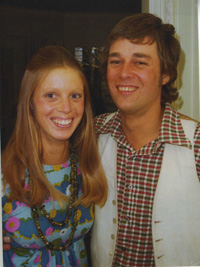 I often get asked "What made me go into the wine business?" Well, nothing made me, I chose to, willingly and enthusiastically. And it's funny because I can almost remember making the decision to do so. I was an English teacher in Colorado and felt there must be more for me. I had been curious about organic gardening and read books about the "farm life".
It was exactly forty years ago, in 1971, that we, my wife, Joey, and I worked in a neighbor's vineyard picking Concord grapes. As I stood on that sun drenched hillside breathing in the smells of fresh air and ripe grapes I realized this was satisfying to me. The rhythm of the work, steady and focused, the rhyme of the workers, chatting and laughing as they worked their way up and down the rows and the thought that it's vintage time! People all over the world, Europe, Australia, America, literally everywhere, were doing the same thing, harvesting grapes, to make wine. A sacramental beverage, as old as history, alive and dynamic in so many cultures and lands, it was inspirational to me. I knew that I had found my path and my loving wife has walked by my side for forty years, pursuing a career but more so, a life and lifestyle of living a "farm life".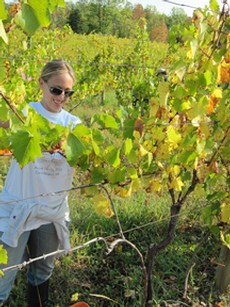 Hello, I'm Josie Holden, the daughter of owner John Ingle. This fall, I was apart of the 2010 Harvest at Ingle Vineyard. It was a great experience and we think this will be a great year for wine, especially the reds. I always enjoy the harvest time and being a part of the family business. It always makes me proud to know that my parents started this from the ground up. I have been working for the family business for a couple years in retail and providing wine tastings. We have opened a new wine tasting room on Canandaigua Lake, on the wine trail. I had the opportunity to work there during the summer and fall season. We had a slow turn out at first, but once word of mouth got around, people visited and enjoyed their experience. I am looking forward to what lies ahead for next season.
During the 2010 Harvest I got to do something new this year. I helped pick some Botrytis grapes, also known as "Noble Rot" for the first time, which are Riesling grapes. I learned something new, which is that this can happen if all the conditions are right, as my father, wrote about in his blog. When we were all picking the grapes, everyone had their own bucket and we were only allowed to pick the really moldy and brown grapes. My father called this "selective picking". Botrytis grapes can be made into a dessert wine. When a Riesling grape has Botrytis it makes the grapes sweeter and higher in sugar content. That is why these grapes are perfect for making a sweet wine.
Every year is different and I look forward to all the exciting times that lay ahead for our vineyards!

By John Ingle, Owner/Grapegrower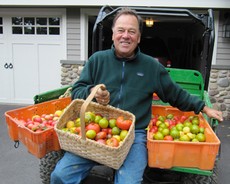 As always, harvest 2010 has been a wild ride. Fueled by one of the hottest, and wettest years ever, grapes ripened a month early! We were almost guaranteed a great year, it was just a matter of how far we could push our luck for further excellence. Having my wife, daughter, son-in-law and many friends help with the grape picking made it even more of a labor of love. We shared the rhythms of the harvest; hurrying, waiting, wet, dry, cold, tired, excited all mixed together and multiplied by 12 or 15 of how many pickers we had day to day.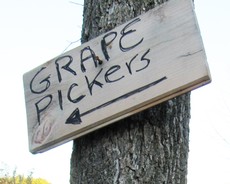 As the season progressed we brought in wave after wave of beautiful, ripe grapes - Pinot Noir, Chardonnay and Cabernet Franc, all up to 26 Brix, incredible! As the Riesling ripened we got 6 days of warm monsoon-type rain and glorious green prapes turned nut brown almost overnite. It was rot! Closer inspection revealed a sweet raisening aroma and flavor...it was "Noble Rot", botrytis, Mother Nature's gift to dessert-wine lovers. The crew tightened their belts and made four different "passes" through the two acre vineyard much of the time on hands and knees picking up fallen grapes off the ground and never a peep or ugh or yuck! It was a team effort rewarded with a "piece of history". The 2010 Ingle Vineyard Bunch Select Riesling will carry memories of effort and excellence - to be shared with joy with friends and family for many years.
By Jo Ingle, Owner/Grapegrower

Our garden has been put to bed after yet another bountiful season. There is still much to do!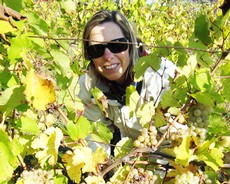 All through the summer months the ripened vegetables are harvested, sorted, cleaned, cut and prepared for freezing. This year has been particularly good. The long hot summer days with a bit of rain here and there, helped to make for an abundant crop of vegetables and fruits. We grow everything! Spinach, peas, beans, strawberries, raspberries, blueberries, corn, melons, squashes, artichokes and more. You name it, we grow it. In addition to the produce going into the freezer, we also can spaghetti sauce, bread and butter pickles from an old family recipe, and beautiful pink applesauce made especially for the grandchildren.
Winter is here. The days are short and cold. The kitchen is filled with the aroma of jellies cooking and hot paraffin melting. The freezer is full, the cupboards are packed, and we're ready to hunker down and enjoy the fruits of our labor.

By Bernard Cannac, Winemaker
Harvest started much earlier than last year. We had more heat and more sun in 2010 than we did in 2009, which explains why the grapes got ripe earlier. We started on September 3rd with some Seyval Blanc for the Game Bird line. It was followed by some Pinot Blanc and Pinot Gris dedicated to the Eclipse White blend. Then Pinot and Chardonnay came in at the same time; these two varietals tend to get ready to pick close to each other, with Pinot Noir being slightly earlier than the Chardonnay, but not this year. The Muscat has been picked at around that time too.
We actually just released the 2009 Heron Hill Muscat this week, and it is selling very quickly, people are enjoying it. We only produced 300 cases and I have the feeling they will go fast.
This week we picked most of the Riesling, trying to dodge the rain as well as we could. The decision to pick a block before another is based on the maturity level of the fruit, the sugar content and the acidity, but also the flavor profile, which we call aromatic maturity, which is for me the most important. Another factor is the weather and the sanitary condition of the block. And then we have to add the logistic factor. All this makes harvest very exciting.
Next, will be the rest of Ingle Vineyard Riesling being picked today. We will also see some Cabernet Franc be harvested next week. The picking frenzy will slow down with some Cabernet Sauvignon the following week and then we will see what the weather does and what we can hope for our dessert wines. It is always nice to have a plan or a schedule, but ultimately the weather will dictate the speed of harvest.
Once all the grapes have been picked, it might look quieter outside, but the party continues in the cellar for the fermentations, which demand constant attention and care. Even if harvest is early this year, don't worry, we still will be busy until the Holidays!