Last week we had what seemed to be spring's prelude, only to have the cold come back. Looks like spring wants to pop out, but winter is not quite done with us yet. In the vineyard, we spent the month of March pruning the Riesling, then the Muscat. The weather hasn't been cooperating too much, but we're getting by. The couple of warm days we had last week were enough to make the vines "cry": the sap is flowing in the plant, sign that the vine is getting out of its dormancy, dawn of a new growing season. In the cellar, Brian keeps pushing things along: the 2010 reds are in barrels for the most part, and we are catching up on our bottling, if this machine would only co-operate…
On April 22nd, students from SUNY Morrisville will be visiting us. Brian will give them a tour of the winery, since I will be in France visiting my family whom I haven't seen for over three years.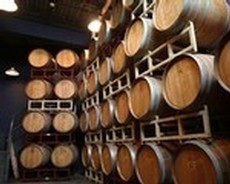 On April 30th and May 7th, we will be hosting an event for our wine club members. It will be a three hour event, including a cellar tour with a barrel tasting, wine tasting in the tower (weather permitting), and a tasty luncheon prepared by Ollie, The Blue Heron Café's chef, which should open for the season by the end of May. Depending on the weather, we will also take our wine club members out on the vineyard for an overview: we might be able to see how the new shoots are evolving. It is hard to tell now when budbreak will be, though, and how early or late the season will actually start. Last year we were burning hay bails against spring frost from late April until early May.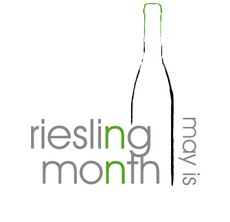 We'll be participating with Spring into Riesling in April and May is Riesling month, we will be showcasing a Vertical Ingle Vineyard Riesling tasting. We'll let you know in our newsletter (sign up here). This special tasting will also be available at our two satellite locations, on Seneca Lake and at Bristol on Canandaigua Lake.
We are slowly getting away from winter, which means we are gearing up for the season, in the vineyard, in the cellar, where it never stops, and in the tasting room. Sometimes the production crew gets to participate with helping to set up events, but when the party's over, we get back to the cellar or the vineyard. It's nice to take a break and get involved in a few key events. Group effort! Click here for details if you're interested in attending the wine club barrel tasting and tour event.

Heron Hill has been fortunate to be involved in wine dinners over the past two months. Winemaker dinners are always a great way for Heron Hill to showcase our wines and the chefs get to go "out of the box" and create something extra special for their wine loving guests.
As many of you know, we have a unique set of wines including the Ingle Vineyard series, which is grown on Canandaigua Lake. These single-vineyard, local wines make a wonderful addition to a gourmet meal prepared with local products. Each one of these dinners was different and I thought it might be fun to highlight them in the blog. I am sad to say, I got so caught up in the events that I did not snap a picture of any of these dishes, which were masterpieces.
Ristorante Lucano, 1815 East Avenue, Rochester, NY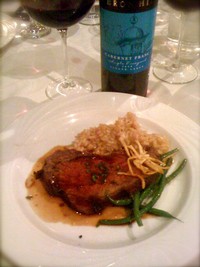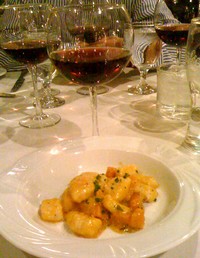 (www.ristorantelucano.com). A wine dinner with a twist "New York Meets Italy" was the theme of the dinner. Owners, Chuck and JoAnn Formosa were our gracious hosts for the evening. Chef Kevin prepared all the dishes made of locally grown food and produce including a Lively Run Farms Goat Cheese, homemade Gnocchi and Bison Strip Steak that melted in your mouth.
Lucano is a hidden jewel on East Avenue, if you're looking for a great southern Italian meal; fabulous wait staff and a cozy atmosphere stop by and visit Chuck and JoAnn.
Rabbit Room, 61 North Main Street, Honeoye Falls, NY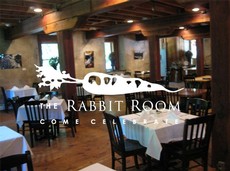 (www.thelowermill.com). The Rabbit Room, about 10 miles south of Rochester is a beautiful venue for dining. The Lower Mill in Honeoye Falls, New York was a grist mill built on the banks of Honeoye Creek by Hiram Finch in 1827. The Gallery steps go through the restaurant and onto the second floor. Andrew Penner and his wife Alison DeMarco have put together American cuisine with a new modern twist. They accredit their success to the local farmers and his dedicated staff.
Once again, our meal was prepared with a "local" theme. Chris Januzzi, our chef for the evening prepared and incredible dinner that was paired perfectly with our Ingle Vineyard wines. Seven Bridges Farm Pork Tenderloin and Braised Short Rib topped the list, with locally grown mushroom with organic chicken thigh.
Even though our winemaker, Bernard could not make it up from Hammondsport because of a snowstorm, which landed him in a ditch, (Bernard was safe) we all had a wonderful time with great food and great wine. Their hours are limited, but worth the trip to Honeoye Falls. I would also consider this venue for a unique special event, which is one of their specialties. They also have events on a regular basis. Check out the Rabbit Room's website.

Good Luck, 50 Anderson Avenue, Rochester, New York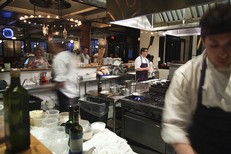 (www.restaurantgoodluck.com). If you have not been to Good Luck, it is an experience that must not be missed. Dan Martello, chef/owner, prepared an amazing tasting dinner for 20 people at a cozy corner of the warehouse space. You get a real NY feel when you enter this restaurant. Good Luck is a fine dining restaurant located in the old Fabrics & Findings, offering a seasonal menu using local produce, meats and cheeses. Meals are served family-style. They are only opened Wednesday through Saturday, but they also serve a late menu until 2:00 am.
Once again, this meal was amazing. Crispy Finger Lakes pork belly, Lively Run Goat Cheese and Hudson Valley duck breast were some of the offerings, paired carefully with Ingle Vineyard. Chef Dan did something unique; in that each sauce for each dish was prepared with Ingle Vineyard, which made is particularly special. The entire group had a wonderful time, and we are looking forward to teaming up with Chef Dan soon.
If you are in the Rochester area, stop in to any one of these places and enjoy a unique dining experience.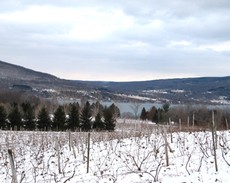 One of the most frequently asked questions I get is "What do you do all winter when the vines are dormant?" I can assure you, it isn't nothing. I was a youth hockey couch for 20 years in addition to working 20 acres of vineyard. We raised four kids and I was there every day to greet them off the school bus, top priority. But the constant activity through that time is the "bushwacking" of some 12,000 vines each winter for the last 40 (!) years. Simple math gives an idea of the measure of the task. I can prune 150 +/- vines a day on a good day - divide that into the 12,000 vines I've always had (until adding the 1,000 vines each of Merlot and Cabernet Sauvignon last spring, that is 80 work days, or 14 work weeks. We finish the harvest in November, or early December when we make Icewines, then we cover the bases of the vines, called "hilling up", into December. Take out holidays, snow days, assorted projects and distractions and it's a busy winter. April 1st is our "done" date for pruning, the start of the vintage season. I will blog on that process later.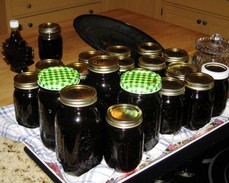 As the winter work wraps up, temperatures climb and it's time to make maple syrup. We get 5 to 10 gallons of syrup off about 60 taps. We used to burn the sap down with grape trunks. I thought I might be the only guy to do that - in the world! Another spring tradition here is cleaning the bluebird houses. Migratory as well as resident bluebirds like to pair off and prepare for nesting in March, so the houses, (we have about 50 of them) need to be clean and ready for April 1st.
Doing these and other side projects every year gets you into a pace, a rhythm, of nature and life. It can be hectic but it also brings a simple continuity that makes farm life satisfying. Soon it will be spring.
Recent Posts
November 13, 2019

October 16, 2019

May 9, 2019

April 22, 2019

January 7, 2019

July 27, 2017

December 27, 2016

December 9, 2016

November 11, 2016

November 7, 2016
Blog Categories
Blog Archives
Our Writers