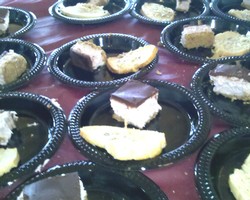 What a great season, I made it through October and just finished two busy sold-out weekends of Keuka Holidays, two of our biggest weekends of the year! We had a record-braking crowd on the first Saturday with over 1000 people through the door…wow was I tired! We served a fabulous Roasted Red Pepper Soup topped with an Asiago Crisp and a side of Eclipse Red Raspberry Cheesecake. We received rave reviews from everybody, check out the links for the recipes!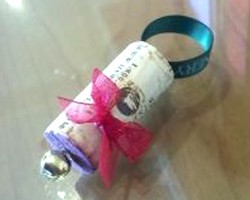 This year we had one of our staff members, Lauren, hand make 1,200 cork ornaments. Lauren spent countless hours tying bows, cutting ribbons and gluing jingle bells on each cork. I think Lauren recruited a few of her friends to help her with this project…maybe enticing them with a home cooked meal and lots of wine!
As the 2011 season winds down, we are already gearing up for 2012! I have already booked tons of groups for the upcoming season, especially October (one of the busiest months). I am also working on ordering a great present for our wine club members (sorry…can't reveal the secret yet!). The final shipment of the season is always a great one with two of our most special wines leaving the building…the Gold Club is even receiving an unreleased wine!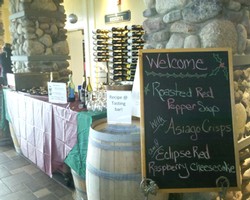 As I get ready to take a small breather, Bernard (our winemaker) just stopped by and said that we are going to hand-pick our Late Harvest Vidal Blanc next Wednesday! Even though it is my day off, I am a trooper and will be there with bells on! I am just thinking about what I will bring for a hot drink to keep me warm while picking, maybe hot mulled cider with a little Goldschläger?
Remember now that it's the slower season, (the best time to visit in my opinion), you can stop, visit and taste for an hour or two and we can try to solve all the world's problems!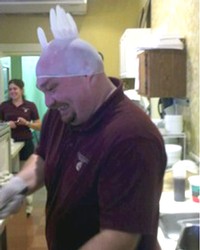 With the unpredictable October weather, some improvisation was necessary. Cool, rainy days brought smaller crowds, but the limited seating in the Blue Heron Café was challenging even for lighter crowds. Putting the tower heaters and conference room to use helped to hold the crowd. For the last weekend, we even used one of the tent sides to close off the opening of the awning. All of these tactics combined worked well to keep the crowds happy!

Tunes in the Tent proved to be another great series for the year. From Virgil Cain and the Movers to the Keuka Kats, we saw good crowds for most of the events. The Wine Club VIP members really seemed to enjoy the events too. Again, weather offered a few challenges, but the big tent heaters kept everyone cozy under the cover. Look forward to the lineup for next year's Tunes in the Tent to come out by February!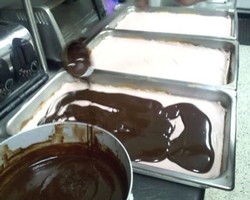 Last weekend and this upcoming weekend will wrap up Wine Trail events for the year. For Keuka Holidays, I will be preparing a Cream of Roasted Red Pepper Soup topped with Asiago Crisps and an Raspberry Cheesecake with Chocolate Eclipse Ganache. The soup is one of the Café favorites and the cheesecake is a recipe that I developed on a whim, featuring raspberry and Eclipse Red in the filling and topped with an Eclipse Red Chocolate Ganache. The numbers for this event are amazing, we served just over 1000 people on the first weekend and expect to see nearly 800 next weekend! As we approached the end, we had to makes sure it stayed fun!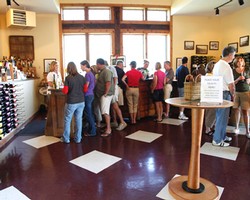 We have had a fantastic year at Heron Hill at Bristol on Canandaigua Lake. All of our staff live such diverse lives outside of Heron Hill; we thought it would be fun to introduce all of them to you. Employees wrote a bit about themselves, enjoy the insiders view about the Bristol staff!

First, let me introduce myself. My name is Josie Holden; I was born into this family business, when I moved back to the area and began working at the Bristol location. On school breaks I worked at the main winery on Keuka Lake. I currently enjoy working at the Bristol tasting room as the Assistant Manager and being a part of Heron Hill Winery. I hope one-day to take it over and keep the family business running. In my spare time, I enjoy fishing with my husband, photography, cooking and gardening. When I started at our Bristol Tasting Room, I knew it was going to be a success and I was right! We have done really well at our location and grown and I have learned about what it is like to be part of a small business and help manage it.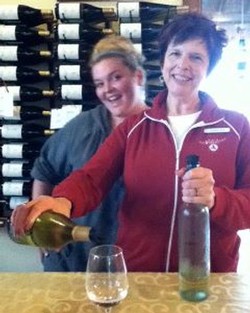 Christina Bowe, our Manager, has been here for more years than she would like to admit to. Christina started at the Rochester Public Market when her daughters were young as a part-time position, then spring-boarded into the wholesale department for Heron Hill Winery. When the opportunity for the position opened up at Bristol, she thought it would be a fun transition and a little more relaxing. That definitely was not the case, but she has enjoyed every minute of it. She loves traveling, cooking and listening to great music.

Chelsea Bowe is Christina's daughter and began going out with her Mom when she was old enough to pour. After trying several different ideas for a career she began helping her Dad who is an Electrical Contractor. She has now been working with him for over four years and really loves it, but found herself occasionally helping her Mom at festivals and wholesale events. When Christina started her job at Bristol, Chelsea joined the team as one of our experienced tasters, and was dubbed the "Group Taster" since she is very comfortable with large groups. Chelsea says, "Even though I have a 'real' job, I truly enjoy the contact with people."

Karyn joined Heron Hill last season as a wine server at the Winery on Keuka Lake. This season, she joined the staff at Heron Hill's Bristol tasting room, since it is in her neighborhood. When she isn't serving wine she is a technical writer and e-Learning consultant. She keeps herself busy five nights a week with dance, dance, dance and more dance (swing, salsa, rumba, jazz and most recently, tap dancing).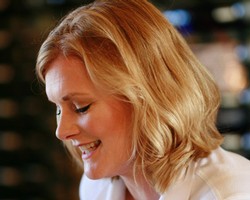 Stephanie Von Bacho joined the Bristol tasting room in September of this year after stopping in for a tasting. As a wine enthusiast, she is certified by the WSET at the advanced level and loves teaching people about wine. Stephanie works occasionally, mostly weekends, as her day job at the University of Rochester Medical Center overseeing education for 3,500 nurses which keeps her pretty busy. Stephanie and Scott live in the Finger Lakes with their 2 goats, 26 chickens, 2 dogs, a cat and 2 horses.

Sandy Robinson, a newbie to the wine industry, feels that she could not have had a better entry point into the business than Heron Hill. She will be starting a Wine & Spirit Education Trust (WSET) wine course with the New York Wine and Culinary Center; and will be traveling to Northern California in the spring in order to scout wineries and apartments for a likely future move. Most of her adult life has been spent in the movement arts and alternative wellness fields. As a soccer player in high school, and squash player in college, she never would have thought that she would enter the world of dance. She parlayed her participation in Rochester-based dance companies into teaching dance, then Pilates, which led her to yoga, which she taught for 10 years. Yoga along with qi gong and essential oils became part of her therapeutic treatments for clients when she obtained a massage license and opened a practice. She also has a Master's degree in multicultural/multi-religious studies.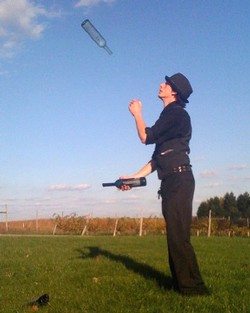 Joshua Zubrzycki also joined us in September. Joshua has been known as a person of many talents. We call him "our entertainer". He is artistically talented as a haberdasher, viticulture technician at FLCC, jewelry making and our FAVORITE, a juggler (makes his own juggling balls). He has also been practicing juggling Eclipse bottles!

Debi Combs, our Southern Bell, has brought a lot of knowledge of living in the South to our Heron Hill staff. She moved here with her husband who is employed at the Finger Lakes Race Track. They have been on the horse racing tour for many years. Debi herself worked at several tracks.

The staff works together well, we all have different lives outside of Heron Hill, but together we work as a GREAT TEAM.

Recent Posts
November 13, 2019

October 16, 2019

May 9, 2019

April 22, 2019

January 7, 2019

July 27, 2017

December 27, 2016

December 9, 2016

November 11, 2016

November 7, 2016
Blog Categories
Blog Archives
Our Writers