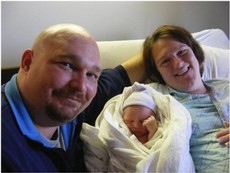 I would be remiss if I didn't start by noting the arrival of my son, Morgan Ronald! He was born New Year's Eve morning. Both Morgan and Mom (Tanya) are happy and healthy. At this point, he has grown to nearly 10 pounds. Sleep has become a precious commodity, but that is to be expected.
Recently, I have returned to the wonderful world of Wholesale Sales. January, despite the weather, proved to be a highly productive month for me! I managed to travel from Cooperstown and Syracuse to Cuba and Salamanca. While riding with our distributors' sales reps, I managed to sell a fair amount of wine. In particular, I look forward to the addition of the entire Ingle Vineyard series at Allen's Wine & Spirits in Olean. With John Coco coming on board, I expect to see increased interest while I'm on the road.

A fair amount of my time is devoted to booking store tastings and scheduling events. We will be pouring at Corning's Cabin Fever this Friday. I have scheduled tastings from Savor Syracuse to the Alfred University Alumni Gala and look forward to the next Cork & Fork.

As for the Café, I was looking forward to a relaxing winter before revamping the menu and beginning to assemble my staff. Kitty, Paul, and Kara have been contacting me about the new menu to pass along to upcoming groups and promotions. With the amazing response to the menu that we saw last year, changes will be minimal. I have had requests for particular items and am considering these.

Additionally, we will be hosting a weekly Happy Hour at the Café. Initially, we were considering Thursday, but Music in the Park may draw our perspective crowd away. At this point, I think that Wednesdays might be a better option. The plan for this event is to offer tapas, wine by the glass, and beer by the bottle. I think that with Kitty's amazing networking and publicity savvy, we can expect an amazing turn out. I am considering a discount for employees of other wineries…

Next weekend, we have the first Wine Trail event of the year. I will be making Curried Chicken Satays and a Raspberry Cheesecake. The ladies in the office are a bit concerned that I will not be fully prepared for this event, so they recommended that I make an extra cheesecake, just to be sure. With that said, if you are at the winery on Monday, ask for leftovers!

By Mike "Ollie" Oliver, Wholesale Sales Representative
Highlights from the world of Wholesale Sales: As the newest members of the Wholesale staff, I have had the opportunity to meet a wide variety of personalities. I thought I would take this chance to share some of the more memorable moments from the road.

First and foremost, it's important for you to know that I have had no sales experience of this type before joining the Heron Hill Winery team. I have learned, the hard way, that there are unwritten rules and procedures to meeting with Wine and Liquor store owners. For example, if you walk into a store and the owner or manager is meeting with another Sales Rep, you have to wait for them to finish. This, apparently, applies even if you have made an appointment! I walked into a particular store and saw this unfolding. I was about to go back outside and wait, when the owner asked if she could help me I introduced myself and was about to explain my intentions, to which she responded, "Well, you can just go outside and wait until we are done!" This was not exactly the warmest greeting that I have received, but after the other rep left, I went in and the owner had a totally different attitude.
Last week, I was in Scotia working with one of our distributor's Sales Reps. After four mind-numbing hours of driving and a miscommunication with the navigation system, I was able to find the store where I was to meet with the rep. I parked, noticed that I was right on time, and called the rep to see if he was already in the store. He responded with, "At the store? We aren't meeting until tomorrow!" He dubbed my response as "dead silence", but let me dwell on it for a moment. Then, he let me off the hook by saying, "Yeah, I'm inside. I just had to start the day off right!" After meeting him, I realized that this was par for the course with him; watching him interact with his customers was comical at times!

I have also had the highly productive visits that ensure that I can continue to come to work. After being introduced by our distributor's Sales Rep to a store owner and pouring samples for him, he proceeded to order in 9 different wines! As it turned out, he hasn't been open for very long, but he is slowly trying to build a New York State wine selection. I have learned that this job is all about timing.

Several weeks ago, Paul Wilson, retail manager at Heron Hill winery, and I met with Brianne, the manager of the Switzerland Inn on Keuka Lake. She had approached us about doing a wine and food pairing dinner. She showed us menus that they have used in the past. Suffice it to say that I was very impressed; in general, six courses that showed some real ingenuity and forward thinking! We will be meeting with the Chef soon to start looking at the menu for the event. If he is open to it, I may even offer to take a course or two! Keep an eye out for tickets; they will only be seating 40 for this event. More information will be available soon.