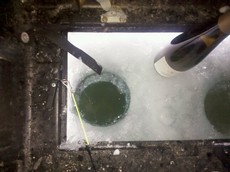 After everything Mother Nature has dealt us so far this season, from lots of snowfall (for most of the season) to a big melt last week to another snowfall a few days ago, I have been able to take full advantage of this beautiful winter. I know not everybody loves this weather, but there is so much to do outside and this snow won't be around very long. I have been lucky enough to be given a fishing shanty (Thanks Stime!), even though it had a few holes in, it works perfectly with a little Gorilla tape holding it together. We went out ice fishing last week and just when I thought I was going to be skunked, I stood up took a drink of my favorite wine the Old Vines Riesling Reserve and PRESTO….I had a blue gill on my line! So exciting! I think the smell of the Riesling was probably what drew all the fish in. After having the "boys" filet all the fish we sat down for an amazing Perch and Blue Gill dinner with rice, homemade dinner rolls and of course more Riesling.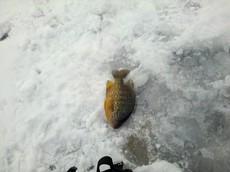 One of my absolute favorite things to do in the winter is to go snowmobiling. It is such a great way to take in the scenery and get to explore the countryside. The Bath Snow-Flakes Snowmobiling Club does an amazing job of keeping the trails groomed and smooth. It is such an exhilarating experience and the most exciting sport there is to do in the winter, especially with lots of great friends. It is a perfect thing for the whole family to do and is usually a mini-vacation for me. A great time for me to think while having fun…..
Another activity that I find enjoyable to watch (NOT participate in…!) is the Polar Bear plunge that is going to be taking place at the Switzerland Inn here on Keuka lake. It is going to be held on March 26th this year. I have been several times and always enjoy watching the "crazies" jump into 32-34 degree water! The jumpers usually dress up in costumes and if I am remembering correctly I think they give out many different awards for costume design, best jump and different things!

On our slow snowy days at the winery we even try out our front hill for some sledding! I am going to try to get my snowmobile up here to the winery so that I can even help out the vineyards guys…they are sick of trudging through the deep snow in the vineyard!

Well, here's to praying for more snow so that I can continue to snowmobile, ice fish and maybe even enjoy some more sledding!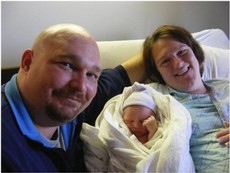 I would be remiss if I didn't start by noting the arrival of my son, Morgan Ronald! He was born New Year's Eve morning. Both Morgan and Mom (Tanya) are happy and healthy. At this point, he has grown to nearly 10 pounds. Sleep has become a precious commodity, but that is to be expected.
Recently, I have returned to the wonderful world of Wholesale Sales. January, despite the weather, proved to be a highly productive month for me! I managed to travel from Cooperstown and Syracuse to Cuba and Salamanca. While riding with our distributors' sales reps, I managed to sell a fair amount of wine. In particular, I look forward to the addition of the entire Ingle Vineyard series at Allen's Wine & Spirits in Olean. With John Coco coming on board, I expect to see increased interest while I'm on the road.

A fair amount of my time is devoted to booking store tastings and scheduling events. We will be pouring at Corning's Cabin Fever this Friday. I have scheduled tastings from Savor Syracuse to the Alfred University Alumni Gala and look forward to the next Cork & Fork.

As for the Café, I was looking forward to a relaxing winter before revamping the menu and beginning to assemble my staff. Kitty, Paul, and Kara have been contacting me about the new menu to pass along to upcoming groups and promotions. With the amazing response to the menu that we saw last year, changes will be minimal. I have had requests for particular items and am considering these.

Additionally, we will be hosting a weekly Happy Hour at the Café. Initially, we were considering Thursday, but Music in the Park may draw our perspective crowd away. At this point, I think that Wednesdays might be a better option. The plan for this event is to offer tapas, wine by the glass, and beer by the bottle. I think that with Kitty's amazing networking and publicity savvy, we can expect an amazing turn out. I am considering a discount for employees of other wineries…

Next weekend, we have the first Wine Trail event of the year. I will be making Curried Chicken Satays and a Raspberry Cheesecake. The ladies in the office are a bit concerned that I will not be fully prepared for this event, so they recommended that I make an extra cheesecake, just to be sure. With that said, if you are at the winery on Monday, ask for leftovers!
Recent Posts
November 13, 2019

October 16, 2019

May 9, 2019

April 22, 2019

January 7, 2019

July 27, 2017

December 27, 2016

December 9, 2016

November 11, 2016

November 7, 2016
Blog Categories
Blog Archives
Our Writers