October brought a first for me at the winery, also known as "Tunes in the Tent"! I had reviewed past sales with Christy, our CFO, but I wasn't quite sure what to expect. In the end, we discovered that in general, it isn't worth it to keep the Café open while the party is going full bore in the Tent! The obvious exception to this is Columbus Day weekend. I am resigning myself to the fact that for all intents and purposes, for this weekend, "all bets are off"! Columbus Day weekend proved to be the busiest three day stretch that the Café has seen for the entire year!

As the season came to a close for the Café, the seasonality of the business came around to show itself. We had closed for most of the weekdays, but as October came to a close, even the weekend crowd started to dwindle.
The first annual Cork & Fork offered a brief foray back into the Wholesale market for me. This event, held in Seneca Falls, was the first "selling event" that I have ever attended. As a first for me and a first for them, there was a fair amount of last minute conversation about the finer points of the event. When it was said and done, we got some amazing exposure from the Friday night VIP tasting! We were paired with Dano's (in Hector) for the evening and all were impressed with our coordination. Saturday brought the selling end of the event. The expected crowd was much larger than the actual crowd, but after all, it is the first annual event…

While the Café was closing for the season, which was accompanied by a flurry of cleaning and storing of equipment, I had a chance to witness an event that I hadn't had a chance to experience before. The tear down of the tent was a monumental experience for me. A mere two days after our last Tunes in the Tent, the tent as a whole was disassembled for the year. This might also be read as "After putting on our last big show of the year, I only had a day to clean up!" Without realizing it, we had stored a fair amount of stuff under the tent!

With the Café closed, it was time for me to return to Wholesale ventures. Specifically, the task at hand is to touch base with my year-round accounts to ensure that they are prepared for the holidays. This, of course, allows for the chance to show off the new vintages! Some of my customers have seemed to be a bit put-off by the fact that I have had to split my attention for the year. After explaining that if they simply purchased more wine…

How could I leave this entry without mentioning the close of the final Wine Trail weekend of the season?! After preparing the Chicken Riggies for consecutive weekends of Keuka Holidays, let's suffice it to say that I am looking forward to a chance to "find my muse" for February's event, Truffles & Tastes! To be fair, it has been a fun year of Wine Trail food. I am, however, looking forward to a surprise for February, maybe homemade Truffles…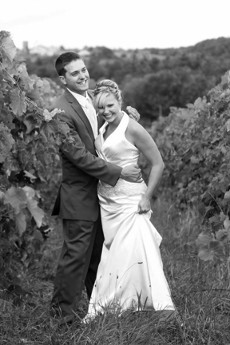 I have completed my first season at Heron Hill Winery!! What a season it was! Between weddings, ordering for the gift shop and my own wedding, it was crazy. Let's just say the honeymoon in St. Lucia was more than needed!
I had to the pleasure of working with several wonderful couples this summer and fall. Each wedding had their own unique twist and a party to remember. I want to thank all of them for choosing us as their venue. They helped make my first season memorable.
I also had the pleasure of working with some of the wedding industries finest: Corning Catering, Around the Corner Catering, The Village Tavern, Finger Lakes Entertainment, Dianna Hart, Chrissy Albright, Schwartz Photography, Van Scooters, Pleasant Valley, Bath Floral and others. Everyone was a joy to work with and made every detail perfect.
As for my own wedding in September...it was PERFECT!! Thank you to all of the Heron Hill staff that helped to make my day special. We had an amazing time followed by an unforgettable honeymoon in St. Lucia.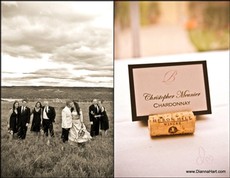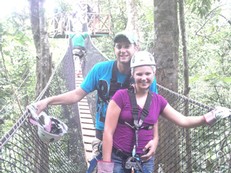 We spent 7 glorious days laying on the beach, zip lining, hiking and swimming in the ocean. We stayed at the Sandals Regency La Toc. The resort was gorgeous. The food was fantastic. We had the option of dining at 8 different restaurants each night. We drank our share of the local beer called Piton and sampled several of their specialty drinks. I highly recommend St. Lucia to honeymooners and couples for a relaxing, well-deserved break from life!
As fall comes to a close, I am finally catching up on orders for all those Christmas goers. I have created an assortment of gift baskets here this season. They make great gifts for just about anyone. Be sure to visit our website or stop in to browse what we have to offer. Gift cards are my favorite gift to give for the holidays as well. Why not give the gift of wine! We also have several wine clubs that are a great idea as well. Wine clubs are the gift that keeps on giving!!
Come visit us in the off-season and happy holidays!!

We survived Columbus weekend. Phew! So many people, so much wine, so much fun.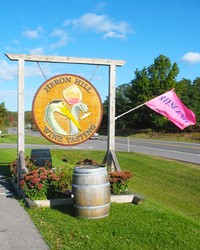 It is hard to believe that more than 7,000 guests have passed through the doors of "Seneca" this season. Reflecting back over the past several months, I think one of the best aspects of working in a tasting room is getting to know our customers, and realizing that no matter where we call home, we are all very much alike. There is a common love of family, food and wine. We enjoy all of our guests, but there are some that strike a cord. One such visitor is the Mom from the Bronx who, four years ago, came in a little teary-eyed after having dropped her daughter at college. I have seen her every semester since as she makes her trek to pick up and drop off. A wine novice initially, she has become a huge Riesling fan and always takes some Classic Semi-dry home with her. This June will probably be our last encounter, but it has been fun watching the progression from freshman to senior Mom.
Another memory involves a young couple married in July 2006, the summer we opened, who were honeymooning in the Finger Lakes. They too have returned every year to enjoy a tasting and celebrate their anniversary. This year they asked for only one glass and he tasted solo as they are now expecting their first child.
And I will be forever grateful for Mrs. C., my high school French teacher who's tenacity helped me retain enough vocab to fumble through a tasting with a group who spoke almost no English. (Bernard, where are you when I need you?) I'm not exactly certain what was said, but a good time was had by all. There are enough stories to fill a book.
Fall is really a beautiful time to visit the wineries. Leaves are turning and the smell of grapes is in the air. As the weather cools our tastes change and we make the transition from light and refreshing to warm and comforting. There will be more Classic Cabernet Franc and Reserve Pinot Noir on our table, more soup and hearty pastas.
Many thanks to our visitors from near and far for what you bring to our "table". We enjoy meeting you and hearing your stories. We appreciate your interest in our wonderful wines that require so much attention and work to get from vineyard to bottle and also your appreciation for the beautiful Finger Lakes area. Many thanks also to our terrific staff who put in some hectic days and do such a good job.
A votre santé!

By Christina Bowe, Wholesale Sales Manager
It was my honor to do two GreenMarkets in the New York City area last weekend. The GreenMarket is a program of GrowNYC and was developed to support local farmers while offering over 600 varieties of delicious farm-grown products to City residents (organic meats, breads, vegetables, soaps, artists and, of course, NY wines.)
This was actually my second visit to the market as a visiting winery. The reception was amazing to NY grown products. These markets are a bit different from any markets I have been to in upstate. These markets require that only locally grown, locally produced items be offered, with the exception of a group of clothing recyclers that had mountains of clothing at the end of the day that they brought to centers to be used by the less fortunate. No crafts, no vegetable wholesalers are allowed to set up. This makes for the most incredible choice of selections.
Brooklyn Market Amazing….Prospect Park, Brooklyn, NY
Both days we were lucky enough to be next to Cayuga Pure Organics. The founders of Cayuga Pure Organics have been involved in the Ithaca, NY farming community since the early 1970's. In 2003 Erick Smith and Dan Lathwell furthered their commitment to the region's citizens and environment by joining together to form Cayuga Pure Organics. They have grains, flour, beans and the most amazing bread I have ever tasted. Unfortunately, they ran out of it on Saturday and then again on Sunday. We didn't have a chance to purchase.
Milk Thistle farm drives from Ghent, NY to service all the Greenmarkets in the City. They are an intimate, organic farm that knows the cow's names and allows them to stay outside during the growing season, only bringing them in for milking. They were on the other side of us. I could not get a picture; there were lines of people and our stand was extremely busy. The locals religiously bring their glass milk bottles back to the stand for a new bottle filled with delicious organic milk and even small pints of chocolate (which, of course, I tried…..like melted chocolate ice cream in a bottle.) It was a sight to see that before the end of the day were completely sold out.
Brooklyn's Prospect Park is known for being a family-friendly park, as well as a dog park. We saw every breed of dog at the Westminster Dog Show with some mixed breeds missed in. Families brought their children with picnics, and musicians playing for family at friends. You truly had to be there, a sight to see.
A personal training group set up hula-hoops, yoga mats and other hand-held equipment and all were having a blast trying out the different exercises. A unique marketing tool, but also added to the festivities of the market. If you ever have a chance to go and visit Brooklyn on a Saturday, it is definitely necessary to see.
Manhattan on Broadway at Columbia University, Sunday Morning
The atmosphere was different with the same vendors attending. Set up along the street but it seemed not to have the dedication as yesterday's market. We were definitely welcome in "The Big Apple" and the exposure of Finger Lakes Wines was amazing. It was amazing to me to hear how many people did not know where the Finger Lakes were located. That just validated the fact that we were educating and exposing consumers to the great wines of the Finger Lakes. The favorites of the consumers were our Ingle Vineyard Series for it's sustainability and the Eclipse series. The Vidal Blanc was a huge hit; unfortunately, I did not bring enough to satisfy the demand.
I am looking forward to next season and the possibility of making it to the markets again.

By Bernard Cannac, Winemaker
Harvest started much earlier than last year. We had more heat and more sun in 2010 than we did in 2009, which explains why the grapes got ripe earlier. We started on September 3rd with some Seyval Blanc for the Game Bird line. It was followed by some Pinot Blanc and Pinot Gris dedicated to the Eclipse White blend. Then Pinot and Chardonnay came in at the same time; these two varietals tend to get ready to pick close to each other, with Pinot Noir being slightly earlier than the Chardonnay, but not this year. The Muscat has been picked at around that time too.
We actually just released the 2009 Heron Hill Muscat this week, and it is selling very quickly, people are enjoying it. We only produced 300 cases and I have the feeling they will go fast.
This week we picked most of the Riesling, trying to dodge the rain as well as we could. The decision to pick a block before another is based on the maturity level of the fruit, the sugar content and the acidity, but also the flavor profile, which we call aromatic maturity, which is for me the most important. Another factor is the weather and the sanitary condition of the block. And then we have to add the logistic factor. All this makes harvest very exciting.
Next, will be the rest of Ingle Vineyard Riesling being picked today. We will also see some Cabernet Franc be harvested next week. The picking frenzy will slow down with some Cabernet Sauvignon the following week and then we will see what the weather does and what we can hope for our dessert wines. It is always nice to have a plan or a schedule, but ultimately the weather will dictate the speed of harvest.
Once all the grapes have been picked, it might look quieter outside, but the party continues in the cellar for the fermentations, which demand constant attention and care. Even if harvest is early this year, don't worry, we still will be busy until the Holidays!


By John Ingle, Owner/Grapegrower
It's autumn in the Finger Lakes, harvest time, and I feel like I'm "sitting on a gold mine." It has been the hottest summer in memory and the result is ultra-ripe grapes. The sweetness level is comparable to middle or late October. Half of the Pinot Noir, our "Old Field" has been picked and brought over, I bought these vines from Hermann Wiemer over 25 years ago. The other half of Pinot will be brought in tomorrow. These pictures are of the Chardonnay from "Carl's Block", which is a higher elevation vineyard, these grapes will be used in the Unoaked Chardonnay because they have a higher acidity. The other half of Chardonnay grapes, from "Vern's Block" will also be brought in tomorrow. Last year, "Vern's Block" was hit with frost, so it's nice to see it bounce back this year.
Part of the excellence we're seeing is due to the late frosts that reduced the crop size here in mid-May. Less fruit – more concentration, better ripening. Last year it was cold and wet – what we call a "Riesling year." Moderate alcohol levels, nice crisp acidity, years like this in 2010 are red wine years. The heat builds ripeness, ups sugar levels, and creates more alcohol as well as more body and color in the wine. We used to only get 3 or 4 out of 10 years as red wine years (70's and 80's) in the Finger Lakes. So it's very energizing to have this opportunity. Now that's like "sitting on a gold mine."

By Tambi Schweizer, Tasting Hall Manager
Over the years I have been asked numerous questions, so I have kept a journal of them. Hopefully my answers will entertain and educate….
On a typical night, what wine is in your glass?
I tend to be a dry red wine drinker, but it has been such a hot summer that I have been drinking my two favorite white wines that we carry here at Heron Hill, the Reserve Pinot Blanc and the Ingle Vineyard Chardonnay. As the weather has cooled down over the past few weeks (which puts an end to camping…oh so sad!), I have switched to one of my favorite red grapes, Cabernet Franc.
Is there a quality you like most in wine?
Alcohol….Oh wait…. I meant to say how well it pairs with food! Just this past weekend we served a roasted corn, red pepper and cheddar chowder and for dessert a maple pumpkin cheesecake drizzled with a pecan maple glaze. This matched SO amazingly well with the Semi-Dry Riesling that I paired with it for the Keuka Lake Wine Trail Harvest Tour of Food and Wine. I heard lots of great comments about how well the spiciness of the soup complimented the sweetness of the Riesling and how the acidity balanced the sweetness of the cheesecake.
Do you have a favorite piece of advice for when I am out wine tasting?
I tend to choose a color, white or red and often times I stick to a certain varietal, like Cabernet Franc, of which there are hundreds of different bottles here in the Finger Lakes region. The other advice that I usually give is to make sure you have eaten and drink LOTS of water.
Do you have a favorite hangover cure?
First, I drink close to a gallon of a water to flush out the system then take a few liquid Advil (love them…!) and finish with a few sips of one of our dessert wine, like the Late Harvest Ingle Vineyard Riesling Reserve. I think the 17.2% R.S. really helps to coat my stomach.
What is your favorite wine that you have ever drunk…Heron Hill or elsewhere?
My absolute favorite red wine that ever came out of Heron Hill was the 2002 Baco Noir Reserve. It was just an amazing full bodied syrah-style wine with plum and blackberry fruits along with tar and smoked meat notes. Unfortunately we only made 198 cases, but I am lucky enough to have put away almost a case of it! I hope to keep opening one per year on my birthday for quite a few years, as long as no bottles secretly disappear to hunting camp…..
What surprises people most about your job?
I think the fact that my staff and I are required to taste every bottle that we open; to check for corkage issues is the biggest shock. The wine tasters are usually astonished that we can "drink on the job"! I always tell everyone that is one of the "tortures" of the job!
What is the best time of the year to come wine taste?
I always am encouraging everyone to come in the off season, preferably not on the weekends, that way we can have a real conversation and really be able to spend time and be able to answer any and all question that you may have.
What else do you do around here for fun?
My favorite pastime is definitely going snowmobiling! I dream about snow ALL year round and pray for lots of it! When it's not snowing; you can usually find me camping, especially near the fire concentrating on roasting the perfect s'more while drink out of my special light up wine glass (only $4.99 at the winery).
The other thing that I tend to do on my day off is get a friend or two and head to wine country and check out the other wineries. Just last week I went and have a great lobster bisque at my southern neighbor, Bully Hill, then continued on to a beer tasting at Keuka Brewing. I really loved the new beer called "After Burner", it was made with Jalapeno Peppers…what a great concept; it started sweet at first and got spicier as it continued down and then finished with a calming effect. So cool! We then headed over to McGregor's on the east side of Keuka and tried a few wines there with my former co-worker Dan. It was great to be able to catching up and share stories about all the craziness that happens!


By Mike "Ollie" Oliver, Blue Heron Café Director & Wholesale Sales Representative
Well, it has thus far been an exciting summer at the Blue Heron Café! I am proud to announce that we have been serving some great customers some amazing food. After getting settled in for the season, the Café got to a point that it could almost run itself.
On the whole, things have run very smoothly. We have been expanding beyond the menu to incorporate daily features. Some of the most popular include the Chicken Balsamico Panini and the Tuscan Roasted Pork Loin Wrap. I have been simply amazed at the volume of soup that we have been serving! Favorites here include the Lobster and Bay Scallop Bisque and the Tomato, Bacon, and Swiss soup. It would be difficult to name which Cheesecake has been the most popular, so I will have to rely on the reader to sample several to form a solid opinion! Many of these selections will have to be considered for next year's menu.
The winery hosted a lot of our Wholesale customers in July for a V.I.P. tasting in the tower accented with hors d'oeuvres from the Café. While Christina handled the tastings, we were sending up a nice selection of wares from the Café to showcase our many talents. I did have a chance to meet with several of my restaurant and wine shop customers while this was happening. They all were pleasantly surprised by the "red carpet" treatment that we were offering!
I have just recently had the chance to get back on the road a bit. Last week, I was able to drive around and catch up with some of my more local wholesale customers. It seems that this aspect of my duties has been going well, but I look forward to going out to pour the new vintages. I have been really amazed at the volumes that some of these places have been selling!
At the beginning of the week, Paul and I attended the last of the Food and Wine Pairing Series hosted by the Switzerland Inn. We had begun talking about this in March and it was great to be there for the end product. The Chef, Brent, presented an amazing 6-course meal that we had arduously paired with our wines. (I would like to extend a special thanks to all that offered their input!) While giving a history of the winery, its mission, and explaining how and why we paired wines with the dishes, we had the chance to chat with many of the attendants. Attended by about 20 customers, this series has been a sell-out from its first day. More than half of the group had purchased tickets for every dinner! After speaking with several of the guests, it is obvious that there is a lot of local interest in this type of event. Maybe one at the winery in the near future???

By Steve and Pam Acker, Managers at the Seneca Lake Tasting Room
Our summer season is moving along at breakneck speed and we thought you should be introduced to the great group of people that make Heron Hill on Seneca such a wonderful place to visit. We will also share our best "5:05" (that is the sip of choice at closing time…..) from each team member.
Alicia joined us this spring and brings with her a wealth of wine knowledge from working in the industry for several years, as well as visiting many Finger Lakes wineries and sampling their products. Alicia's "5:05"……..Late Harvest Riesling 2006
Barb has been with Heron Hill for 3 years and is our assistant manager. Working briefly for another winery, she is knowledgeable and interesting (their loss, our gain!), she hopes to make this her career. Barb's "5:05"………..Reserve Pinot Noir 2007
Bill is one of our new employees this year and is our on site fix-it man and amateur winemaker. (Look out Bernard) Bill's "5:05"…….Ingle Vineyard Riesling 2007 Dick is a 3 year employee who currently, along with his wife Diana, owns and operates Pilgrims Way B&B in Glenora. Dick's pick…….Reserve Pinot Noir 2007
Ed joined the team this spring and is the other half of the "Ed and Gerry" team. He came to us via NYC and Florida and his "5:05" favorite is…..Classic Dry Riesling 2008
Erin, also new this year, is a preschool and physical education teacher and soccer and basketball coach! Erin rarely "sips" because she is almost always going to a game of some sort, but if she could, her "5:05" would be………..Classic Semi-Sweet Riesling 2008
Gerry was a graphic artist for romance magazines in NYC. She and Ed are "snow birds" who will leave us in October and hopefully return next May. Gerry is now romancing the Semi-Dry Riesling 2008
Pam is the tasting room manager who has been with Heron Hill on Seneca since the doors opened in 2006. Pam's end of shift sip would be the Reserve Pinot Blanc 2008.
Last, but not least, is Steve. He is the retail manager and snake charmer who would most likely be sipping the Ingle Vineyard Riesling 2007 at the end of the day.
This diverse and incredibly talented group of individuals makes up TEAM SENECA. They are well trained, knowledgeable, fun and friendly. Stop by, say hello and taste. Find out for yourselves what makes Heron Hill on Seneca special!


Busy season is here and it has been challenging keeping our gift shop stocked. After spending several months with Paul, Steve and Tambi hashing away at what we will buy for the gift shop, the time has come. We all worked together to choose some new items and well as keep our customer favorites.
We are now carrying a variety of hand-blown glass items. Elijiah Smith is an artist out of Corning, NY. He has supplied us with pumpkins, bowls, vases, mugs and his unique wine stoppers. His glass has been a great local addition to the gift shop.
Another new line of products comes from Hunter and Hilsberg out of Syracuse, NY. They produce a number of delicious baking mixes. We are currently selling the Wild Raspberry Scone, NY Cheesecake, Raspberry Cheesecake and Cranberry Pecan Pancake mixes. They have been one of our top selling items this season. Each is packaged in 100% post consumer recyclable cardboard making them biodegradable.
The newest clothing item we are selling is the re-designed Heron t-shirt. Tambi designed this t-shirt for us with the goal of creating something new and fresh for Heron Hill this season. She did a great job and they have quickly become a staff favorite.
Hector Fudge is yet another new local product. We have been working with candymaker Kelly McCarthy to determine the bestselling types of fudge for the winery. Varieties available include: Mint Chocolate, Cookies and Cream, Peanut Butter Layered, and Hawaiian. Kelly has done a great job keeping everything in stock for us. And the fudge is so yummy!!
We have expanded our Havill Pottery display this season. A consistent favorite among our staff as well as customers. Each piece is made to perfection and is a great souvenir for out of town guests.
Finger Lakes Tiles by local artist Kala Stein have proved very popular and she has done a great job keeping up with demand for these unique items. These tiles represent every lake in the Finger Lakes and area great addition to your cottage or home.
The summer season has gotten off to a great start. If you need a gift for that special occasion, don't forget about the Heron Hill Gift Shop. We carry a number of unique local items that you can feel good about giving.