Wedding Season is in Full Bloom
With 12 weddings down this season, I have about 10 more to go.
Several new wedding trends have caught my eye this year.
Here are five that I love:
Trend 1 - No set rules. "Pick" a seat.
Many of my bride and grooms are opting out of seating charts and allowing guests to "pick" their own seat. Several have used Pinterest to come up with cute, witty signs to explain their decision for keeping the seating open.
Trend 2 – Let them eat ice cream cake!
I have had many couples express their dislike for traditional cake and they truly use their imagination for the dessert. Ice cream cake, shortcake bars, ice cream bars, cookie tables and a rice crispy cake are just some of the tasty trends I have seen.
Trend 3 – DIY Florals
I have had a few brides make their own bouquets out of fabric and buttons. The nice thing about these bouquets, you will have them forever. They never dry out, die or get ruined. Brides are also opting to go with versatile Mason jars and wildflowers for a more simple, romantic feel.
Trend 4 - Thumbprint Trees
As a guest book, I have seen several hand painted trees where guests use their thumbs to make a print and write their names. As long as you have a pre-done sample, it turns out nicely and you then have a piece of original artwork for years to come.
Trend 5 - The first look
The Bride and Groom have been using the Heron Hill Tower to "meet" prior to the wedding. This allows the couple a private viewing of each other prior to the ceremony. They also make time to organize and shoot pictures ahead of time, giving themselves the ability to join cocktail hour.
If you are looking for new and fresh ideas, I recommend visiting the following websites: Pinterest.com and GreenBrideGuide.com; as well as Well Wed magazine online and in print. They all have great ideas for weddings.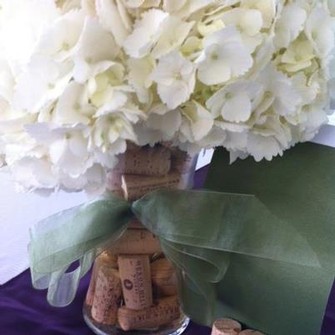 Don't forget to sign-up for the Heron Hill Wedding Show happening on Sunday, August 26th from 1:00 - 4:00. We will have a selection of great vendors to help you with your big day…brides enjoy a complimentary glass of wine!

Pyromaniacs!
Since we have had a mild winter, allowing us to get a lot of work done in the vineyard besides pruning, bud break has been early. And an early bud break means that the open buds and young leaves are very sensitive to frost. When the bud is swelling up or is "in the cotton", it can endure temperatures down to 28 F before seeing significant damage. It was the case in early April. But once the young leaves are apparent, the threshold rises to 30 to 32 F.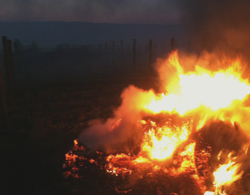 Well, for the last three days, we have had brutal cold temperatures at night. Tonight is technically Monday morning, April 30, 3 o'clock in the morning. It is the third night we have been burning hay bales in order to protect the young buds. Friday night the lower temperature measured in the vineyard was 25 F, Saturday night the thermometer plummeted to 23 F at five o'clock in the morning, and right now we are at 30 F and expecting the temperature to drop to 28 F by five o'clock.
Needless to say, we got hit by spring frost! The damage is hard to estimate at the moment on the primary buds. Some of them are brown and crisp on the outside, so we can hope that only the outer leaves have been touched. Some others are very crispy: they are obviously lost. Saturday night being the coldest, some of our neighbors were also burning hay bales.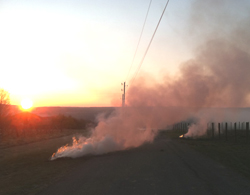 Doing so, as long as the wind velocity is minimal, creates a foggy blanket above the vineyard which limits the loss of heat from the ground, limiting the frost damage. Too much wind can have a dramatic effect: the warm air created by the burning moving out, it sucks in more cold air from underneath, accentuating the frost damage.
At ingle Vineyard, John, Nate and Kyle also burned hay over the weekend. The temperature there did not drop as much as here at the winery. I have good hope that the damage there is minimal. John found himself a sweet spot for his vineyard, on Canandaigua Lake!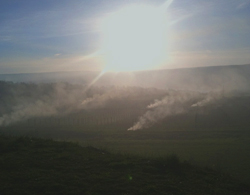 So, for the last three nights, with Zac and Ethan, we have been staying up all night, burning hay bales, and replenishing the vineyard with new ones during the day.
Saturday, April 28 was the first round of our Wine club members VIP tour. The second round is scheduled for May 12. The event is reserved to our Wine Club members and their guests: after meeting in the tower around a glass of Chardonnay, Muscat or Cabernet franc Reserve, the group headed down to the cellar where we sampled a couple of tanks and a few barrels. Lunch was prepared by Mike "Ollie" Oliver, Blue Heron Café Director, and paired with a selection of Heron Hill and Ingle Vineyards' wines. And I added a sneak preview of soon to be released wines. Ollie surprised us with a few discoveries of his own, and a to die for dessert! I don't want to ruin the surprise for the Club members coming to visit us in a couple of weeks. I personally had a blast meeting newer members and seeing some die-hard fans whom I had met last year during this very same event. It was great for me to share wines "in the making" and explain the stage a particular wine we tasted was in and what was still to be done for its completion. Everyone left happy, and so was I! I always have a good time when I talk about wine and share my passion with others! While enjoying some delicious food…
Oh well, it's time to get back outside and check on those hay bales again. The forecast for the rest of the week looks pretty warm, for now.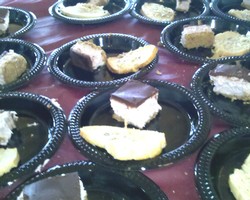 What a great season, I made it through October and just finished two busy sold-out weekends of Keuka Holidays, two of our biggest weekends of the year! We had a record-braking crowd on the first Saturday with over 1000 people through the door…wow was I tired! We served a fabulous Roasted Red Pepper Soup topped with an Asiago Crisp and a side of Eclipse Red Raspberry Cheesecake. We received rave reviews from everybody, check out the links for the recipes!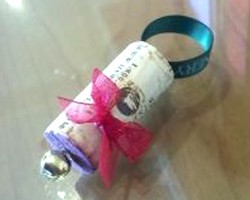 This year we had one of our staff members, Lauren, hand make 1,200 cork ornaments. Lauren spent countless hours tying bows, cutting ribbons and gluing jingle bells on each cork. I think Lauren recruited a few of her friends to help her with this project…maybe enticing them with a home cooked meal and lots of wine!
As the 2011 season winds down, we are already gearing up for 2012! I have already booked tons of groups for the upcoming season, especially October (one of the busiest months). I am also working on ordering a great present for our wine club members (sorry…can't reveal the secret yet!). The final shipment of the season is always a great one with two of our most special wines leaving the building…the Gold Club is even receiving an unreleased wine!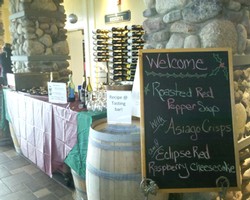 As I get ready to take a small breather, Bernard (our winemaker) just stopped by and said that we are going to hand-pick our Late Harvest Vidal Blanc next Wednesday! Even though it is my day off, I am a trooper and will be there with bells on! I am just thinking about what I will bring for a hot drink to keep me warm while picking, maybe hot mulled cider with a little Goldschläger?
Remember now that it's the slower season, (the best time to visit in my opinion), you can stop, visit and taste for an hour or two and we can try to solve all the world's problems!


In the spring we were praying for the rain to stop, and now we are praying for the rain to come back and visit us! Growing grapes involves a lot of dancing. The vines could use some water, but on the bright side, the vineyard is fungus free. It looks like we will have more fruit than last year, making Zach, our vineyard manager pretty excited. At this point, we are catching up with all kind of work in the vineyard. The grapes are at the "berry touch" stage, which means that the berries are slowly growing and now touching each other, closing the cluster. The berries are still very hard, like pebbles. Next, we will be seeing the berries go into veraison, when they change color, from green to yellow or purple, depending on the varietal. It will be in a few weeks. Then, they will continue to grow in size and soften during maturation.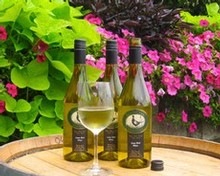 Wednesday was our first bottling with screw caps. The chosen first wine was the Game Bird White. Game Bird Red is to follow next week. We chose the Game Bird Series to start because the wines do not require any bottle aging: they are ready to be enjoyed as soon as they recover from bottle shock. In a few months, we will use screw caps on some wines from the Classic Line, like the Rieslings, the Chardonnay and the Muscat. The red wines benefit from some aging in the bottle, so we will keep using natural corks on these wines. Screw cap closures help preserve the freshness and fruitiness of the wines. Natural corks allow small amounts of air to reach the wine through the cork, inducing the slow oxidation which aging actually is. Some screw cap closures allow some oxygen to get in the bottle, mimicking a natural cork. Maybe we will look into these in the future. But the unique sound that a natural cork makes when opening a bottle of fine wine is a very important part of the whole experience, and so far scientists have not been able to recreate this pop for a screw cap. I have tried to make that sound, but it just sounds silly.
Another excitement in the cellar is the arrival of Dan Pantaleo as the new Assistant Winemaker. I worked with Dan on Long Island for four years. He has been with us for almost two months now, and he is adjusting nicely to a new environment. He has plenty of work in the cellar and is very helpful at keeping me grounded. He is getting the wines cold and heat stabilized and ready to be bottled over the month of August and September. Welcome, Dan!

Watch video and see pictures of the screw cap machine here.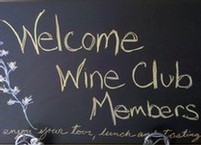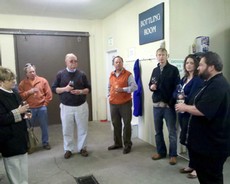 What a spectacular weekend! On Saturday, we hosted a Wine Club Barrel Tasting & Tour here at the winery on Keuka Lake! It was a great behind the scenes experience for our Wine Club members. They started out in the cellar with a private barrel tasting and tour with the Winemaker, Bernard Cannac and Owner/Grapegrower, John Ingle. Bernard spent about an hour explaining the process of wine making and how the production staff works. The assistant winemaker, Brian Barry, was also there as our token "cellar rat" offering another point of view.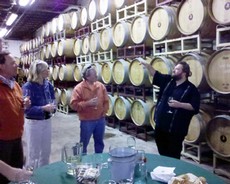 In the cellar, the Wine Club members were treated to a taste of two never before released wines. The first sample was a tank sample of our 2009 Riesling Reserve. This new reserve wine is going to be a dry Riesling that will have grapes from two different vineyards, our estate vineyard and Ingle Vineyard (John's vineyard on Canandaigua Lake). The members seemed pleased with the progress of the young wine. The next sample was the 2009 Cabernet Sauvignon Reserve, a surefire hit with the crowd! The winemakers pointed out the fact that the barrel samples are only a suggestion of what the finished wine will taste like. Tasting out of the barrel or the tanks gives you a glimpse into how the wine will taste once fully aged.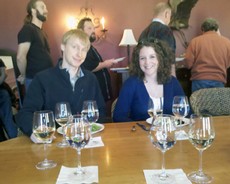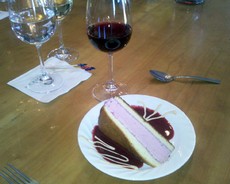 They wine club members were also able to see the bottling line and got some new information that is not being released to the public yet!!! Stay tuned!
After the tour we were off to the conference room for an amazing lunch that was produced by our very own Mike "Ollie" Oliver, our Café Manager and Head Chef! Ollie offered an amazing selection of food for lunch including, Chicken Caesar wraps, Calabrese wraps, Roast Beef Panini with an herbed Horseradish mayo with sautéed peppers and onions, and my personal favorite the Turkey Panini with a Cajun Aioli sauce. One of the highlights of the meal was the beautiful fruit tray that paired beautifully with the Classic Muscat wine. For dessert large smiles were came out from the crowd when we presented the Charlotte a la Framboise, a cool and creamy raspberry mousse sandwiched between two layers of fluffy cake. The cake was the perfect pairing for the barrel sample of the 2010 Blaufrankish. The exquisitely prepared meal was thoroughly enjoyed by all in attendance.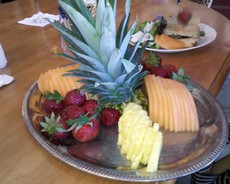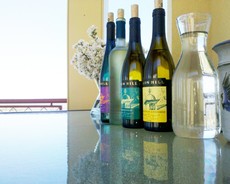 After a delightful meal we headed up to the tower to finish off the afternoon with a sampling of all of the wines from Ingle Vineyard and the newest vintages (not yet released) from the Eclipse Series. During the discussion, John and Bernard explained how in the Ingle Vineyard Cabernet Franc, field blending is part of the wine making process. A field blend is a wine that is produced from two or more different grape varieties inter-planted in the same vineyard. In the days before precise varietal identification, Ingle Vineyard was thought to have been planted with 100% Cabernet Franc, but upon closer inspection we noticed that there is about 10-15% Cabernet Sauvignon intermingled in the vineyard. The field blend of the Cabernet Franc with a smattering of Cabernet Sauvignon allows Bernard and Brian an effortless, though inflexible, blending.
Next weekend brings us round two of the Wine Club Barrel Tasting & Tour. I am sure it will be equally amazing…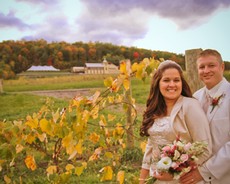 As every bride begins planning her wedding, there is no other better place to get information from than a Wedding Show.

If you have ever been a bride, bridesmaid, mother of a bride or groom, you have most likely been to a wedding show. You can find all of your wedding essentials there. You taste cake, try food from several caterers, listen to what different DJ companies have to offer and more.

On Sunday, August 28, 2011 Heron Hill Winery and Pembroke Pines Media will be hosting the Heron Hill Winery Wedding Show. Pre-registration is free for all brides, click here to register! Each Bride will receive a welcome gift bag filled with goodies and each bride will be entered for several door prizes, which will be given away throughout the afternoon. We will have complimentary wine tastings set-up for all of the guests.The Blue Heron Café will also be open, local musician Bruce Holler will be playing on the terrace too.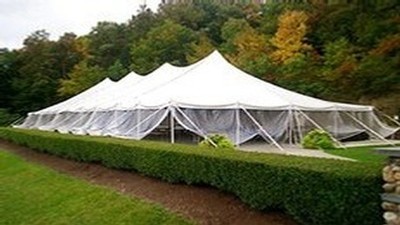 We have invited several bakeries, caterers, photographers, florists, DJ's and more. We are in the beginning planning stages for all vendors. Currently we have Corning Catering, Crystal City Party Center, Berry Vine Creations, SE Video, Schwarz ProFoto, Walker Cake Company, Rochester Wedding and Tom Mike Photo. Here's the list of exhibiters and more info on the Wedding Show.
If you are a vendor and interested in coming, you can also visit the link above to download an exhibitor contract.

The staff at Heron Hill Winery and Pembrook Pines Media is very excited for the event this summer! We want to make sure our local brides have access to the top wedding professionals in our area.

On a side note, we are busy finishing renovations for the upcoming season. We are currently preparing to re-carpet the tent and get it up for the season. The first event will be the Ducks Unlimited Dinner, which we host annually. As always, we are excited to be working with them on this event again!

Let the spring-cleaning begin as we welcome another busy season!

Here at Heron Hill, I feel very blessed to have the best staff in the whole world! Their dedication to the Winery continues to blow me away. The tasting hall staff is usually first here and the last to leave. I am so thankful that they spend each and EVERY weekend with me! I want to send out a VERY heartfelt thank you to each and every one of them, they are the ones who make my job SO much easier.

My devoted staff works so hard, especially from May to November, our busiest months. We see hundreds and hundreds of people on any given weekend, and even after an exhausting day/week/weekend they are still smiling!

The two staff members who have been here the longest are Audrey and Dave. These two taught me a lot about wine, customers and a few (secret) tricks that I still use to this day. Audrey, or "Odd-rey", as we call her, is the one who always has great bright red lipstick and is generally begging me to work. I think she would rather be here working with the customer than working on her HUGE house that she is re-modeling. We always joke that Dave has been working here since he was 2 years old, he started as support crew for the events tent and has done just about every job possible here! When he turned 21, I was finally able to have him at the tasting bar. He is so great with the customers; it is always an extremely informative tasting.

Karyn and Jen both started this season and are transplants to the area. Jen fell in love with Keuka Lake and decided to move up here full time, leaving here Biology students back in NJ. I am sure they miss her terribly!!! Jen is soft-spoken and very passionate about the Finger Lakes and especially her favorite Lake, Keuka. Karyn lived in Seattle for a long time and just recently re-located back to the area to come help her elderly mom. When Karyn walked in to the winery, my manager Paul and I basically loved her from the first moment and hired her on the spot. Karyn is very energetic and so much fun.

Anne is one taster who has an incredible amount of wine knowledge; I really enjoy learning from her and her wine writer husband also. Almost every customer that Anne waits on is always amazed by the vast amount of information that she can fit into a tasting. Anne lives here locally on the lake and really enjoys gardening. Love her great hints!

Kelsey and Danielle are the local girls! Kelsey is studying to be Occupational Therapist in Ithaca, and is great about coming home EVERY weekend to work at the winery, at times even bringing here adorable dog Latte to come play at the winery with us! Kelsey is so sweet, always keeping us entertained with great "Dave" (see Dave above) stories. Danielle is our fiery redhead, who is usually setting us straight and trying to keep us in line! Danielle works both at the tasting bar and in retail, so you have a variety of places to catch her. She started back to college in January, after giving us notice that she was going back to school to be a pharmacist. She had been our event/wedding coordinator for 1 ½ years prior.

For the last Keuka Lake wine trail event, Keuka Holidays, we had a special guest appearance by Ted! He used to work here every weekend last September & October, coming up just for the weekend to work at the tasting bar! Another red-head, he has a full time job as an assistant manager at a bowling center in Lock Haven, PA. When he was up this past time, he even worked on his birthday! As the best Tasting Hall Manager, I even made him his favorite; an Oreo cheesecake.

Even though Jill & Linda don't work in the tasting hall, I have to give them a shout out. They work in the gift shop on weekends whenever I need them. Jill and her new husband Damin are awesome, they help us whenever I ask (which is usually a lot…sorry guys!!!). Damin helps with the support, washing glass racks, stocking the tasting hall and even jumping on the tasting bar whenever I need him. Jill is great in the gift shop, having the patience of a saint. Jill and Damin even got married here this summer, what a beautiful wedding. I was so glad to be a part of it! Linda works full time as a cashier at a local bank, so she is a perfect fit for working the register here at the winery. Linda always brings us great snacks, a great way to keep up the energy since we never get a lunch break!!!

I can't forget Paul and Kara, my two closest work partners! Paul is the Retail manager, aka our numbers guy. He is always giving us the goal and letting us know how close we are or are not. Paul & his wife Gail started helping out at the winery over 10 years ago during the busy weekends. Just a few years ago he left a very high stress job to come work at the winery. He is always cracking jokes and keeping our spirits up! Kara started back in January, taking over Danielle's spot as event/wedding coordinator. Kara and her new husband Eli work every wedding together and also sell Eli's glass in our gift shop. Kara and Eli also get married here at the winery in September and of course left us for 2 weeks during the busiest time (….grrrrr).

Thank you. Thank you. Thank you. The whole staff makes it such a great place to work!

By Tambi Schweizer, Tasting Hall Manager
Over the years I have been asked numerous questions, so I have kept a journal of them. Hopefully my answers will entertain and educate….
On a typical night, what wine is in your glass?
I tend to be a dry red wine drinker, but it has been such a hot summer that I have been drinking my two favorite white wines that we carry here at Heron Hill, the Reserve Pinot Blanc and the Ingle Vineyard Chardonnay. As the weather has cooled down over the past few weeks (which puts an end to camping…oh so sad!), I have switched to one of my favorite red grapes, Cabernet Franc.
Is there a quality you like most in wine?
Alcohol….Oh wait…. I meant to say how well it pairs with food! Just this past weekend we served a roasted corn, red pepper and cheddar chowder and for dessert a maple pumpkin cheesecake drizzled with a pecan maple glaze. This matched SO amazingly well with the Semi-Dry Riesling that I paired with it for the Keuka Lake Wine Trail Harvest Tour of Food and Wine. I heard lots of great comments about how well the spiciness of the soup complimented the sweetness of the Riesling and how the acidity balanced the sweetness of the cheesecake.
Do you have a favorite piece of advice for when I am out wine tasting?
I tend to choose a color, white or red and often times I stick to a certain varietal, like Cabernet Franc, of which there are hundreds of different bottles here in the Finger Lakes region. The other advice that I usually give is to make sure you have eaten and drink LOTS of water.
Do you have a favorite hangover cure?
First, I drink close to a gallon of a water to flush out the system then take a few liquid Advil (love them…!) and finish with a few sips of one of our dessert wine, like the Late Harvest Ingle Vineyard Riesling Reserve. I think the 17.2% R.S. really helps to coat my stomach.
What is your favorite wine that you have ever drunk…Heron Hill or elsewhere?
My absolute favorite red wine that ever came out of Heron Hill was the 2002 Baco Noir Reserve. It was just an amazing full bodied syrah-style wine with plum and blackberry fruits along with tar and smoked meat notes. Unfortunately we only made 198 cases, but I am lucky enough to have put away almost a case of it! I hope to keep opening one per year on my birthday for quite a few years, as long as no bottles secretly disappear to hunting camp…..
What surprises people most about your job?
I think the fact that my staff and I are required to taste every bottle that we open; to check for corkage issues is the biggest shock. The wine tasters are usually astonished that we can "drink on the job"! I always tell everyone that is one of the "tortures" of the job!
What is the best time of the year to come wine taste?
I always am encouraging everyone to come in the off season, preferably not on the weekends, that way we can have a real conversation and really be able to spend time and be able to answer any and all question that you may have.
What else do you do around here for fun?
My favorite pastime is definitely going snowmobiling! I dream about snow ALL year round and pray for lots of it! When it's not snowing; you can usually find me camping, especially near the fire concentrating on roasting the perfect s'more while drink out of my special light up wine glass (only $4.99 at the winery).
The other thing that I tend to do on my day off is get a friend or two and head to wine country and check out the other wineries. Just last week I went and have a great lobster bisque at my southern neighbor, Bully Hill, then continued on to a beer tasting at Keuka Brewing. I really loved the new beer called "After Burner", it was made with Jalapeno Peppers…what a great concept; it started sweet at first and got spicier as it continued down and then finished with a calming effect. So cool! We then headed over to McGregor's on the east side of Keuka and tried a few wines there with my former co-worker Dan. It was great to be able to catching up and share stories about all the craziness that happens!


Busy season is here and it has been challenging keeping our gift shop stocked. After spending several months with Paul, Steve and Tambi hashing away at what we will buy for the gift shop, the time has come. We all worked together to choose some new items and well as keep our customer favorites.
We are now carrying a variety of hand-blown glass items. Elijiah Smith is an artist out of Corning, NY. He has supplied us with pumpkins, bowls, vases, mugs and his unique wine stoppers. His glass has been a great local addition to the gift shop.
Another new line of products comes from Hunter and Hilsberg out of Syracuse, NY. They produce a number of delicious baking mixes. We are currently selling the Wild Raspberry Scone, NY Cheesecake, Raspberry Cheesecake and Cranberry Pecan Pancake mixes. They have been one of our top selling items this season. Each is packaged in 100% post consumer recyclable cardboard making them biodegradable.
The newest clothing item we are selling is the re-designed Heron t-shirt. Tambi designed this t-shirt for us with the goal of creating something new and fresh for Heron Hill this season. She did a great job and they have quickly become a staff favorite.
Hector Fudge is yet another new local product. We have been working with candymaker Kelly McCarthy to determine the bestselling types of fudge for the winery. Varieties available include: Mint Chocolate, Cookies and Cream, Peanut Butter Layered, and Hawaiian. Kelly has done a great job keeping everything in stock for us. And the fudge is so yummy!!
We have expanded our Havill Pottery display this season. A consistent favorite among our staff as well as customers. Each piece is made to perfection and is a great souvenir for out of town guests.
Finger Lakes Tiles by local artist Kala Stein have proved very popular and she has done a great job keeping up with demand for these unique items. These tiles represent every lake in the Finger Lakes and area great addition to your cottage or home.
The summer season has gotten off to a great start. If you need a gift for that special occasion, don't forget about the Heron Hill Gift Shop. We carry a number of unique local items that you can feel good about giving.

By Tambi Schweizer, Tasting Hall Manager
Wow, things have been really great lately. First, we hosted about 40 wine writers and bloggers here at Heron Hill for TasteCamp…needless to say they all seemed amazed at the spread we put out for them. Thank to Ollie for some great food, courtesy of the Blue Heron Café. At our tasting bar, we hosted 8 local wineries from Keuka and Canandaigua Lakes for them, with everyone really showcasing some magnificent wines! I think the winner from the Heron Hill wine collection was the Library wine re-release of the 2002 Ingle Vineyard Riesling. The white peach and mineral qualities that are showing through are just exquisite! This '02 vintage has been a favorite of mine since I have been here!
I just got back from NYC where I poured wine at Taste of the Upper West Side. The Friday night event was from 9 to midnight (…ugh, I am usually in bed at 9 pm!) featuring a divine dessert tasting! I have to give a shout out to the NYC Greenmarket! One of the ladies gave Doug and I a whole basket of fresh juicy strawberries and a large cup of whip cream! They were delicious, thank you! I saw my friends from the Hot Blondie's Bakery again; yes the brownies are still some of my favorites! Here's a picture of the Greenmarket staff shucking oysters.
On Saturday night, The Taste of the Upper West Side featured the Best of the West with some of the same vendors from the Friday night event, but with also a few really great additions, like the Long Island Wine Country booth. I tried some really great wines, making me think that I NEED to get to Long Island to go wine tasting. I think that trip will have to wait until the busy season is over here!

Well, I am headed of to train about 12 staff today with TIPS training (Training for Intervention ProcedureS). TIPS is the global leader in education and training for the responsible service, sale and consumption of alcohol. Proven effective by third-party studies, TIPS is a skills-based training program that is designed to prevent intoxication, underage drinking and drunk driving. Hopefully this training will help my staff to be more aware of what to look for and how to handle the difficult situations that may arise while working here at Heron Hill! Cheers….